These brownies can be made more fudgey or cake like if you prefer. They are made with gluten-free oat flour and are easy to make .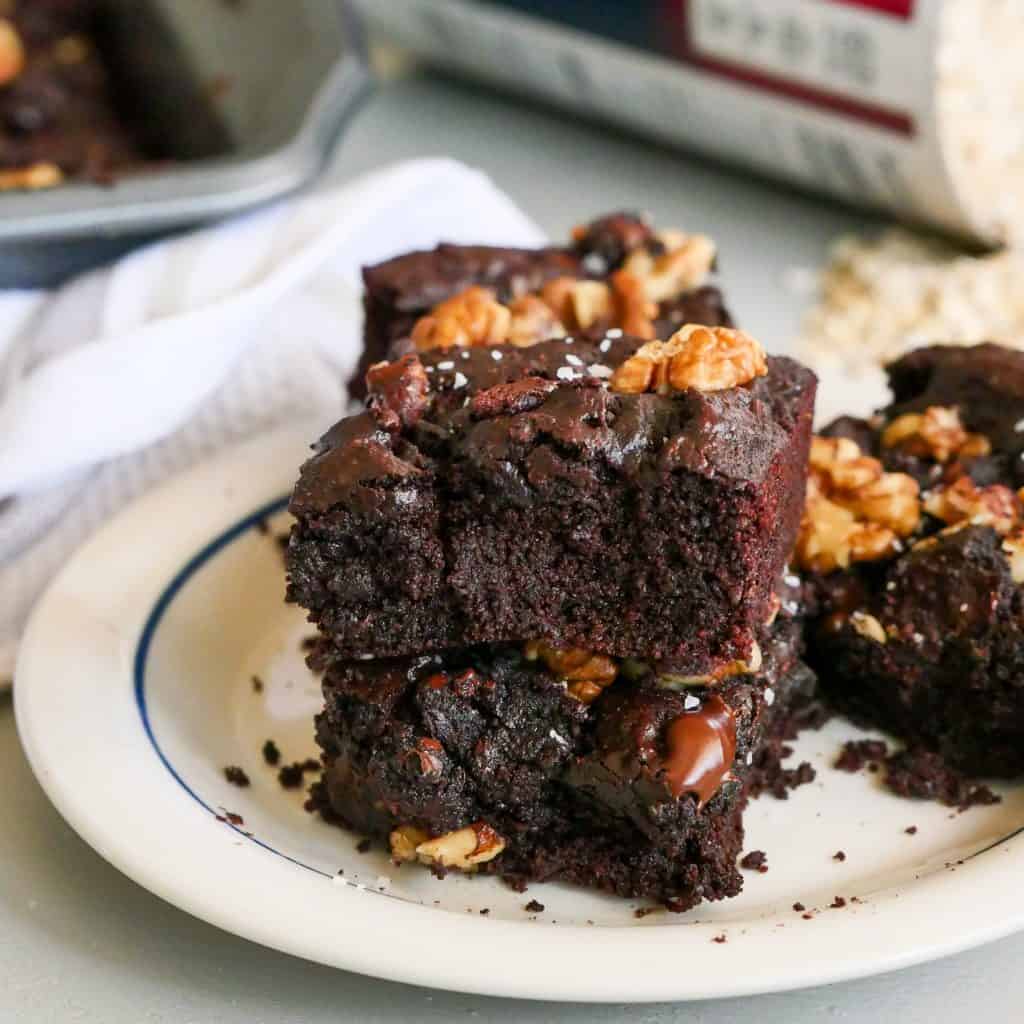 I have tested these brownies several times with a few variations.
I will leave those variations below so you can make them any way that suits you and your pantry best.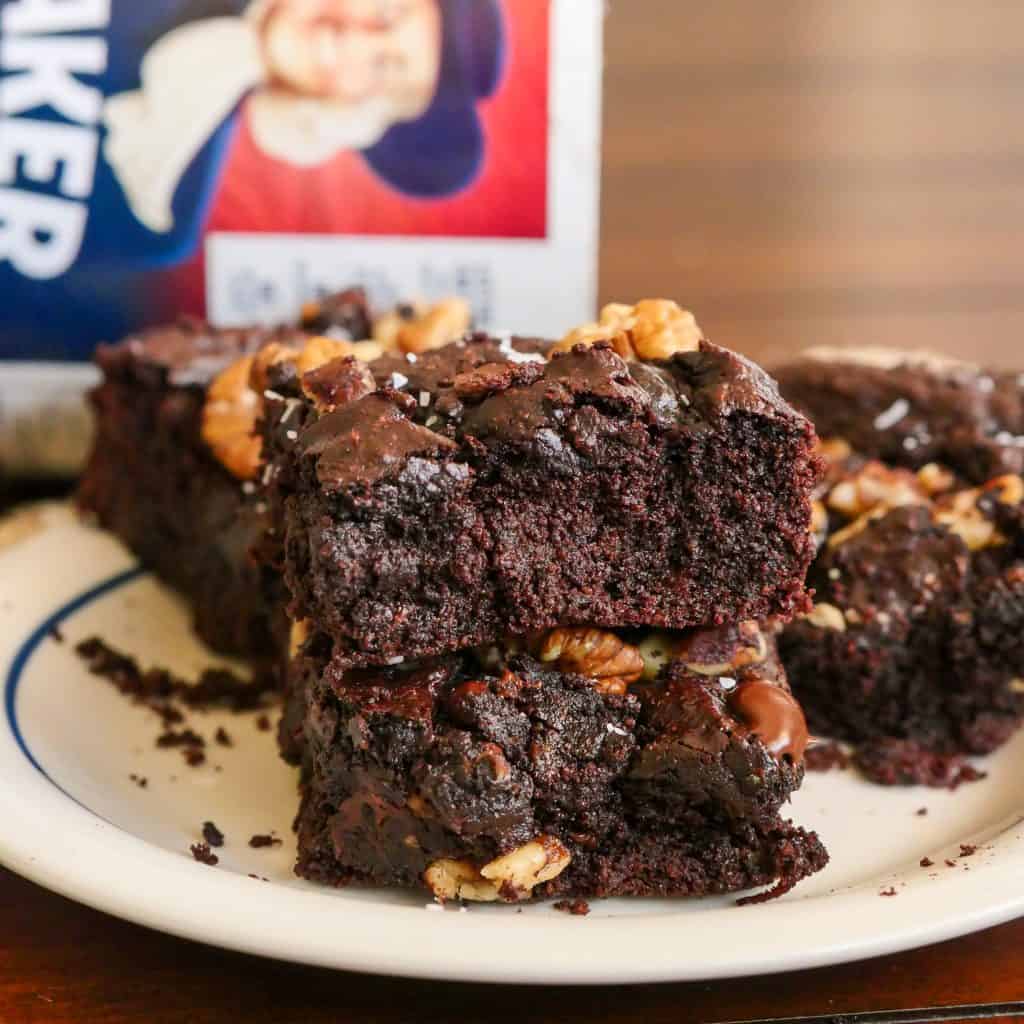 This blog post is sponsored by The Quaker Oats Company. All opinions are my own
These gluten free brownies use Quaker® Gluten Free Quick Oats. Oats are highly versatile and they offer so much versatility in recipes. Quaker Oats are always stocked up in my pantry. I find myself reaching for the canister multiple times a week to create recipes or add into my meals, both sweet and savory.
For over 140 years, Quaker has helped people add nutrition and whole grains to their recipes with the versatile oat
Gluten Free flour can be expensive and hard to decipher on the grocery shelves. Making your own oat flour will save you money and it's really simple to do! All you need is Quaker Gluten Free Quick Oats; they offer a good source of vitamins and minerals as well as 2 grams of soluble fiber per ½ cup of oats. Look for specially marked gluten-free products.
Everyone likes their brownies a certain way, I prefer mine on the fudgey side with less sugar and more cocoa powder. I also prefer texture added in with dark chocolate chips and raw walnuts.
If you want your brownie to be more of a cake consistency, add more eggs
I have tested this recipe several times and if you would like more of the cake consistency with your brownie, add in an extra egg. By adding 3 eggs you will achieve that style of brownie.
If you want your brownie to be more of a fudge consistency add less eggs
If you prefer to have a brownie with more of a fudge-like consistency you will want to add two eggs to this recipe and you will cook them for slightly less time.
Making Your Own Oat Flour
This is quite possibly the easiest homemade gluten-free oat flour you can make yourself. All you need are some Quaker® Gluten Free Quick Oats and a food processor. You will want to measure out just about one cup of oats for this recipe. Add it to your food processor and run it on high until you have a smooth flour consistency. You may need to scrap the sides a few times with a dry spatula to be sure you get all the oats the same consistency.
Ripe Banana. This recipe calls for a ripe banana. The banana helps to sweeten the brownies and is a great substitute for some of the oil. You may also use Applesauce instead of the banana.
Cocoa powder. You will need one cup of cocoa powder.
Eggs. The amount of eggs will vary on what texture you prefer for your brownies. If you prefer fudgey ,chewy texture, you will want to use two eggs. If you prefer a cake-like consistency, then, you will add one more egg, totaling 3 eggs.
Oil. You may use canola, olive oil or coconut oil. I had canola on hand, the saturated fat will vary depending on the oil option you use.
Maple syrup or coconut sugar. Either one works for this recipe. I used maple syrup for mine. Whichever option you chose it may impact the added sugar content
Espresso Powder. This is optional. The espresso powder offers a nice hint of flavor to these brownies.
Vanilla Extract.
Walnuts. These are optional.
Chocolate Chips. I used dark chocolate chips, however use what you have on hand.
Baking Soda
Salt -   a little dash really brings out the flavor in these brownies!
Gluten-Free Walnut Brownies
These brownies can be made more fudgey or cake like if you prefer. They are made with gluten-free oat flour and are easy to make 
Print
Pin
Rate
Ingredients
1

cup

ground oat flour made from Quaker gluten free oats.

¼

cup

applesauce or ripe banana

½

cup

canola oil

¾

cup

maple syrup

½

tsp

espresso powder

1

cup

coco powder

1

tsp

baking soda

1

tsp

salt

1

Tbsp

vanilla extract

2

large eggs

(use 3 if you prefer a cake consistency)

½

cup

dark chocolate chips

¼

cup

walnuts
Instructions
Set oven to 350. Place Quaker Gluten Free Oats in a food processor and blend into a fine flour. Set aside.

Combine all the wet ingredients in a large bowl. Start with oil, add maple syrup or sugar. Add vanilla, mashed banana or applesauce, eggs.

Combine all dry ingredients in a medium bowl: flour, espresso powder, cocoa powder, baking soda, salt, walnuts, chocolate chips. Mix well with a whisk. Add the dry ingredients slowly into the wet ingredients with a hand mixer or spatula.

Line an 8x8 pan with parchment paper or grease it. Pour mixture into the pan. Place in oven and bake for 15 to 17 minutes (the longer they cook the less fudge like they will be. Let the brownies completely cool before cutting otherwise they will crumble a bit!
Nutrition
Serving:
12
g
|
Calories:
286
kcal
|
Fat:
18.1
g
|
Saturated Fat:
4.9
g
|
Sodium:
322
mg
|
Fiber:
8.4
g
|
Sugar:
12.9
g