Smoky Roasted Cauliflower Tacos Recipe With Smoky Garlic Sauce will impress your family or guests at your next taco night get together. They please the pallet with a punch of smoky garlic.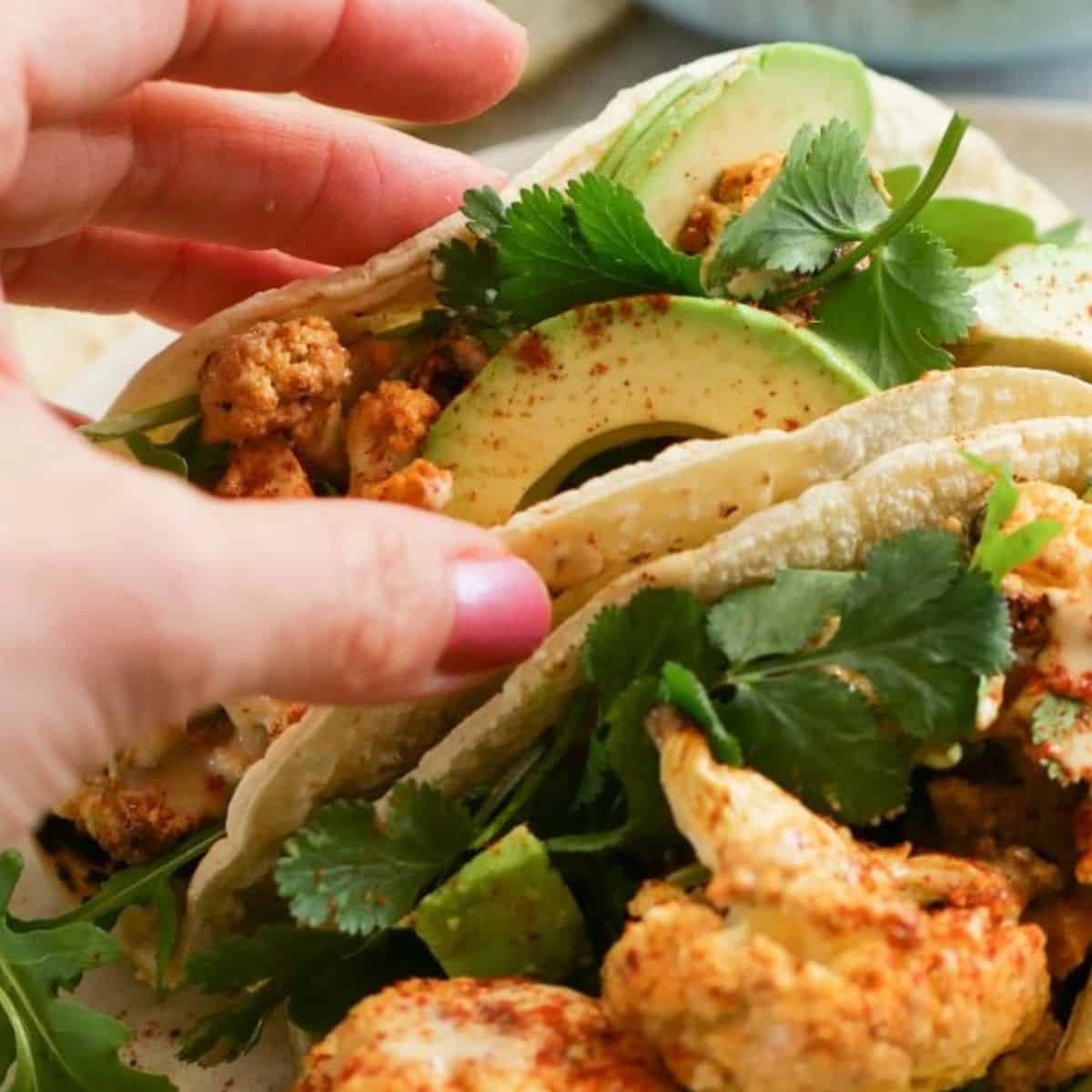 Why Make These Smoky Cauliflower Tacos?
They are allergy friendly. Yep, vegan, dairy free and gluten free! You can rest assured your family can eat these!
I recently had a group of friends over for a fun filled taco night. I had to make a few different types of tacos since everyone in the group has a different diet/preference when it comes to meat. We made three different tacos and these Cauliflower Tacos With Smoky Garlic Sauce were the crowd favorite!
They are easy to whip up. This recipe is fool-proof. You can switch up seasonings and everything will still taste delicious.
Ingredients Needed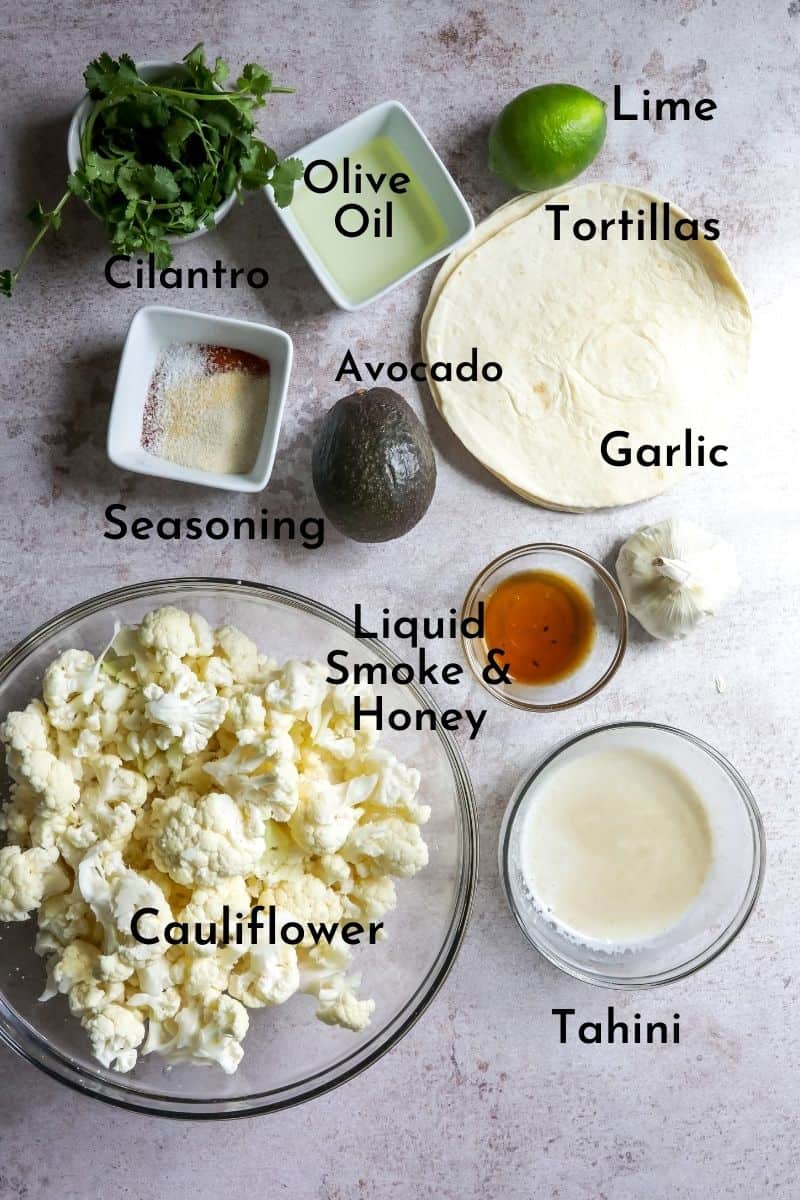 Cauliflower. This is the ultimate veggie. It is versatile and mild in flavor making it the perfect "meat" for this recipe.
Fresh Cilantro. This is optional however I love fresh cilantro and fresh greens with my tacos.
Tahini. A must for this recipe. The tahini really brings out a delicious side to the cauliflower.
Liquid Smoke. This gives it a nice mild smoky flavor that will really wow your tastebuds.
Seasonings! This makes the tacos really explode with flavor.
Garlic. Fresh is best.
Honey. To help bring the sauce together.
Fresh Lime Juice.
How To Make This Recipe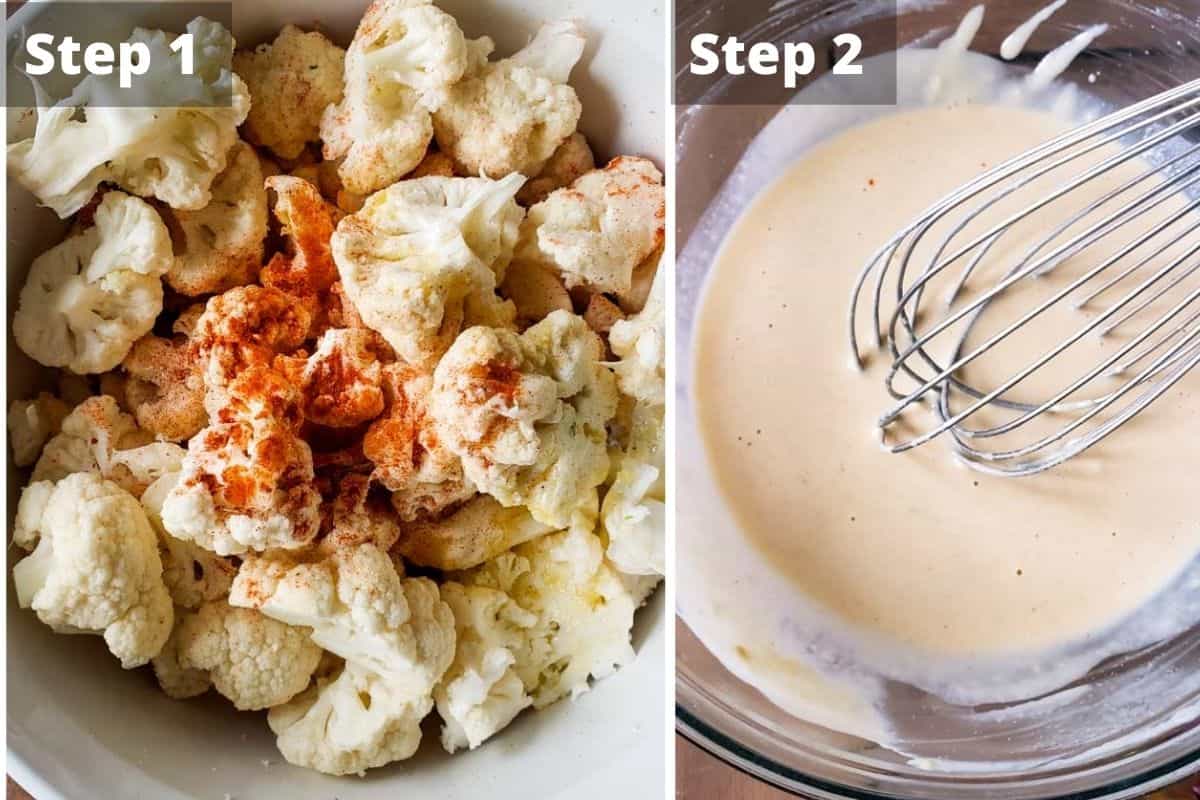 Step 1: Seasoning & roasting the Cauliflower. This is my tried and true method to get the perfect roast on cauliflower.
There is an art to getting the perfect roasted cauliflower in my opinion. High heat and an even coating of oil on the veggies. I like to chop my cauliflower up into bite sized pieces and put it in a large bowl. Always set the oven to 400 º degrees and put the cooking sheet you plan to roast on in the oven for about 5 to 10 minutes.
Put all the seasonings on the cauliflower in the bowl and toss it together. Once there is an even coat, drizzle some olive oil over the mix and toss well. Pull out the hot pan and dump the bowl of cauliflower on it and return it to the oven and bake for about 15 to 20 minutes until the cauliflower is browned and crispy.
Step 2: Mix up that smoky chipotle sauce! Patience is key here. You will want to incorporate the water slowly. It will eventually mix with the tahini well ad make it the perfect creamy, saucy constancy.
The cauliflower really comes to life with the smoky garlic sauce. This sauce is full of flavor and can be used on a few of my recipes! The tahini gives is a nice creamy, nutty flavor. The liquid smoke makes it taste like you smoked the cauliflower in a smoker, however you didn't.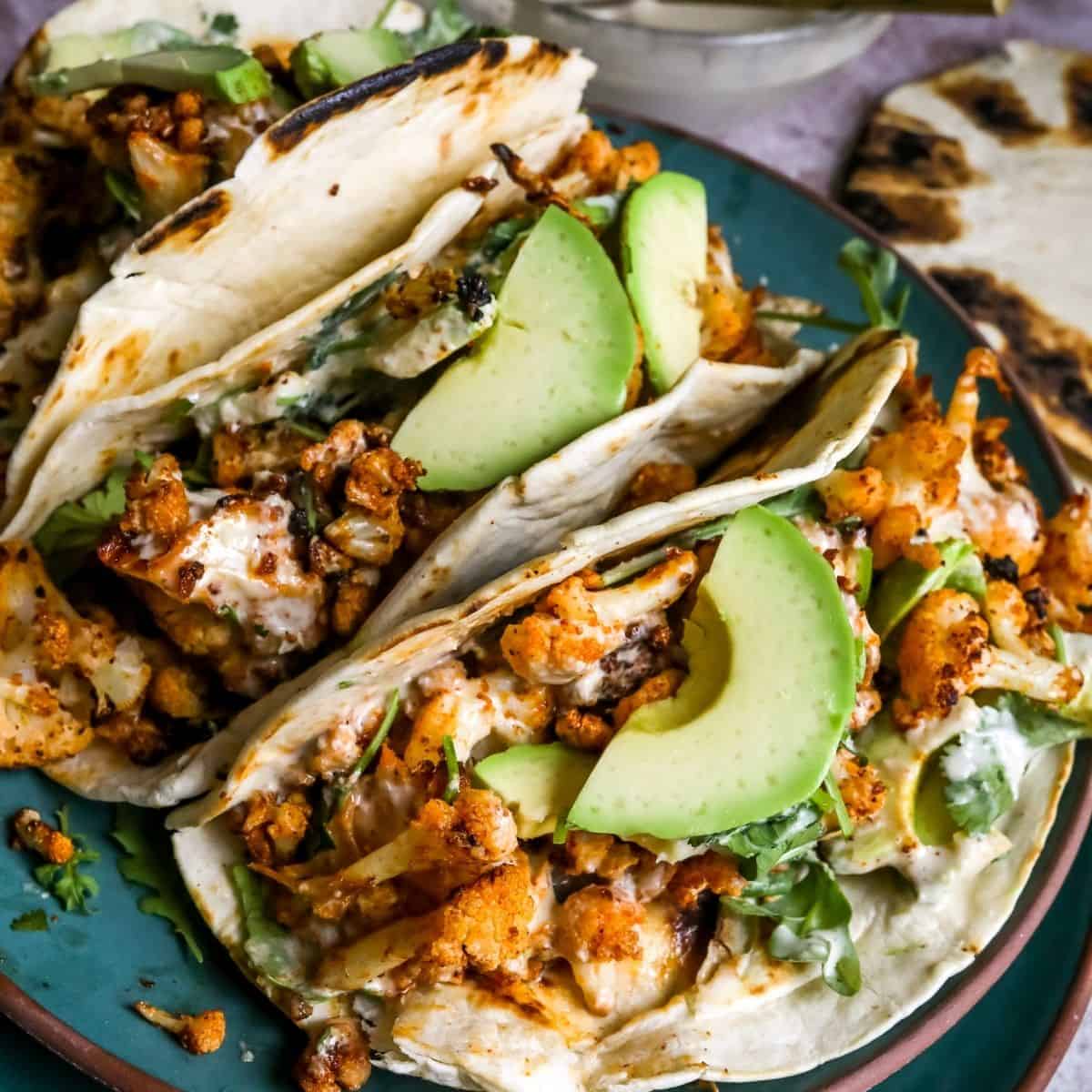 FAQs & Expert Tips
Be sure to roast your cauliflower like an expert! Heat the pan up in the oven while you wait for it to preheat. Like a pizza stone, adding the cauliflower to a hot pan will blacken it a bit quicker.
I can't find tahini near me, what can I use?
I get this question a lot. I suggest using a mild cashew butter or peanut butter in place. It won't be the same, but it should still pair well with the flavors.
What is tahini?
It is the key to delicious recipes in my opinion. If you have ever had hummus, you have had tahini. It is a nut butter, mild in flavor and gives off a creamy perfect consistency when it is watered down a little. You will find it in the nut butter aisle of most all grocery stores.
I don't have liquid smoke!
Not a problem. I love liquid smoke in several of my recipes however, you can skip it. It won't have quite the smoke flavor - but it will be delicious with the chipotle and paprika flavors.
Other Recipes To Try.
If you loved this recipe let me know! Also, follow me on Instagram & Pinterest for even more fun recipes to make you feel good from the inside out. Thanks for being here.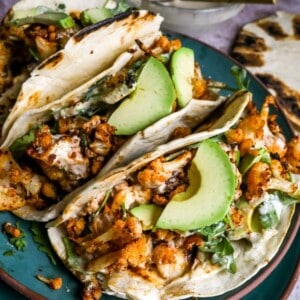 Smoky Cauliflower Tacos With Garlic Sauce
Roasted Cauliflower Tacos Recipe with Smoky Garlic Sauce will impress your family at your next taco night. They please the pallet with a punch of smoky garlic. Ready in about 30 minutes.
Print
Pin
Rate
Ingredients
Cauliflower
5

cups

cauliflower

About 1 medium size head. chopped

½

tsp

chipotle powder

½

tsp

paprika

½

tsp

garlic powder

½

tsp

onion powder

½

tsp

salt

*more to taste if needed

2

tbsp

oil

4

tbsp

chopped cilantro (for topping)

1

chopped avocado (for topping)

small flour or corn tortillas
Smoky Garlic Sauce
¾

cup

tahini (well stirred)

3

tsp

lime juice

½

tbs

liquid smoke

*more to taste if needed

¼

tsp

salt

2

tsp

garlic cloves

1

tsp

honey

*

¼

cup

water (keep on the side do not use it all at once!)

*This is to thin the sauce!
Instructions
For the cauliflower 
Set oven to 400º degrees. Chop cauliflower into equal bite sized pieces, add to a large bowl. Pour seasonings over it and toss well. Add oil and toss again well.

Lay cauliflower flat on a sheet pan. I like to heat the pan in the oven first for 10 min on 400 before placing cauliflower on it. Bake seasoned cauliflocaul for 30 minutes or until it is browned and soft enough to pierce with a fork.

* Pro-tip Put the sheet pan in while the oven is preheating. Placing the cauliflower on a hot pan helps to blacken it.
Smoky Garlic Sauce 
Combine all the ingredients except water to a bowl or high speed blender. Pulse/whisk. Then add water in slowly to thin the mixture out so it's spreadable like sauce. You may need less or more than the recipe calls for since tahini can vary in consistency. add little amounts, stir/pulse then add more if needed. 

Tahini mixture will take a little while to accept the water and thin but it will eventually, be patient here!

Once you have the mixture to your desired thickness, build tacos and drizzle sauce over tacos. Top tortillas with mixed greens, cauliflouwer, cilantro and extra lime wedge. Enjoy!
Notes
*Use fresh cauliflower. Frozen will work but it won't be as crispy.
*about 1 medium/large  sized head of cauliflower.
*maple syrup works as well if making this vegan.
*Water - you may need to adjust sauce to amount of cauliflower.
Nutrition
Calories:
185
kcal
|
Carbohydrates:
9
g
|
Protein:
5
g
|
Fat:
16
g
|
Saturated Fat:
2
g
|
Polyunsaturated Fat:
6
g
|
Monounsaturated Fat:
7
g
|
Trans Fat:
1
g
|
Sodium:
249
mg
|
Potassium:
302
mg
|
Fiber:
2
g
|
Sugar:
2
g
|
Vitamin A:
63
IU
|
Vitamin C:
32
mg
|
Calcium:
48
mg
|
Iron:
1
mg
Questions?
Q: I don't like cauliflower, can I use a different veggie? A: Yes! Mushrooms would be a great alternative to this.
Q: I am not good with spicy, are these spicy? A: They are very mild as far as spice goes, if you are still worried, skip the chipotle powder.
Q: What can I top these with? A: Cilantro, avocado, red cabbage, arugula, white onions, fresh jalapeños are all my favorite taco toppers for these.