Blueberry Lemon Waffles might be my favorite "pick-me-up"during the week. They are full of flavor, crispy, and light. The lemon zest really brings out the flavor and makes my breakfast or brunch go from ordinary to extraordinary.
This blog post is sponsored by Horizon Organic Milk. One thing you need for extra fluffy waffles is high quality milk. I always buy the Horizon® Organic Milk Containers. They are shelf stable and come in single serve 8oz cartons so I can keep them in the pantry vs buying a big carton. Horizon Organic is the always my go to dairy milk because it's organically produced and the cows are responsibly raised and cared for. You can find all of their products at Sprouts Farmers Market
If you are interested in other ways I use Horizon Organic products you can check out my Jalapeño Mac and Cheese It might be the creamiest recipe on my blog!
Blueberry Lemon Waffles are always a fun way to change up breakfast flavors. Lemons are in season this time of year. Grab your waffle maker and let's make something fun for breakfast! I prefer this waffle maker if you are looking for a good one.
Now let's get to the good stuff!
Print
Ingredients <em>(makes about 3 waffles)</em><br>Prep Time 7 min
1.5 C all purpose flour (or all purpose GF Powder)

1 Tbs baking powder

2 tbs coconut sugar

1 tsp lemon zest + 1/2 tsp for garnish on all 4 waffles

1 C of Horizon Organic Milk (about 1 8oz carton)

One whole egg

2 tbs avocado oil or liquid coconut oil

1 C blueberries + keep 2-4 Tbs on the side for garnish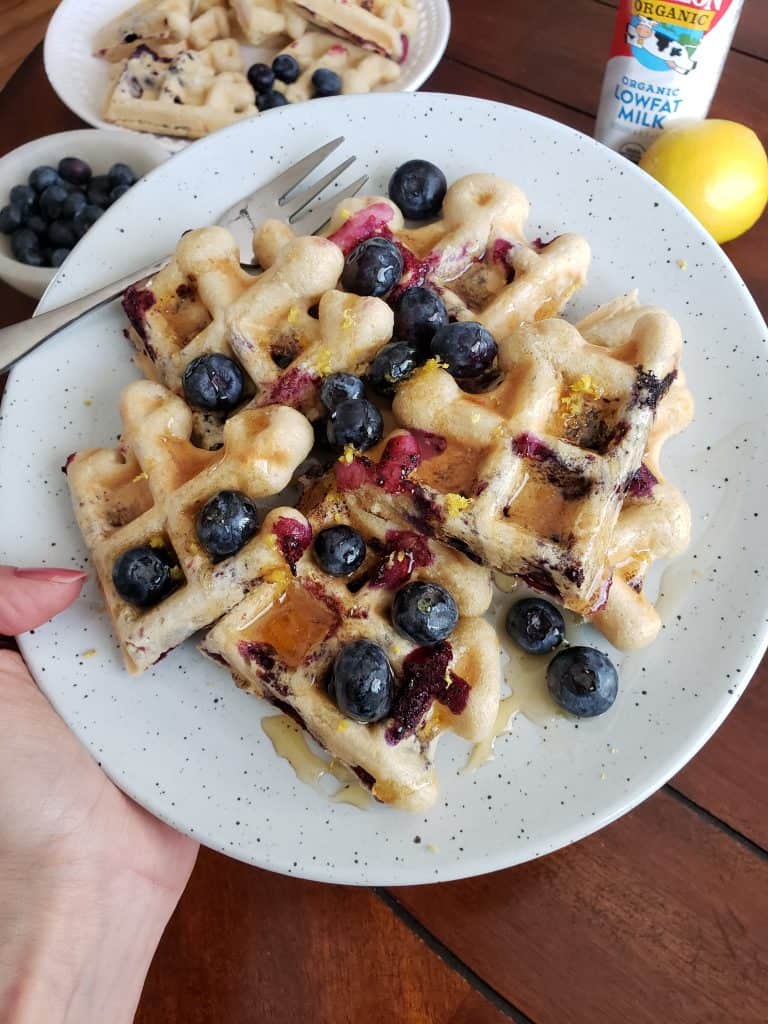 Print
Directions<br>(Cook Time about 5 min each waffle)
Preheat the waffle iron and make sure you oil it before putting batter in it
In a large bowl whisk together all the of above ingredients leaving some lemon zest and blueberries to the side for garnish
Fill waffle maker with appropriate amount (careful not to overfill!) and good until waffle maker says it's finished (around 5 minutes). Top waffles with more zest and blueberries in addition to syrup.
You will want these lemon blueberry waffles year round but they are so perfect for spring. Let me know if you try them and what you think of them!
Any questions?
Q: I don't have a belgium waffle maker, will another waffle maker work? A: yes! You may have more than 3 waffles made if you are using a smaller square waffle maker
Q: Can I use frozen blueberries? A: Yes, frozen will work for this recipe
Q: I don't have a zester what else can I use A: I use a cheese grater – just be sure to use the end with the small holes