This stuffed spaghetti squash with turkey-meat sauce is perfect for comfort food cravings without being over indulgent. This recipe is kid friendly and low carb!
Using spaghetti squash as a vehicle for your meat sauce is the way to go. It's a lower carb alternative to pasta. I love my pasta as much as the next girl however, for meal prep I prefer spaghetti squash more since I will be eating it a few days in a row.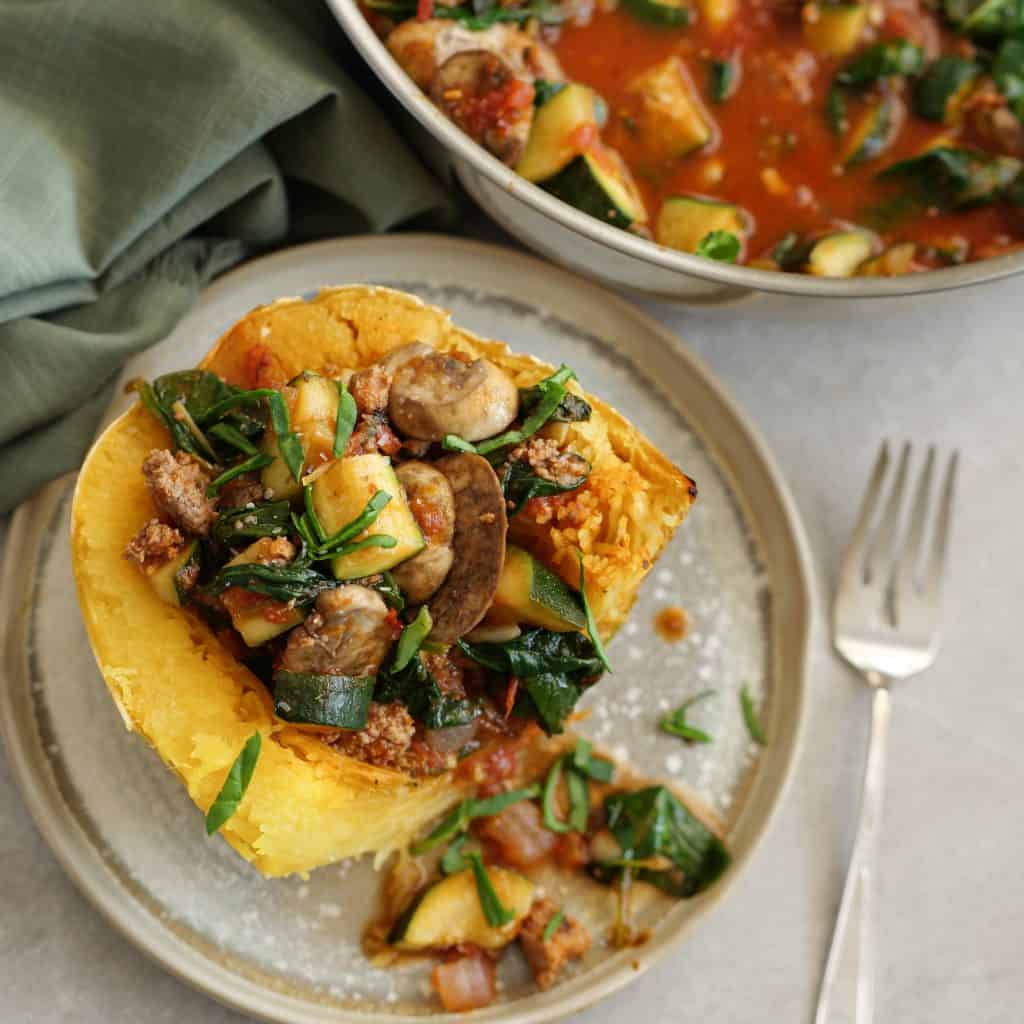 The best way to cook a spaghetti squash
Preheat the oven to 400°F.
Slice the spaghetti squash in half lengthwise and scoop out the seeds and ribbing. Drizzle the inside of the squash with olive oil. If you can't cut the spaghetti squash in half, leave it whole to bake and cut it afterward. be sure to poke holes in in with a knife or fork.
Place the squash cut side down on the baking sheet and use a fork to poke holes. Roast for 30 minutes or until lightly browned on the outside, soft enough to put a fork into it. The time will vary depending on the size of your squash and ovens.
Remove from the oven and flip the squash so that it's cut side up. When cool to the touch, use a fork to scrape the strands and seeds from the sides of the squash and discard.
Should you bake the squash whole, remove once its tender enough to pierce with a fork, slice it in half length wise and follow the above instructions.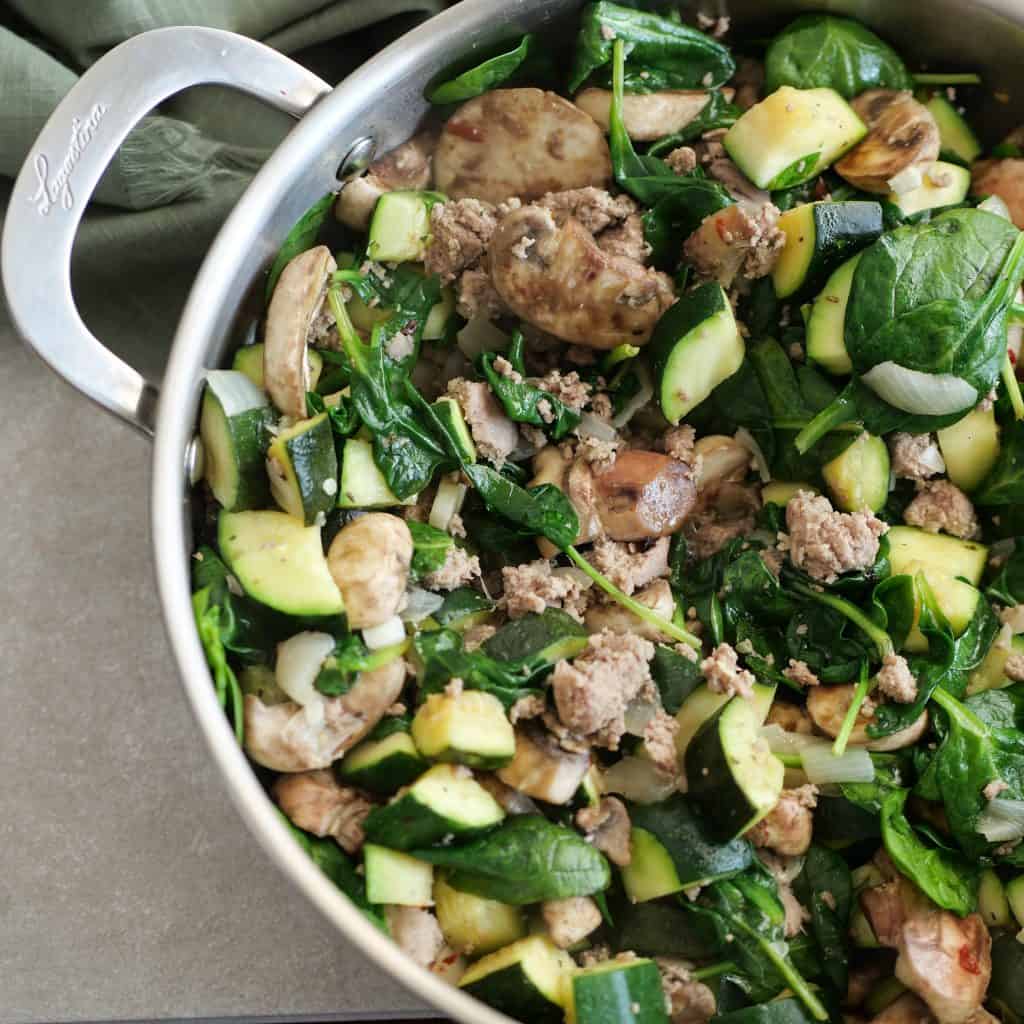 The turkey meat sauce is full of veggies
You can easily skip the turkey meat and make this a vegetarian/vegan dish! This sauce is jam packed with veggies to help boost the nutrition and fiber in the meal.
Zucchinis- are always reasonably prices so I like to add them into a lot of my meals so they bulk up the recipe a bit and stretch out the amount of nights we can eat a meal.
Mushrooms - another great way to stretch out a meal and bulk it up. Mushrooms are a great source of riboflavin, vitamin B and more
Leafy greens - I always have some leafy greens in my fridge ready for meals like this or for lunches/salads. Whenever my greens are starting to wilt a little rather than throwing them away I like to use them up with dinner and throw them into a hot pan to mix into my meals.
If you need other ways to use up leafy greens, check out these recipes!
Choosing the best healthy pasta sauce
There is a plethora of spaghetti sauces on the shelves and it can be very overwhelming to choose the right one and the healthiest one for this spaghetti-squash with turkey meat sauce . There are a few rules I always stick to when I am choosing one. I typically go for the stores organic brand.
Walmart makes a Great Value Organic pasta sauce and it's reasonable and delicious! Make sure you check out the added sugars on the label. If you have any allergies, also be sure to look at the ingredients. A lot of brands sneak in milk and cheese which isn't necessary for a good sauce. If all else fails and you want to really wow your family - try making my Easy Homemade Tomato Sauce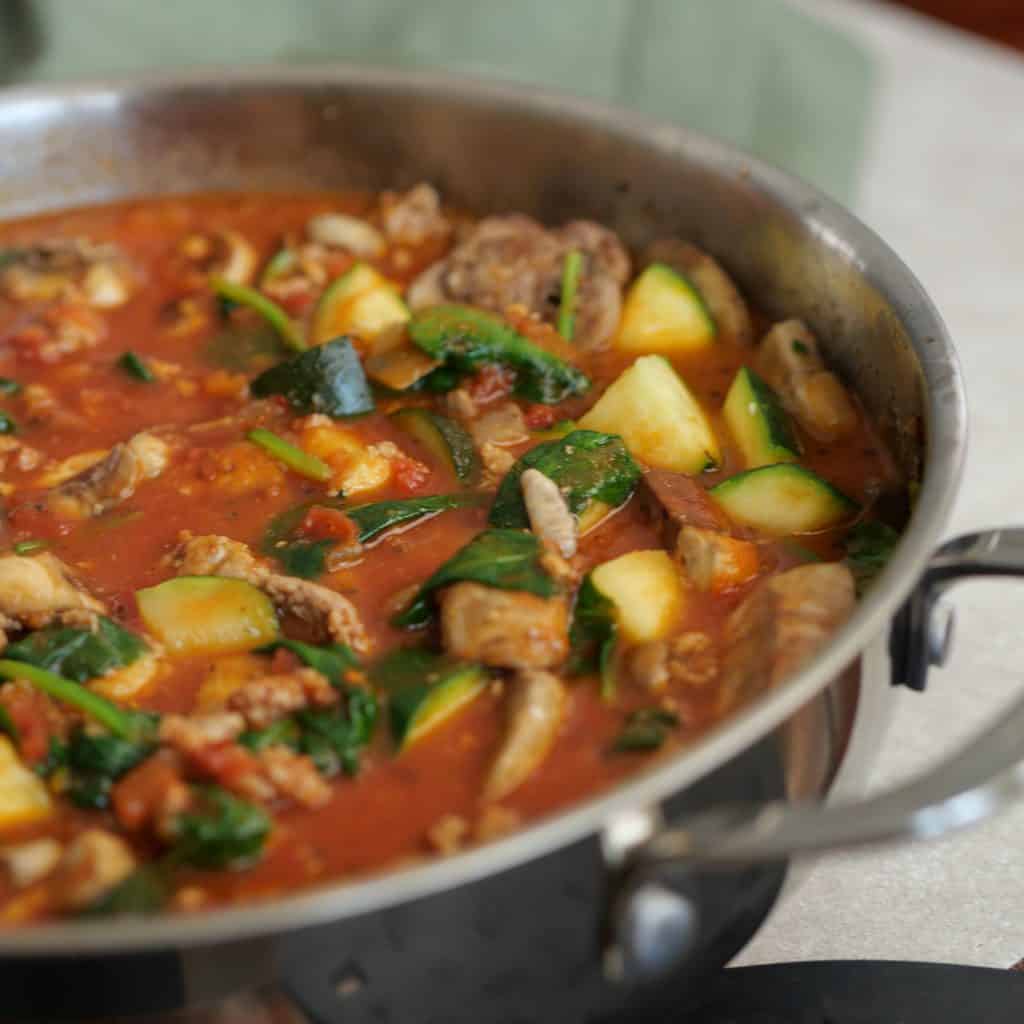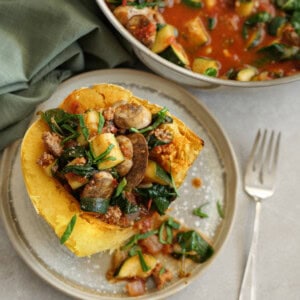 Spaghetti Squash With Spinach & Turkey Meat Sauce
This spaghetti squash with turkey-meat sauce is perfect for comfort food cravings without being over indulgent. This recipe is kid friendly and low carb! 
Print
Pin
Rate
Ingredients
1

lb

ground turkey

1

cup

chopped onion

2

cloves of garlic

½

tsp

dried oregano

1

8oz

package of mushrooms (2 cups)

2

cups

chopped zuchinni (2-3 zuchinni)

3

tbsp

olive oil

1

medium spaghetti squash (baked)

see instructions above!

3

cups

chopped kale or spinach

4

cups

pasta sauce
Instructions
Cook turkey in pan on medium heat, for about 6 minus add onions and garlic halfway through the browning process. 

Once turkey is fully cooked add in the chopped veggies. Let them sweat a bit. Add leafy greens in last. 

Add in pasta sauce and seasoning (oregano & salt and pepper to taste)

Once the pasta sauce has simmered for about 10 minutes and the squash is fully baked, cut squash into fourths and serve sauce in squash. OPTION: you may also use a fork to scoop the squash out of the shell and onto a plate and serve turkey meat sauce over it. Store leftover squash and sauce separately in airtight containers. It should last a week in the fridge. 
Nutrition
Calories:
150
kcal
|
Carbohydrates:
20
g
|
Fat:
5
g
Questions?
Q:What if I am vegan? A: This recipe is so easy to customize. Skip the turkey meat and just use the veggies listed
Q:Can I use other squash? A: I wouldn't recommend it, spaghetti squash is the perfect sweetness for this dish and the texture is strongly like spaghetti noodles.
Q:Can I use regular pasta A: Yes! You can switch it up and put this sauce over pasta.