With Crock Pot Instructions
This three bean chili with veggies is a family favorite recipe. My mom has been making it for as long as I can remember. She still makes it when she entertains her friends and it's just as good as when I was a child. I can't believe how long my family has been making this recipe! It's full of antioxidants and nutrition so you can make this a part of your monthly meal prep routine.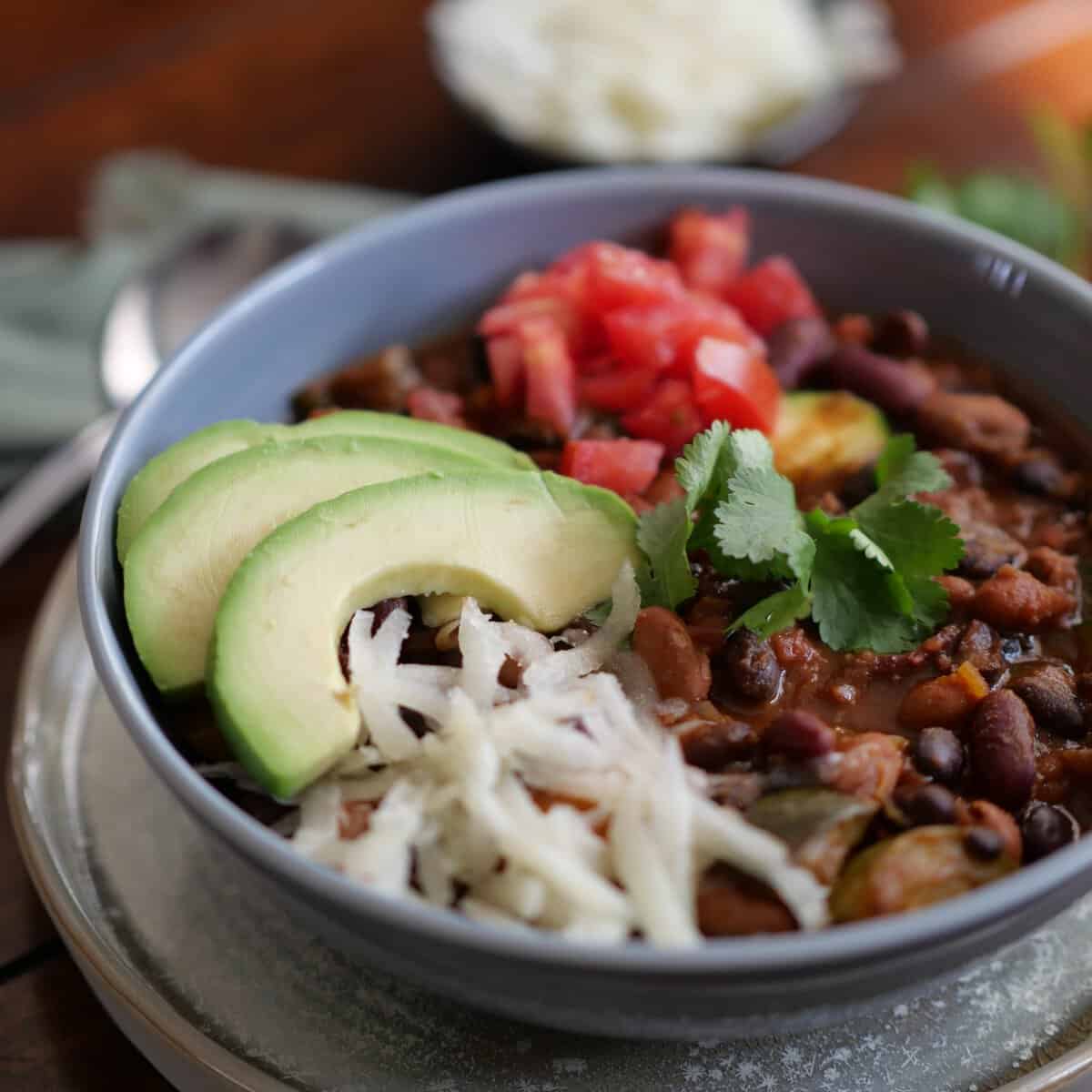 There are so many chili recipes out there and this is still my favorite, it's hearty, filling, healthy and full of nutrition.
Make the chili your own
Over the years I have made this Three Bean Chili With Vegetables into my own recipe. I have added a lot of different veggies to it so it has more of a nutrition punch. I add more spices because I like a little more kick and I have made it vegetarian several times. Speaking of spicy kicks, have you tried my Jalapeño Mac and Cheese?
This recipe is dairy free and you can make it with any of your favorite vegetables. If you are vegetarian, you can easily skip the ground meat in this recipe and it is just as hearty and full of flavor. You can really make this chili so many different ways.
Chili Toppings
Chili just isn't as good without the fun toppings. I don't like to get too crazy with the toppings because before you know it your healthy chili just became a calorie bust. I typically pick 1-3 toppings and quite while I am ahead. These are my go-to choice toppings for chili:
chopped jalapeño
sour cream
cheese (I like manchego)
tortilla chips
avocado
cilantro
chopped tomatoes
nutritional yeast
Chili is filling, comforting and packed with undeniable flavor. Chili is so forgiving if you forget a spice or an ingredient it will be just as delicious but will take on a different flavor.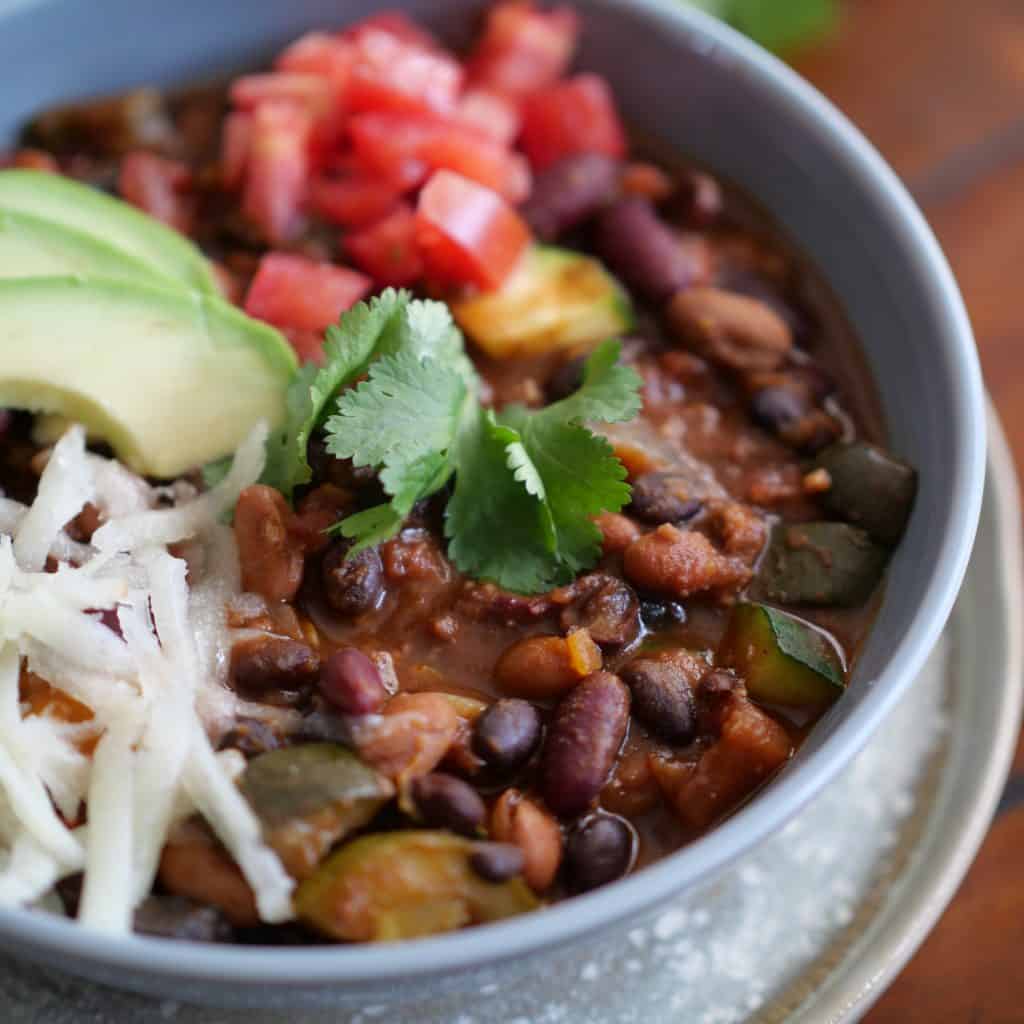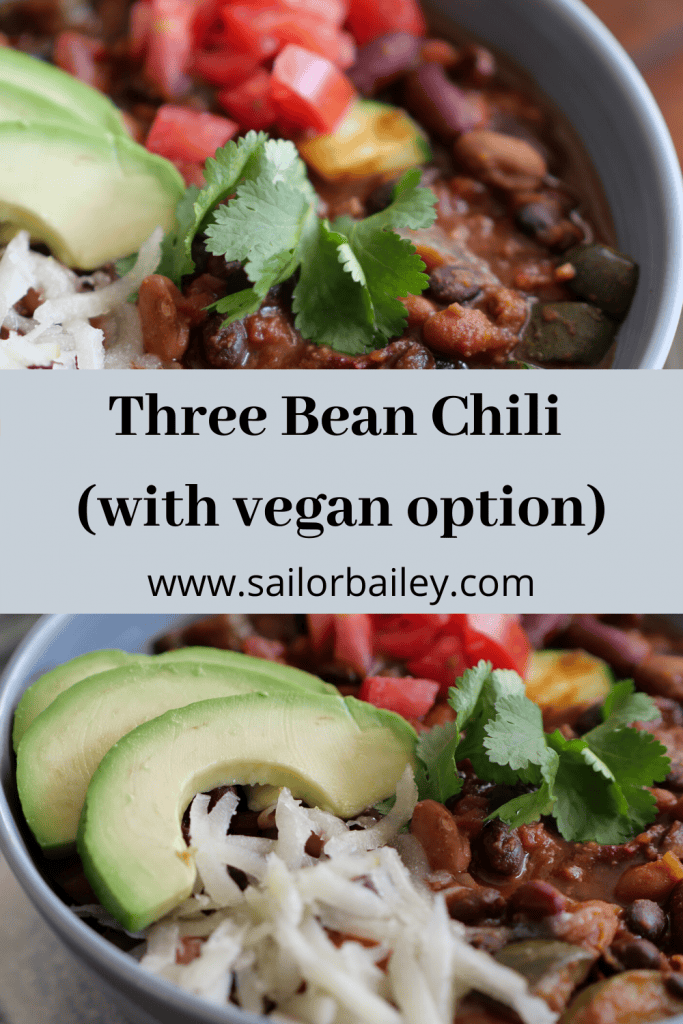 3 Bean Turkey Chili Loaded With Veggies
This three bean chili with veggies is a family favorite recipe. You can easily customize it with your favorite veggies, meat or make it vegan.
Print
Pin
Rate
Ingredients
1

lb

ground turkey (skip if you are vegetarian! The recipe is great without meat)

1

large chopped onion

2

15.5 oz

cans of red kidney beans

2

15.5oz

cans of dark red kidney beans

1

15.5oz

can of black beans

1

28 oz

can of peeled Italian- style tomatoes cut up

1

14.5 oz

can of stewed tomatoes

2

4 oz

cans of diced green chilis

1

chopped jalapeño

1½

cup

chopped zucchini (about 2)

1

8oz

packageof sliced mushrooms

¼

cup

chili powder

1

tsp

garlic powder (or 4 chopped cloves if you love garlic)

1

tsp

dried oregano (crushed with your fingers to liven up the 

¼

tsp

crushed red pepper

¼

tsp

salt

2

cups

water
Instructions
drain and rinse all the cans of beans in a colander.

heat dutch oven/pot with olive oil. Add onions and garlic cloves saute lightly.

add ground turkey meat and lightly brown

add all ingredients in order from above

*If cooking in a crockpot, layer meat on the bottom and add all of the ingredients to the top. Cook on high for 4 to 5 hours stir well in-between. 

simmer on low for at least 30 minutes to an 1 hour or low setting on crockpot for 6 – 8 hours.

Serve and enjoy with fresh cilantro, crushed tortilla chips or cheese.
Questions and chili tips
Do I have to use meat for this Three Bean Chili With Vegetables? No this recipe is perfectly fine made vegan. You can also use a different meat than ground turkey. It is fool proof and good either way.
Can I use any beans? Yes, if you prefer chickpeas or white beans feel free to use any bean of your liking. Just make sure they are canned. If you are cooking raw beans, follow cooking instructions before adding them into this recipe.
I have other leftover vegetables. Can I throw them in there? Yes you sure can!
If you are trying to stretch this meal out for a larger family for a few nights, add more zucchini canned beans and season as you go. We try to stretch this recipe out for the entire week between Matt & I. By night 3 I add 2 more cans of beans and a chopped zucchini.