Single Serve Overnight Oats are quite possibly the easiest breakfast out there. I have been depending on them for years now to get me though a busy week when I don't have time to make breakfast in the morning. The best part is you can prepare a few mornings worth in one night and have breakfast ready for the week! There is no cooking required for this.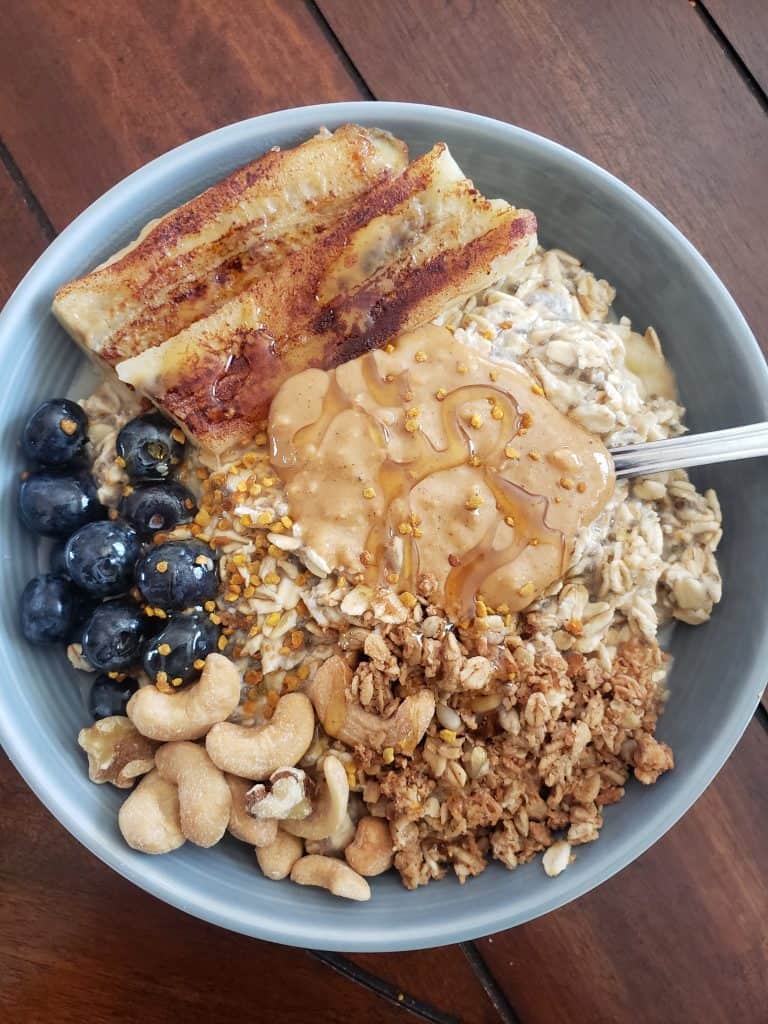 What are Overnight Oats?
Overnight oats are a quick and easy breakfast or snack made by soaking rolled oats in liquid overnight. They keep the texture of the oat intact, helping to avoid that gummy texture cooked oats have. You can control the thickness by added or reducing the liquid in them.
You will find that it's easy to change the texture of overnight oats. I like mine to start out thick. When I am ready to eat them I add my toppings in which sometimes will include extra milk. I eat mine at room temp or cold, you can also heat them up if you'd like.

Topping options for overnight oats
There are so many ideas that comet mind. To keep things simple, I will make a short list of my top (pun intended) toppings.
Fresh Fruit: blueberries, sautéed banana, raspberries, pomegranate seeds, orange bits, grapefruit bits, grapes and blackberries - lots of antioxidants.
Dried Fruit: Raisins, apricots, cherries, dates.
Nuts & Seeds: Cashews, almond pieces, flax, pipits, walnuts great fiber, healthy fats and a little more protein.
Nut Butters: Any and every kind is delicious and will add healthy fats and protein.
Sweeteners: Honey, maple syrup, stevia, monk fruit, coconut sugar
Granola: - to add a little bit crunch. I have a great homemade recipe for granola here.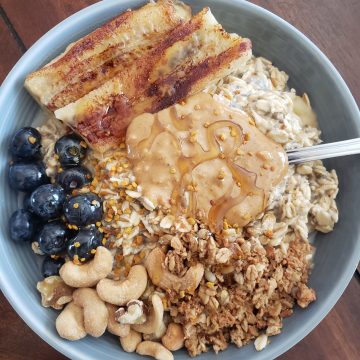 Single Serve Overnight Oats
This is the same delicious recipe as our Sailor Bailey Overnight Oats, just single serving. All you need are a couple of minutes for prep, and 4 ingredients.
Print
Pin
Rate
Ingredients
½

cup

oats

any style will do!

1

tbs

chia seeds

½

medium sliced banana

option to leave out or top with banana, however I like the texture and sweetness the banana brings to the soaked oats) 

½

cup

milk (I use almond milk)

1

tsp

maple syrup or 4 drops of stevia
Instructions
Slice the banana into coins or chopped pieces place in a jar or cereal bowl. Add in above ingredients and stir well. 

Cover jar or bowl and place in fridge for 4 hours or overnight for thickest consistency. Top with your favorite fruit and nut butters and other toppings mentioned above for the ultimate breakfast. Enjoy! 
Any Questions?
Q: How long will these last in the fridge? A: about 3 to 4 days!
Q: Do I need to warm them up? A: no, only if you want to. I enjoy them room temperature or cold.
Q: What do I top them with? A: I like to top them with blueberries, peanut butter and granola but the skies the limit with toppings.
Q: Can I use any style oats? A: yes, all types of oats will work. Steel cut will take the entire night to soak.
Q: Do oats have gluten in them? A: No they do not have gluten, however if you have an intolerance you should be sure you buy gluten free certified oats because they can be contaminated in the factories they are packaged.
Q:Do I have to use chia seeds? A: No, you can skip the chia however the chia thickens the texture and adds a nutritional kick with omega 3s, fiber and protein.