These herbed oat rolls have cranberries, rosemary and sage baked into them. They are also made with Quaker Oats giving them a hearty texture. They are a great dinner companion!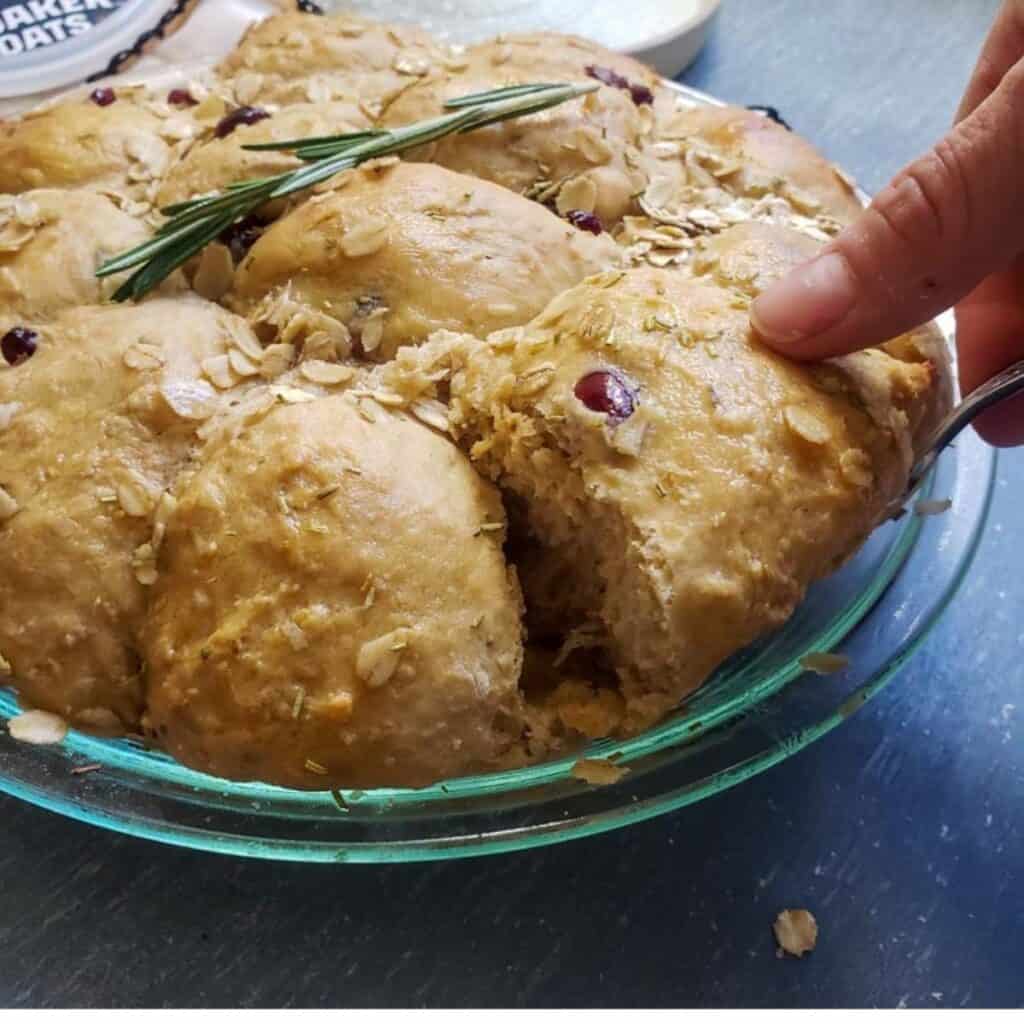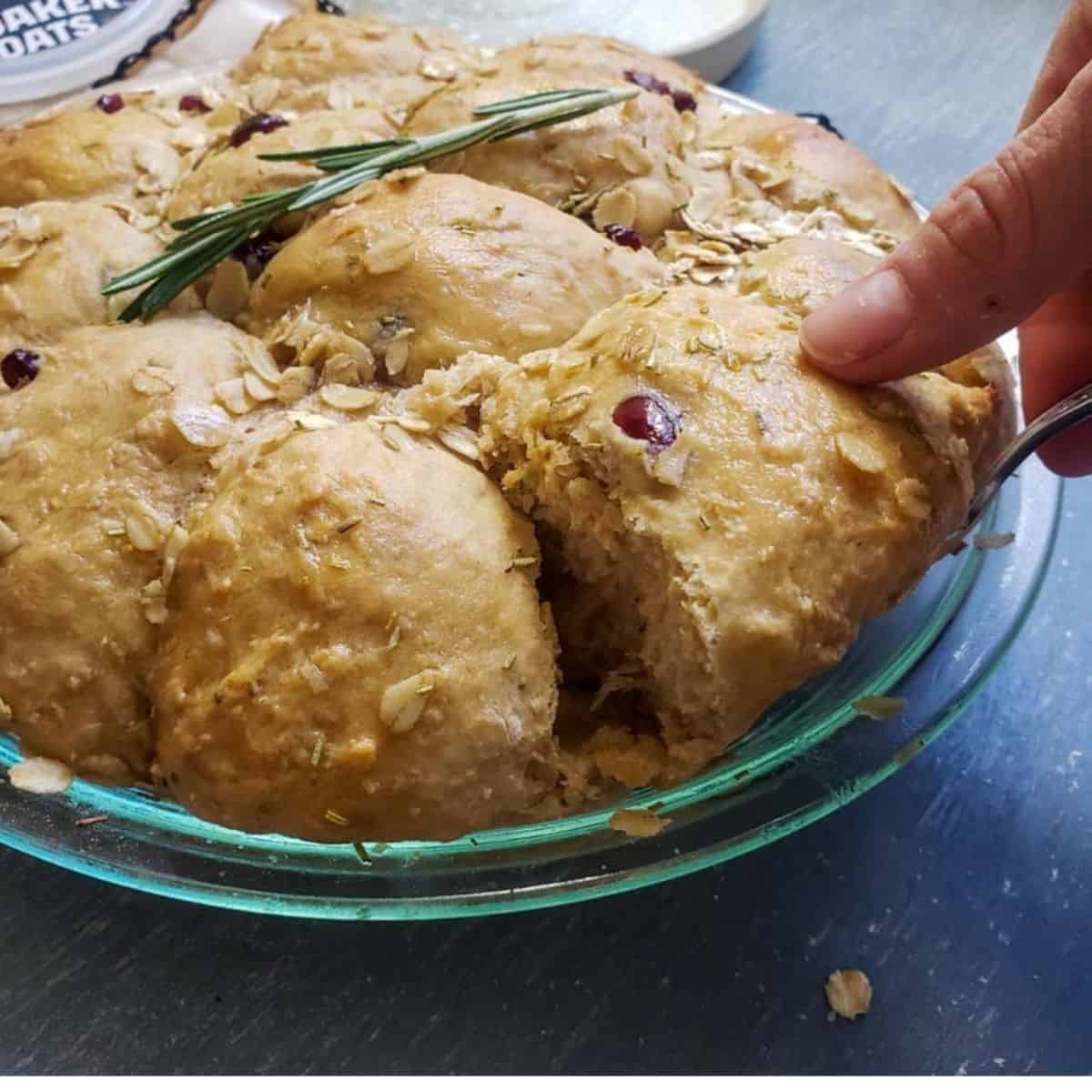 Why Make Oat Rolls
This recipe is full of flavor with added herbs and dried fruit.
These Oat Rolls are easy to whip up!

There are minimal ingredients in these oat rolls, and they will impress the entire family. Plus, you can make great mini sandwiches with the leftovers.
I don't know about you, but dinner rolls were a staple in my home, especially around the winter and holidays months. We usually bought frozen rolls and made them, but these rolls are handmade from scratch and I prefer the nutritional value of these rolls compared to some other frozen store-bought rolls. You can be an expert at making oat rolls with this easy
recipe, and even better, you can help support people facing food insecurity.
Ingredients For These Oat Rolls.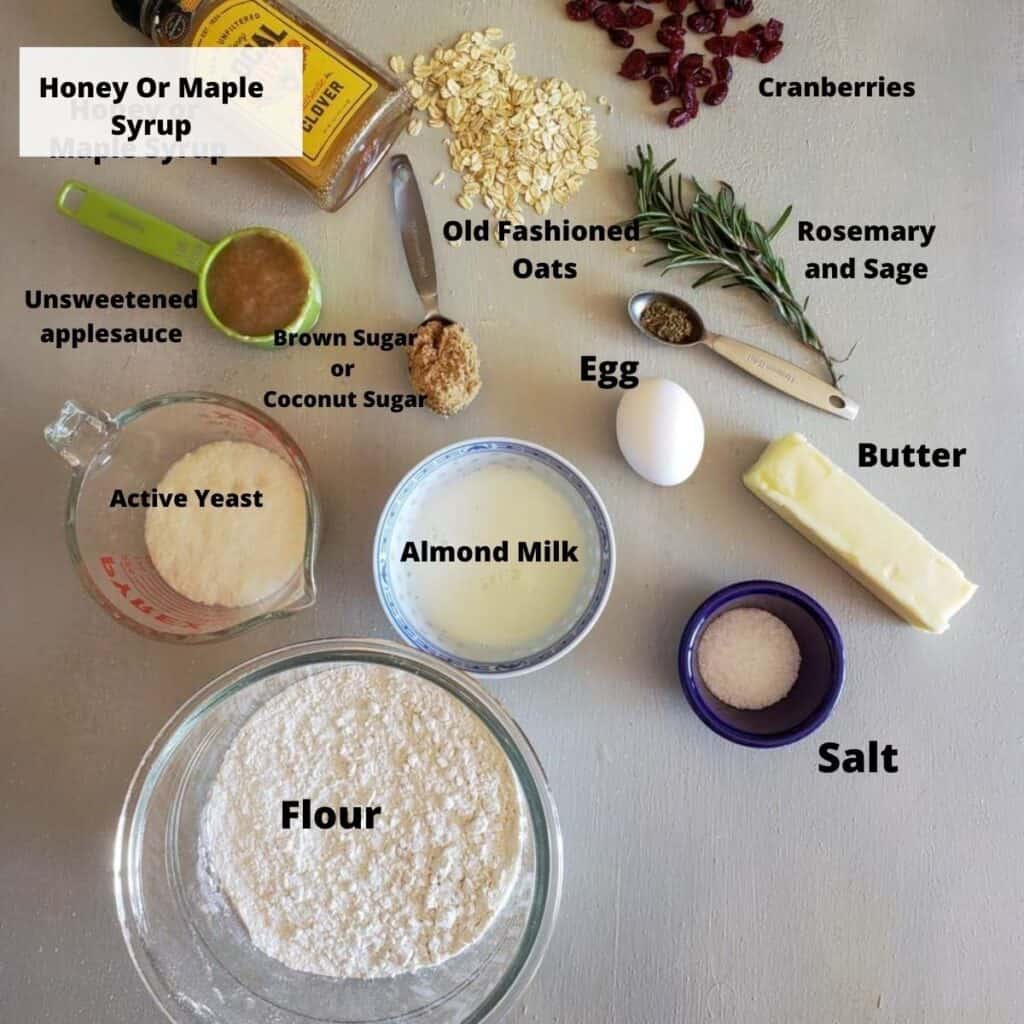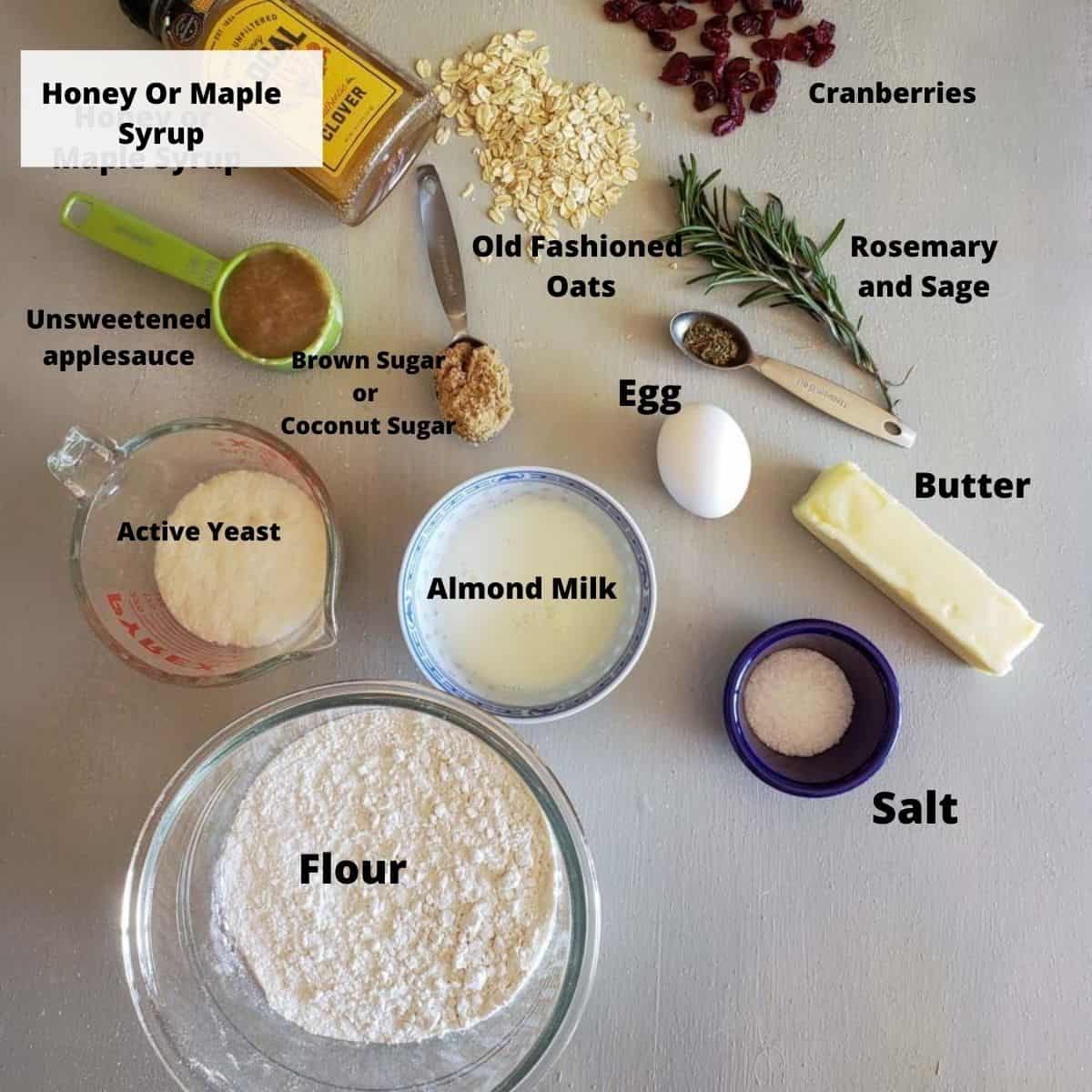 You can use quick or regular yeast. This is what makes the rolls rise
Sage & Rosemary give these rolls a festive flavor and add some texture along with the cranberries.
Applesauce. This helps to cut out some of the fat content that is typically in dinner rolls. It keeps the dough moist in the baking process.
Quaker Old Fashioned Oats. This adds fiber, and hearty flavors to these rolls. It also makes them look even tastier with the sprinkle of oats baked into the top.
How To Make This Recipe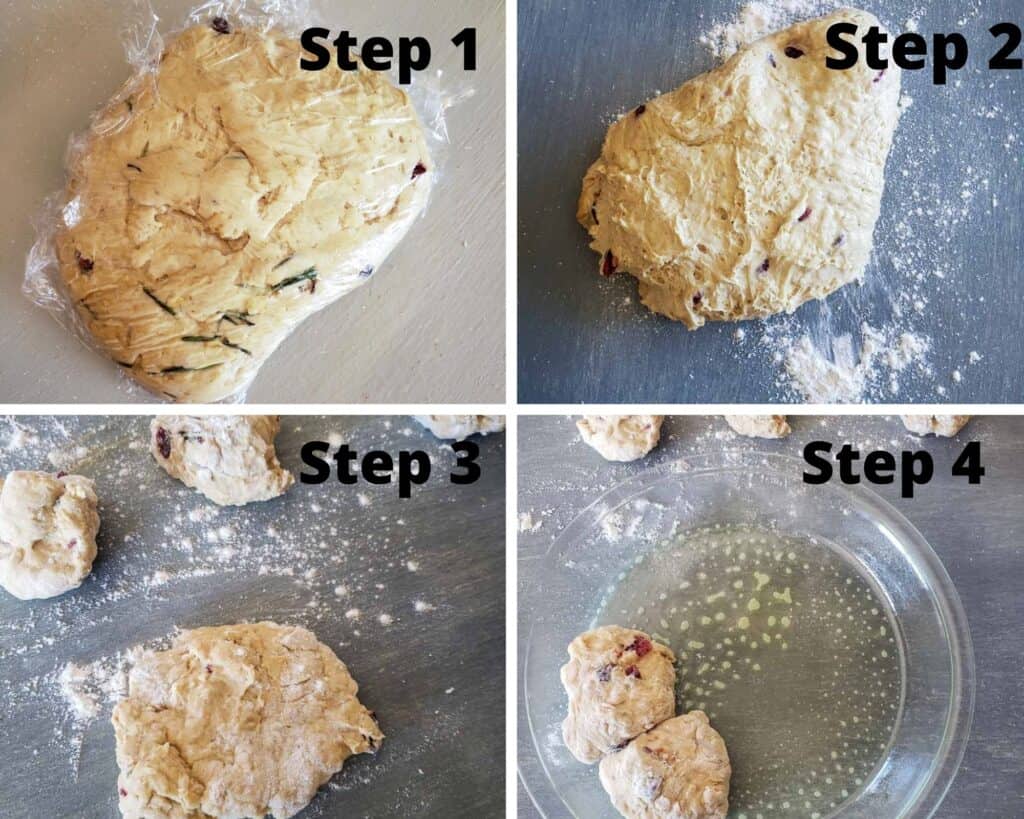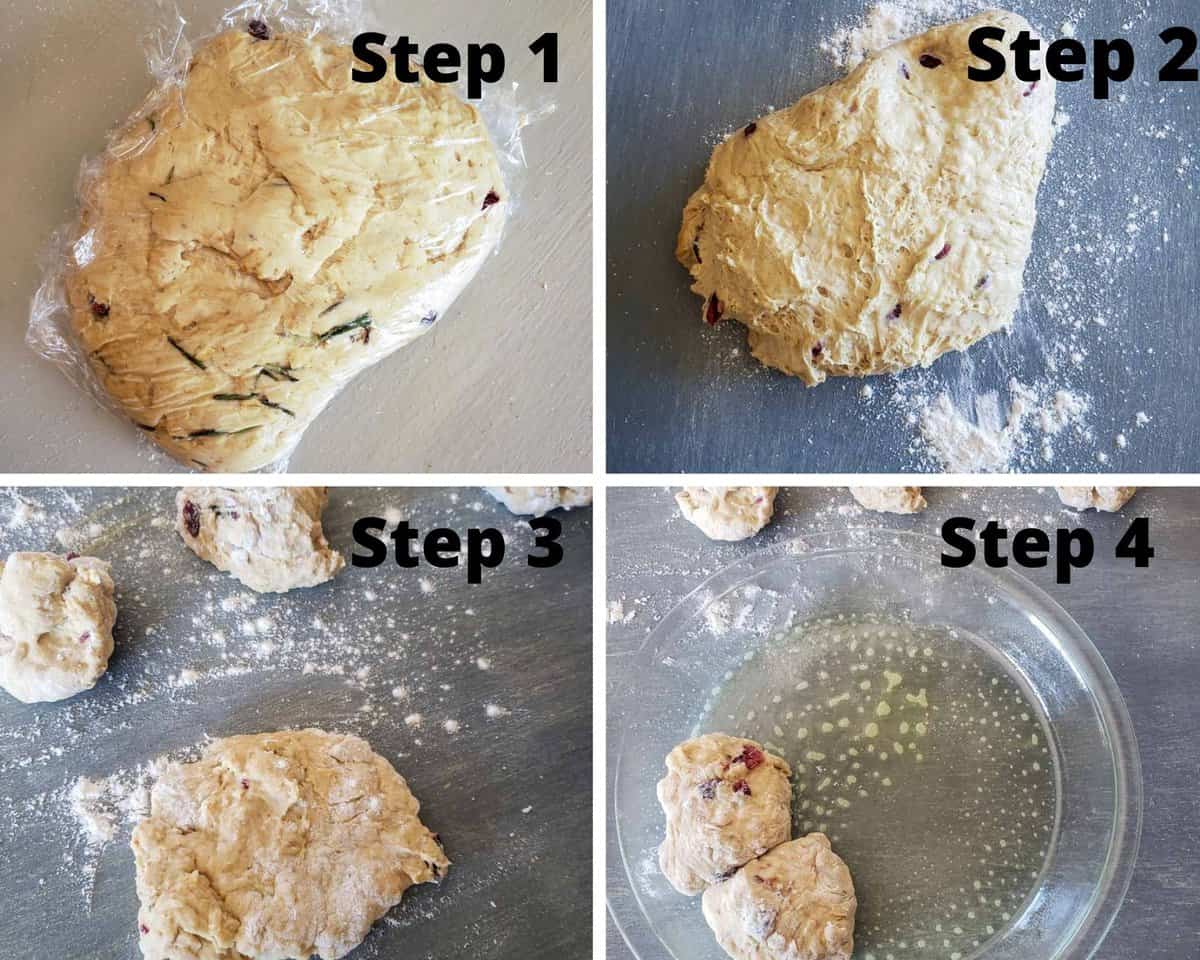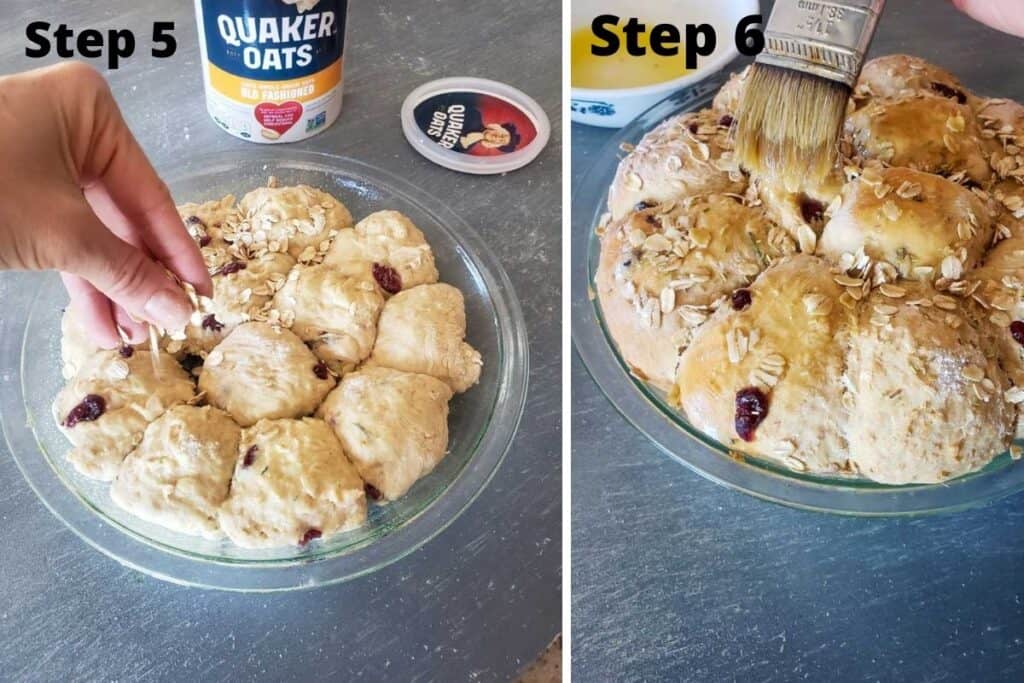 Step 1: Start with dissolving the yeast in warm water with a tiny pinch of white sugar. You will need to let it sit for about 10 minutes. It will create a foamy fuzzy top over it. If you don't have this effect use a fresh package of yeast. You will then warm almond milk in a saucepan or microwave just enough to bring it to a simmer. You will pour the milk over the butter to melt it. Then add in brown coconut sugar, oats, honey, salt and blend together well.
You will then add in the other components to form a dough. Add egg, yeast, rosemary, sage, chopped cranberries and slowly add the flour in last. You will want the mixture to be sticky. Let the dough rest for 10 minutes before putting in greased saran wrap and refrigerating for 3 hour or overnight!
Step 2: After the dough has refrigerated it will rise a little, pull it out and gently knead with fingers.
Step 3: Cut it into an even 12 -14 pieces. Form into the shape of rectangles, fold all the corners under to make a little ball shape.
Step 4: Spray a 9-inch round pan and stuff the dough rolls together so they are all tightly packed into the pan.
Step 5 & 6 Sprinkle with oats over the tops of the rolls. Let the rolls rest for about 2 hours, they will double in size at room temp. Turn the oven on 350 and back for about 30 – 35 minutes. Once they are out brush with butter or the top and enjoy!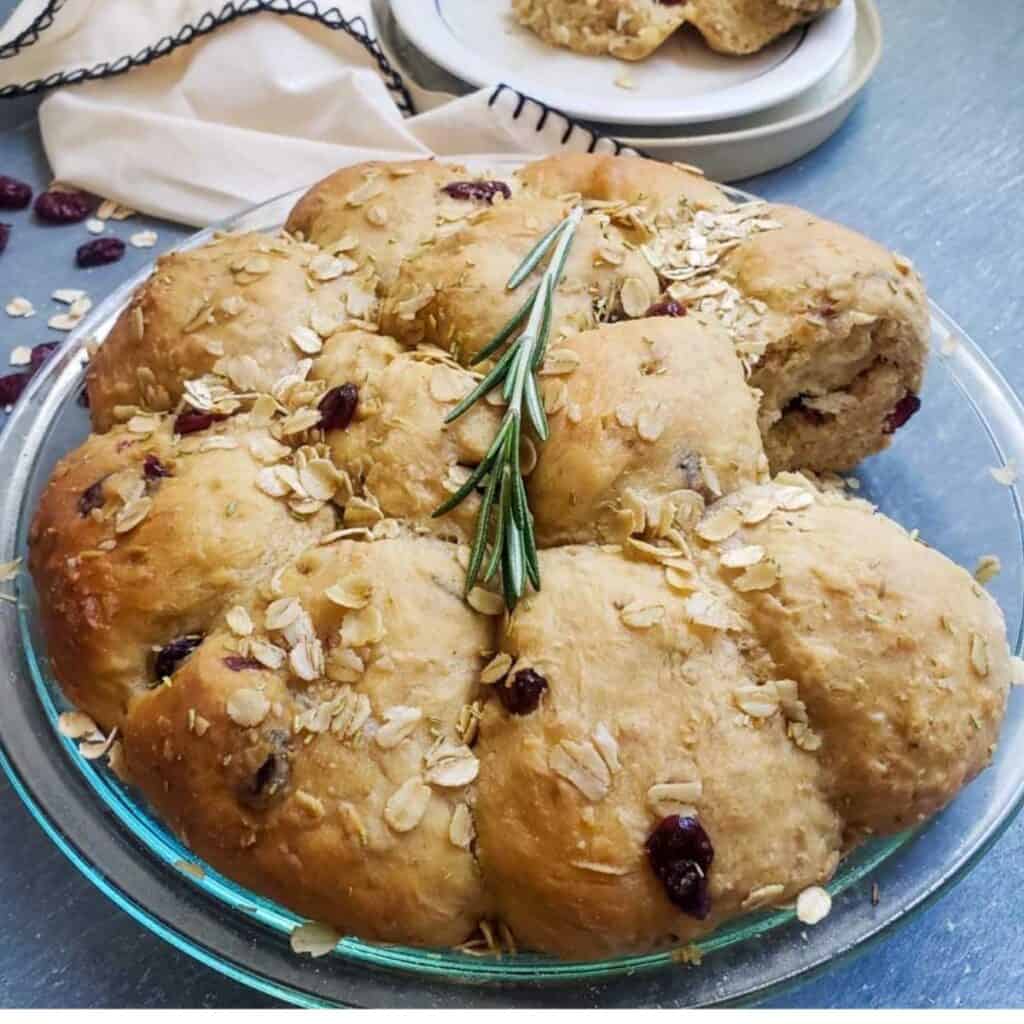 FAQs and Expert Tips
Can I use fresh cranberries?
You can, however it may affect the baking times, so I recommend using dried cranberries.
Can I use maple syrup instead of honey?
Yes, either one will work. Molasses will also work
Can I use plant-based butter?
Yes, I used plant-based milk and butter, but cow's milk will also work perfectly!
Can I make these luten free?
Yes, but only if you use gluten free ingredients including all-purpose gluten free flour and gluten free oats, specially marked "gluten free". 
Will whole wheat flour work for this recipe?
Yes, it will. 
If you don't like cranberries you may leave them out of these rolls and just make rosemary sage dinner rolls!
Other Recipes To Try:
If you loved this recipe let me know! Also, follow me on Instagram & Pinterest for even more fun recipes to make you feel good from the inside out. Thanks for being here.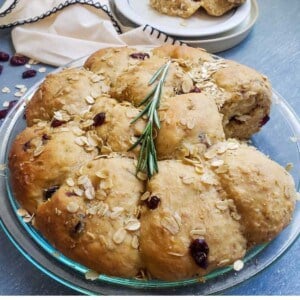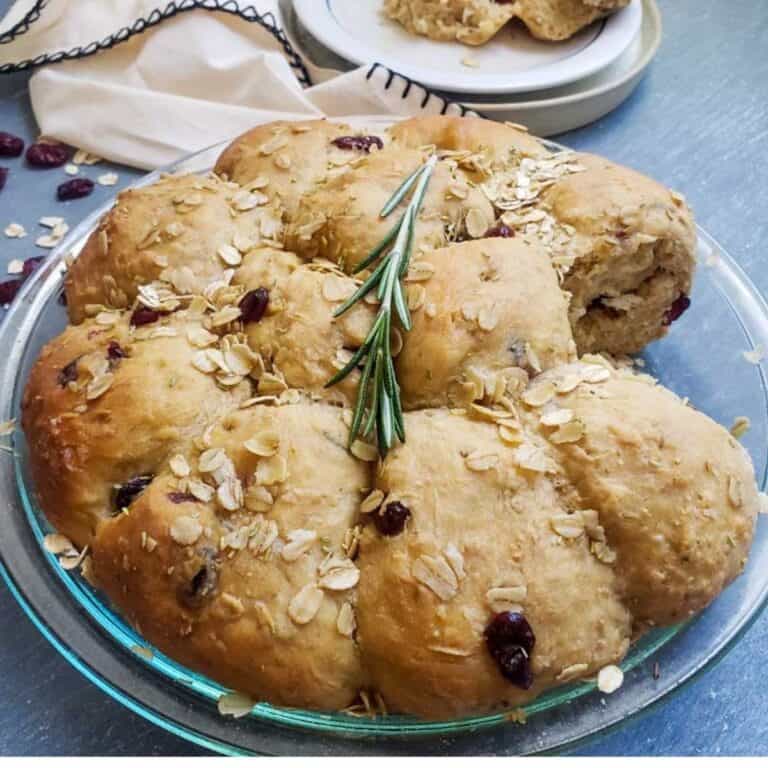 Oat Rolls
These oat rolls have cranberries, rosemary and sage baked into them. They are also made with Quaker Oats, giving them a hearty texture. They are a great dinner companion!
Print
Pin
Rate
Ingredients
2

tsp

active dry yeast

¼

cup

warm water

¾

cup

almond milk

*

¼

cup

butter

*

¼

cup

unsweetened applesauce

1

tbsp

dark brown sugar

2

tbsp

maple syrup or honey

¾

cup

Quaker Old Fashioned Oats

2

tsp

salt

1

egg

2½

cups

AP flour

*

½

cup

finely chopped dried cranberries

½

tbsp

sage

finely chopped!

½

tbsp

chopped rosemary

dried works as well.

2

tbsp

melted butter

(for brushing the rolls!)
Instructions
To Start:
Step 1: Dissolve the yeast in a small bowl with 1/4 cup of warm water (100 - 110 f) and add a small pinch of sugar to the mixture. Let it sit until it starts to bubble. If bubbles do not form, you will need to toss it and use a different packet of yeast.

Step 2: While you are letting the yeast bubble, heat the milk in the microwave or on the stovetop. Bring it to a slight simmer then take it off the heat. * if in the microwave, about 1 minute* be sure to watch it! Add milk into the butter.

Step 3: Once the butter is melted by the hot milk, you will need to add brown sugar, applesauce, maple syrup or honey, oats and salt. Make sure it is throughly mixed together and let it cool a bit.

Step 4: Once it is room temp, add in the egg. Mix it well, add in yeast and mix.

In a bowl, measure out flour and add in chopped sage, rosemary and finely chopped cranberries. mix.

Once it is mixed, add in the flour mixture slowly. Let the dough rest for 10 minutes in the bowl.

*You may need to add a small amount of extra flour if your dough is too sticky and runny. If so, add 1/3 cup of flour at a time.*
Next Prepare Dough To Rest.
Step 5: After resting, add the dough to a greased bowl, coat the dough in the grease to prevent it from sticking to the plastic saran wrap. Wrap dough into the plastic wrap. Refrigerate for at least 3 hours or overnight.

Note: the dough will not rise too much ~ majority of the rising will be when it is sitting room temp.
After Resting The Dough - Day Of Baking
Step 6: After it's been chilled, fold it with fingers on a floured work surface. Cut the dough into 12-14 equal pieces/balls. Try to form it into a rectangular shape and curl the corners under. Place into a greased 9 inch round pan. All the dough will be touching in the pan. Let it rest somewhere warm/room temp for 2 hours.

Bake on 350 for about 40 minutes or until the rolls are browned. Brush with melted butter and serve!
Notes
*To make dairy free use almond milk and vegan butter
*if not dairy-free, use cow's milk butter and milk
*You can use AP gluten-free or wheat flour to make these rolls. 
Nutrition
Calories:
160
kcal
|
Fat:
4
g
|
Saturated Fat:
3
g
|
Sodium:
40
mg
|
Fiber:
2
g
|
Sugar:
5
g