This dish is a great way to impress your family and friends. It is something typically served in classy restaurants and you can whip it up in minutes. This recipe can be made with dairy or it can be 100% plant-based.
Orzo has become a new favorite in my household. It's a fun texture and shape. It makes a great main or side dish. The nutty flavor of Orzo makes it a perfect canvas for many great flavors. I always forget about Orzo until I step into a fun restaurant that serves it. Make a treat for you or your family tonight and serve this Garlic Parmesan Orzo!
Recipe Features:
Dietary: Vegetarian, vegan options, nut allergy options
Skills Needed: Fool Proof!
Can be served as a main or a side dish!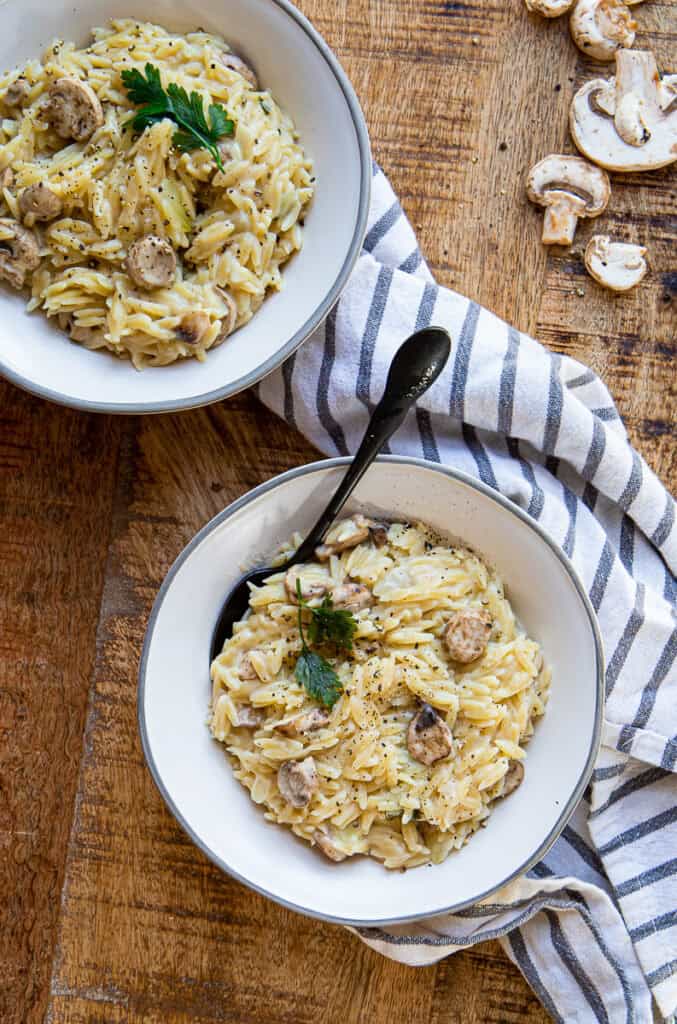 Have You Tried Orzo?
Orzo is a form of shortcut pasta that is shaped like a large grain of rice. It has a wonderful nutty flavor to it and the texture makes it feel like you are eating something so decadent. I picked up a bag of Orzo from my local sprouts along with Silk® plant based Oat Yeah™ oatmilk.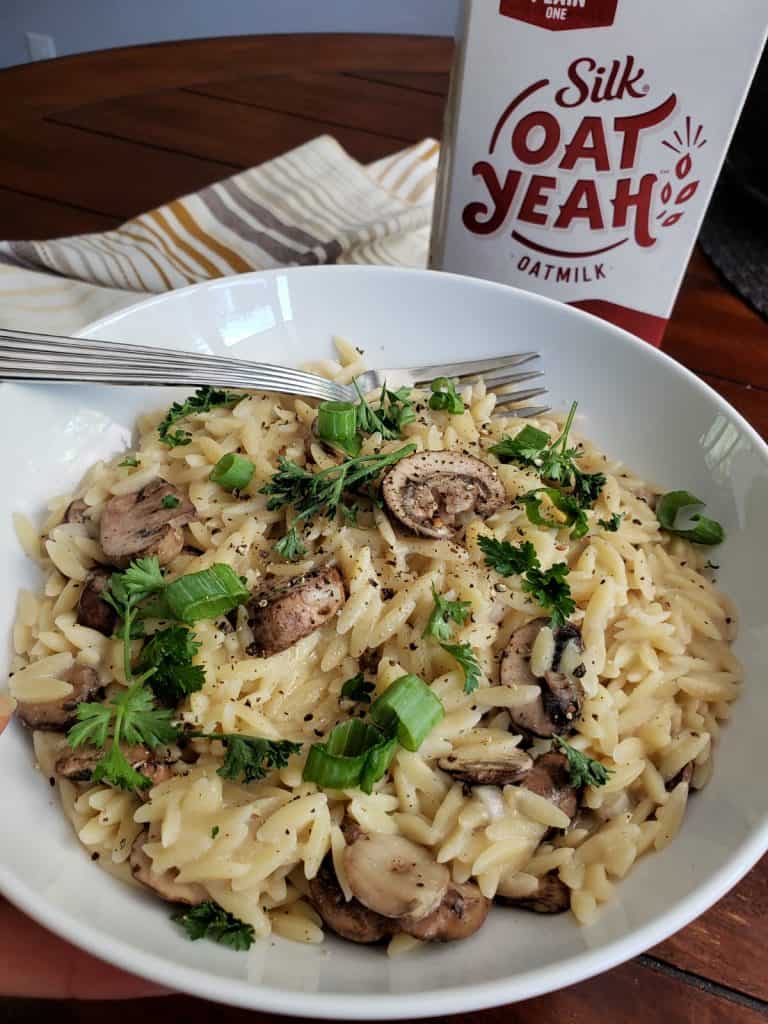 WHAT YOU WILL NEED:
Orzo: a form of shortcut pasta that is shaped like a large grain of rice.
Garlic: Fresh chopped
Salt & Pepper: to taste!
Fresh Parmesan: grated and italian. Pecorino will also work
Milk: Nut milk, oat milk or cow milk it will all be equally delicious
Butter: I use unsalted. The butter brings this dish to a rich decadent level! Plant based butter or ghee will also work
Mushrooms: Any kind will do, I prefer sliced button or crimini mushrooms. You may sub out the mushrooms for peas or chopped broccoli.
Fresh Parsley: Do not skip this one! The parsley adds s touch of color and brings out the garlic in the dish.
Step 1: How to make a roux
Roux is a flour/fat mix that is cooked together in order to thicken liquid. In this case we are using starch instead of flour. You may substitute flour for starch should that suit you!
A roux needs some attention. Make sure you aren't distracted whenever you are whipping up a roux. It only takes a few minutes however it can easily burn if you walk away for a quick minute. Use a whisk to really get the clumps out and get a high quality smooth roux ready to thicken up your sauces and soups!  
Cooking Process & Tips
You will want to add in your seasonings once the roux is finished. Quickly whisk together the ingredients and let the flavors release into the sauce. Again, do not walk away from this process as it can burn or bubble over easily.
Step 2: Add all of your seasonings and cheeses to the roux
How To Cut Down On Dishes
Use this trick and have a few less dishes to worry about. I call for mushrooms, but you can easily use frozen peas or chopped broccoli if you aren't a mushroom lover. Rather then using a separate pan or pot to cook these veggies you will just stick them in with the boiling water cooking the orzo! 
It's all going in the same pot so why not cook up your veggies in the same water as the pasta! I do this trick often and it always cuts down on my dishes. 
Step 3: Add cooked orzo
Add the cooked orzo and blanched mushrooms to the sauce pan and stir in well.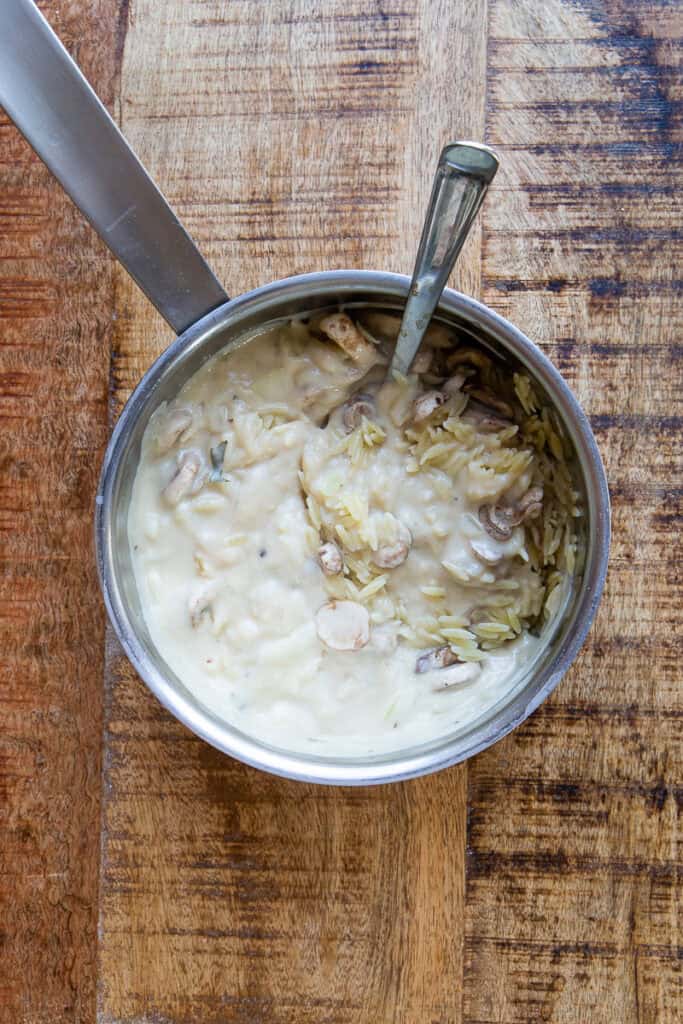 Have Some High Quality Olive Oil Ready
 I don't call for olive oil in this recipe. However, I like to drizzle the top on the dish with a little drizzle of high quality olive oil to help spread the sauce and add a touch of Italian richness to it. You can easily skip this part but I do love what that little drizzle does.
Cooking and Storing Tips
This recipe is a great dish to make for meal prep. It serves as a great side dish for multiple main courses, can be enjoyed for lunch or on salads. I suggest you keep any leftovers in a glass Tupperware in the refrigerator. It should last for about 7 days.
You can add extra garlic if you want to keep the vampires away! I love adding lots of garlic to this dish, the garlic and parmesan are such a great couple together melted into the orzo.
Garlic Parmesan Orzo
This dish is rich, nutty and satifying. You can serve it as a side or enjoy it as a vegetarian or vegan dish.
Print
Pin
Rate
Ingredients
3

Tbsp

melted butter

1½

cup

milk

I used Silk Oat Yeah milk

2

Tbsp

minced garlic

⅛

tsp

salt & pepper

1

Tbsp

chopped onion

2

Tbsp

parsley + extra for garnish

1½

cup

cooked orzo

½

cup

mushrooms

4

Tbsp

parmesan
Instructions
In a pan, melt butter and slowly add starch to make roux. Once butter starts to lightly brown and thicken, add the oat milk or any milk in and slowly and whisk. While whisking, add garlic, seasonings, onions, parmesan and simmer on low for 5 minutes.

Once orzo is almost cooked in boiling water, add the mushrooms to the water to get them blanched. Drain water. Add the sauce from the pan and mix well so orzo is completely covered. If needed, add some olive oil to the top of the orzo to help spread the garlic sauce. Sprinkle with parsley for garnish. Enjoy!
Notes
*Any milk will work in this recipe. Make sure to use unsweetened plain nut milk if trying to make this recipe vegan.
*Ghee or vegan butter will work great in this recipe
*Skip the mushrooms and use peas or finely chopped broccoli!
Nutrition
Calories:
180
kcal
|
Carbohydrates:
19
g
|
Protein:
6
g
|
Fat:
9
g
|
Saturated Fat:
3
g
|
Cholesterol:
8
mg
|
Sodium:
147
mg
|
Potassium:
137
mg
|
Fiber:
1
g
|
Sugar:
4
g
|
Vitamin A:
375
IU
|
Vitamin C:
1
mg
|
Calcium:
119
mg
|
Iron:
1
mg