These Peanut Butter Jelly Bars are the perfect snack with a great protein punch. It's a great healthy snack for you and the kids!
I am currently eating one of these as I type, getting peanut butter all over my computer keys (worth it!). These bars can be pulled right out of the freezer and enjoyed within a few minutes. They soften up so quickly once you grab one.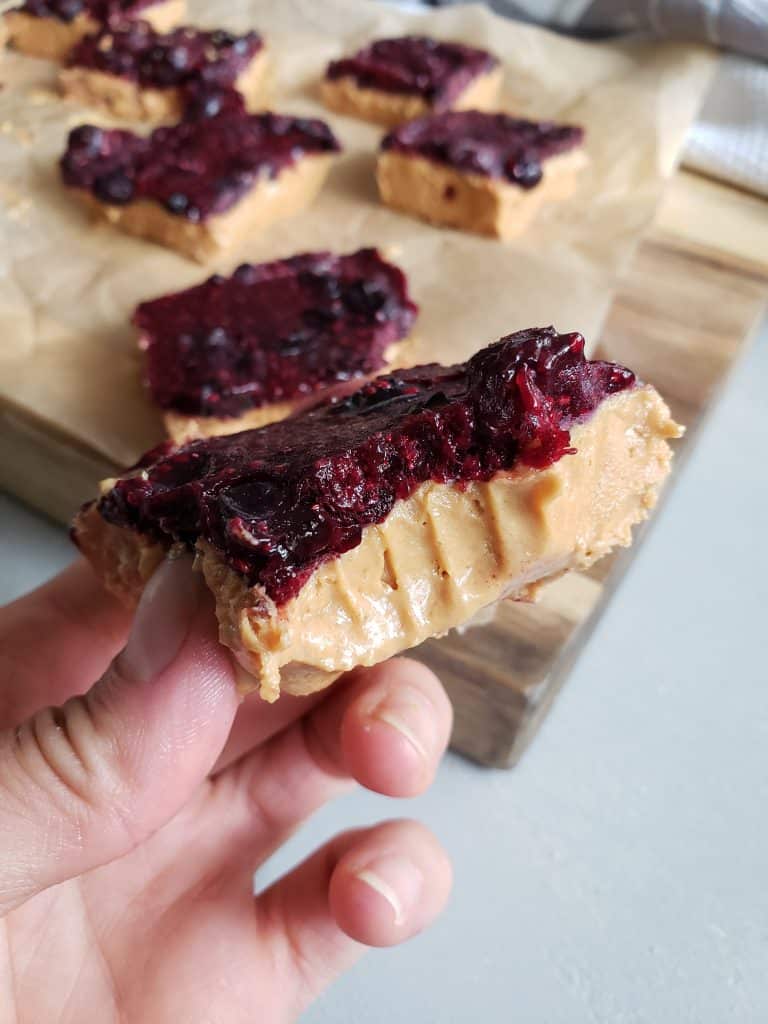 A few other freezer snack ideas
These bars are very low in sugar, have added protein and offer healthy fats making it a great snack for before or after a workout. You will be making your own quick jam for the topping which cuts out a lot of sugar (processed jams and jellies have a lot of added sugars!)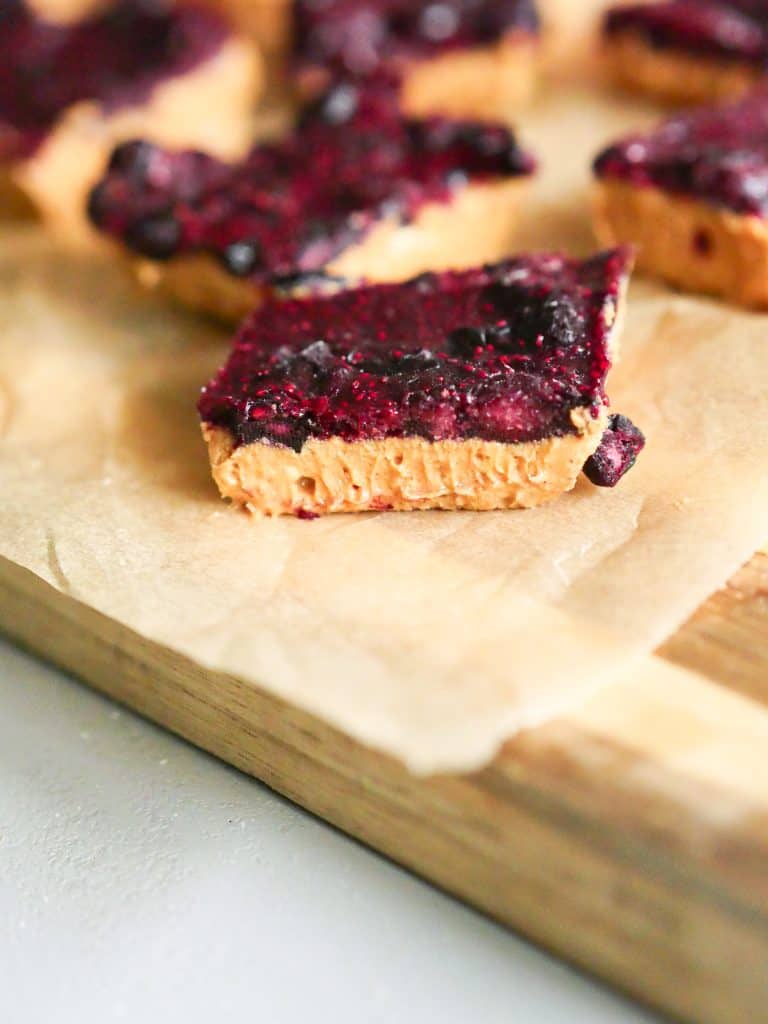 Making your own jam
This is so easy, do not get overwhelmed by the idea! You can make any flavor jam you'd like. I always prefer blueberry jam because it gives a beautiful color. You can find my blueberry ginger compote recipe here. This jam is great in oatmeals, on toasts or graham crackers.
The jam for these bars is very easy. It has 4 simple ingredients and is ready in under 5 minutes.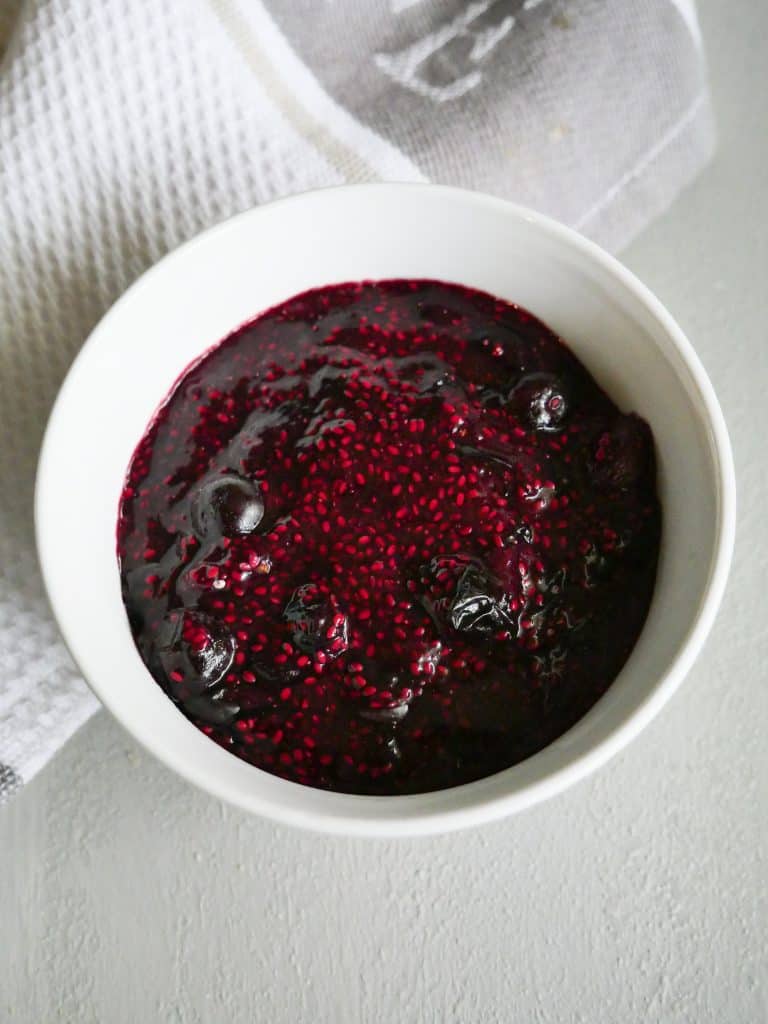 You will need:
Chia seeds, 1.5 cup of blueberries (fresh or frozen) lemon juice and maple syrup to make this jam.
You will also need natural peanut butter. You must use a natural brand that is drippy like Adams peanut butter.
Coconut oil (optional) but it will give you a better consistency to bite through.
Protein powder (optional) to add some protein to this snack
Maple Syrup. To sweeten it up a little. You may also use stevia if you are watching your sugar intake closely.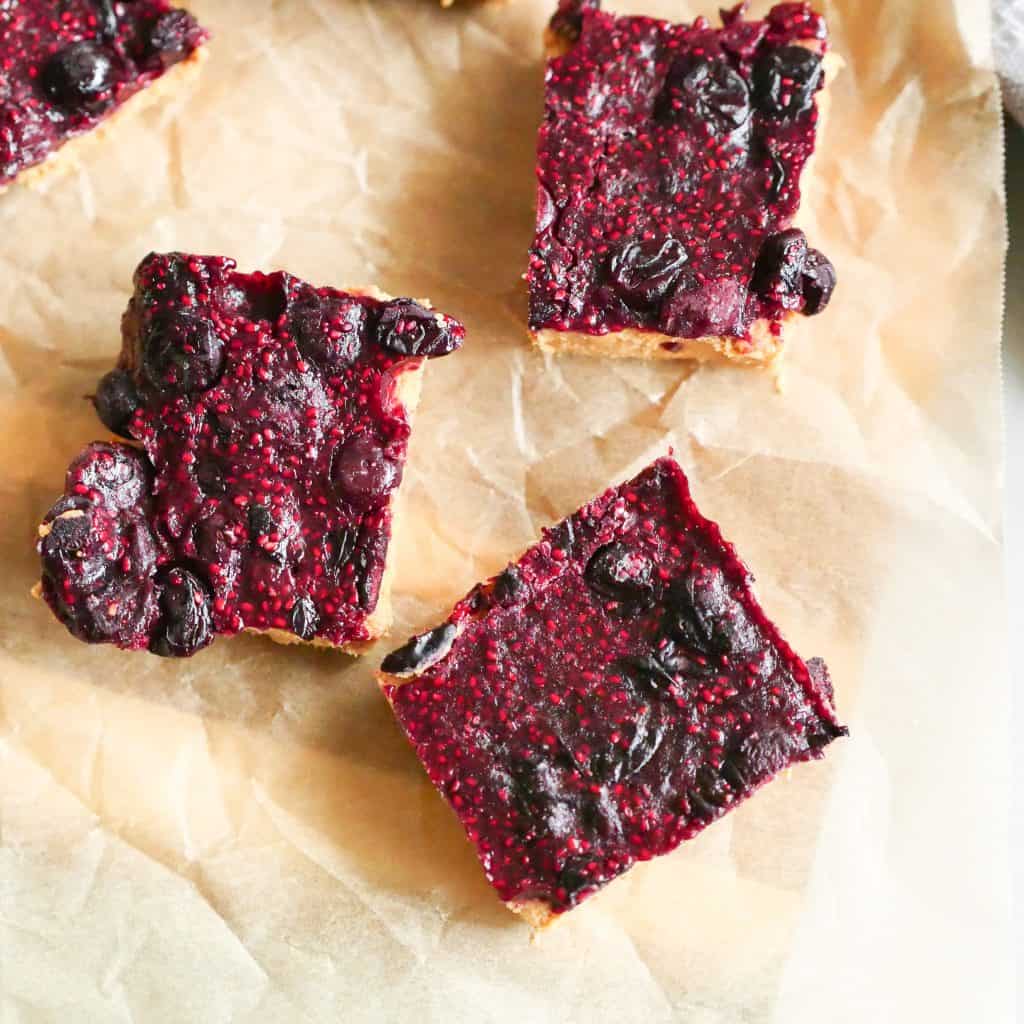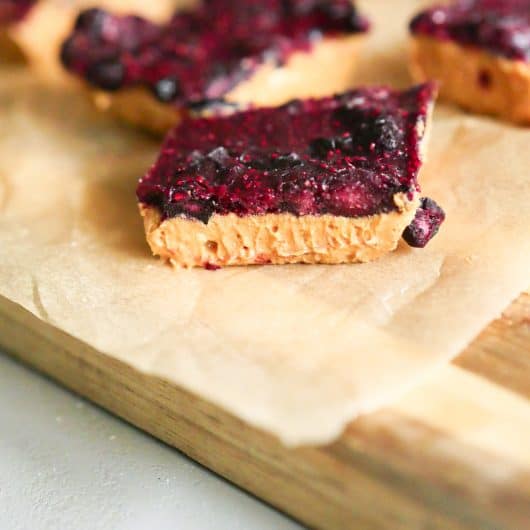 Easy Peanut Butter Jelly Freezer Bars
These Peanut Butter Jelly Bars are the perfect snack with a great protein punch. It's ahealthy, easy snack for you and the kids!
Print
Pin
Rate
Equipment
Bread Loaf Pan

Parchement Paper
Ingredients
For the nut butter "fudge"
1½

cup

peanut butter (or any nut butter)

¼

cup

protein powder of your choice

optional

2

tbsp

maple syrup

*

⅛

tsp

sea salt

3

tbs

melted coconut oil
Bluebery Chia Jam
1½

cup

frozen blueberries

3

tbsp

chia seeds

1

tsp

lemon juice

1

tbsp

maple syrup

*
Instructions
Mix the ingrecients for the peanut butter "fudge" together in a bowl. Make room in your freezer for a bread loaf pan to sit flat. Place parcment paper around bread loaf pan (use clips to secure if need be!) Pour mixture into bread loaf pan. Place in freezer while you make jam.

In a small sauce pan combine all the jam ingredients together. Simmer and smash blueberries with a fork gently until it's a suace consistancy (about 3 to 5 minutes) let the mixture cool. Stir together well. Once "fudge" is mostly hard and frozen, pour jam over the top. Spread it evenly over the fudge and place back in the freezer for at least 30 minutes.

Once the jam is hard pull out of the freezer let it warm up for about 2 minutes. Pull fudge out with parchemnt paper (use a spatuala to loosen any sides sticking to the load pan). Keep on parchement paper and slice into bite sized squares on a cutting board. Enjoy.

*store leftovers wrapped in parchment paper on a small plate in freezer and pull out whenever you want a snack!
Notes
* option to use stevia or monk fruit but cut the measurements to taste! 
Nutrition
Serving:
16
g
|
Calories:
231
kcal
|
Carbohydrates:
7
g
|
Protein:
10
g
|
Fat:
17
g
|
Saturated Fat:
4
g
|
Polyunsaturated Fat:
3
g
|
Sodium:
110
mg
|
Potassium:
68
mg
|
Fiber:
6
g
|
Sugar:
4
g