Crab cakes baked in the air fryer with corn and a yogurt dill sauce. The perfect light meal or appetizer.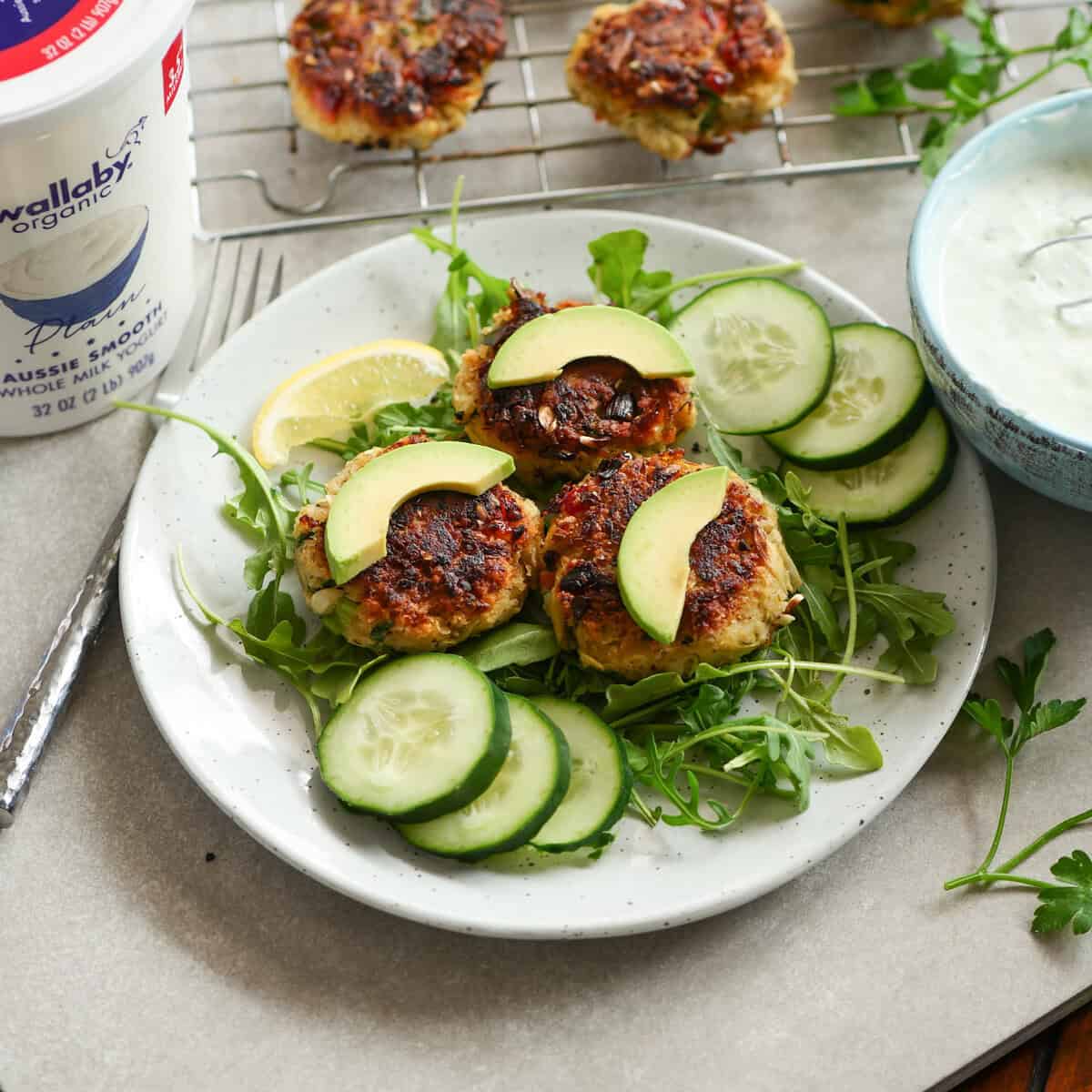 This blog post is sponsored by Wallaby® Organic yogurt and Sprouts Farmers Market
I was recently in New Orleans and the seafood options there were endless. Other than the oysters, one of the best seafood dishes I had were the crab cakes. They were fresh and full of flavor. Personally, I prefer my crab cakes to be crunchy on the outside, moist and full of flavor on the inside. Often times crab cakes are dense, heavy and greasy. However, I wanted to make some crab cakes that were healthier and lighter. This recipe packs in lots of veggies into one bite.
Baking, air frying and pan frying your crab cakes
I have instructions for baking these crab cakes with artichokes, air frying and also pan frying the crab cakes. In addition, you can easily skip the crab if you do not have crab accessible in your area and make them vegetarian.
I tested all three of the above cooking options for these crab cakes and I will let you know, air frying was the preferred texture and method. If you do not have an air fryer than my baking instructions will work just fine, they just won't be as crunchy on the outside. Pan frying is the fastest cooking option however it wasn't as crunchy and flavorful. Air Frying will take you about 15 minutes per batch (about 5 crab cakes per batch). Baking in the oven will take 45 minutes. Pan frying will be about 8 minutes per batch. If you are looking for a new air fryer, I recommend this one, I have it and I love it.
Picking out crab meat
If you don't have access to fresh crab, head to your local grocery stores fish department. Typically next to the fish counter you will find several crab meat options. I used a small can of wild caught crab meat. It set me back about $7 but was worth every penny. The crab meat offers a great flavor and texture. If you don't have access to this type of crab meat there is also "imitation crab meat" which is very reasonable and in most crab dishes (sushi, wontons ect.) when you are land locked. I prefer the wild caught crab however either will work well in this recipe. Do you have access to fresh caught crab at a local market? I highly recommend that.
What if you are vegetarian?
No problem! This blog post has you covered with a meat-less option. You can simply add an extra can of artichoke hearts to the mix and skip the crabmeat!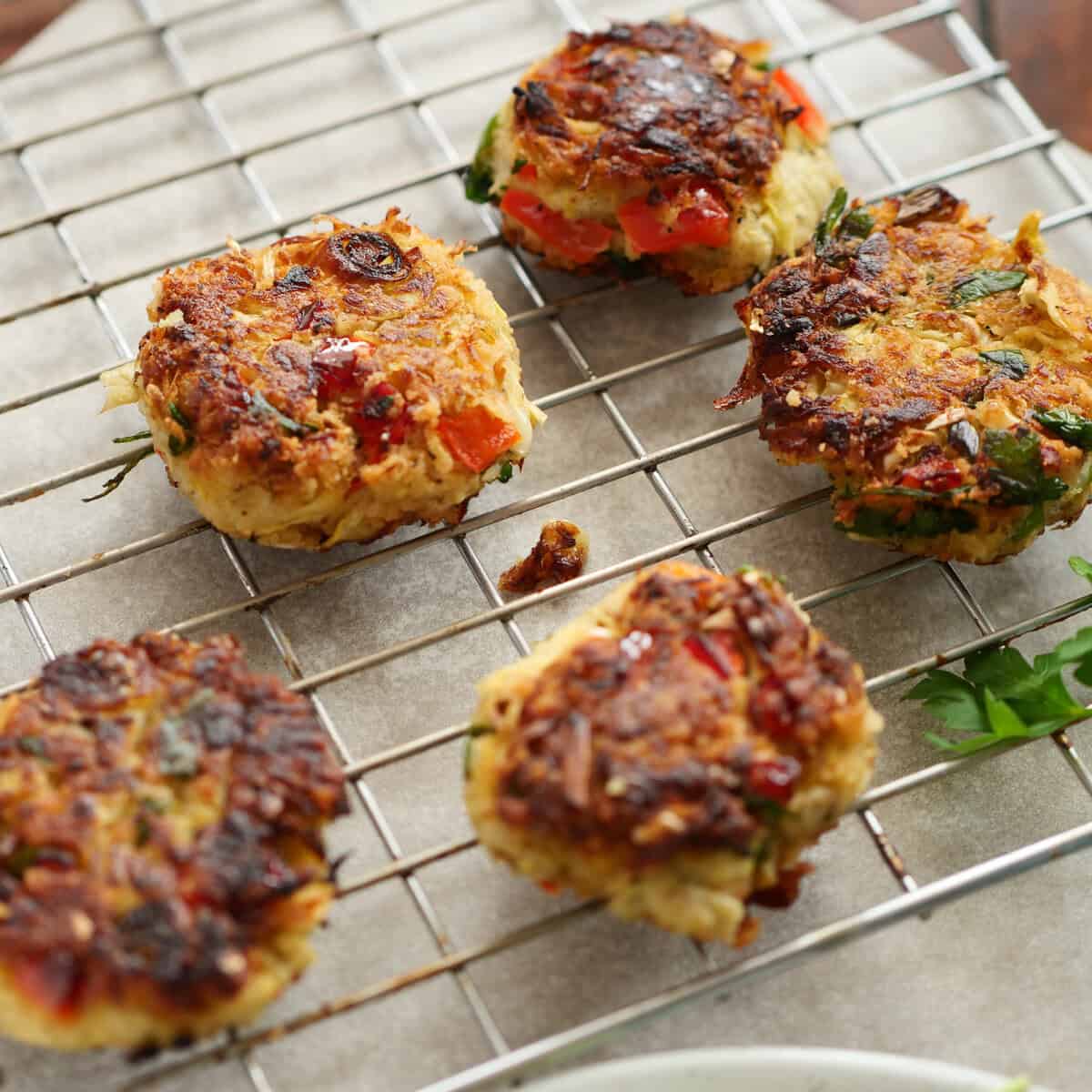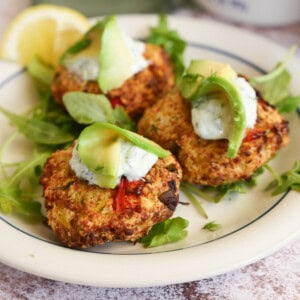 Air Fried Crab Cakes
Crab cakes baked in the air fryer with corn and a yogurt dill sauce. The perfect light meal or appetizer.
Print
Pin
Rate
Ingredients
For The Crab Cake
1

can

artichoke hearts

1

cup

oyster crackers or saltines

1

cup

lump crab meat

⅓

cup

bell peppers

4

green onions chopped

¼

cup

cooked corn kernals

½

tsp

garlic powder

½

tbsp

fresh parsely chopped

½

tbsp

fresh dill chopped

¼

cup

mayo

⅛

tsp

salt
cucumber dill yogurt sauce 
¼

cup

plain yogurt

½

tsp

lemon juice

1

tbs

grated cucumber

1

tsp

chopped dill
Instructions
Place the crackers in a food processor and blend until there are no chunks and it's similar to a bread crumb or flour. Set aside in a bowl.

Now place rinsed and drained artichokes and crab meat into food processor and blend so there aren't big chunks. In a separate bowl mix up veggies and mayo, add the artichoke crab mix and stir in the cracker flour and seasonings. Mix well

Use a 1/4 measuring cup to measure out each crab cake. Choose your cooking method below 
Pan Frying
Scoop crab cakes out, form a patty with hands place in a hot skillet with oil covering the bottom. cook for about 4 minutes each side. place on a plate with paper towel to soak up excess oil
Baked
Scoop crab cakes out, form a patty with hands. Place on a sheet pan with parchment paper. Spray with olive oil and bake at 375 for 45 minutes. be sure to flip carefully halfway through. 
Air Frying
Scoop crab cakes out with 1/4 c measuring up shape the cakes with hands and place into air fryer (about 5 at a time) and cook for 20 minutes on 375. 
Cucumber Dill Yogurt Sauce
Place yogurt and all other ingredients in a bowl and whisk together until all flavors are blended together. Top crab cakes with a dollop of the yogurt sauce, avocado slices, cucumber slices, lemon wedges whatever you prefer! 
Notes
use the small holes of a cheese grater. Squeeze liquid out of the grated cucumber over the sink with a paper towel
Nutrition
Serving:
2
cakes
|
Calories:
110
kcal
|
Carbohydrates:
4
g
|
Protein:
6
g
|
Fat:
8
g
|
Saturated Fat:
1
g
|
Polyunsaturated Fat:
4
g
|
Monounsaturated Fat:
2
g
|
Trans Fat:
0.02
g
|
Cholesterol:
17
mg
|
Sodium:
509
mg
|
Potassium:
105
mg
|
Fiber:
1
g
|
Sugar:
2
g
|
Vitamin A:
285
IU
|
Vitamin C:
13
mg
|
Calcium:
27
mg
|
Iron:
0.3
mg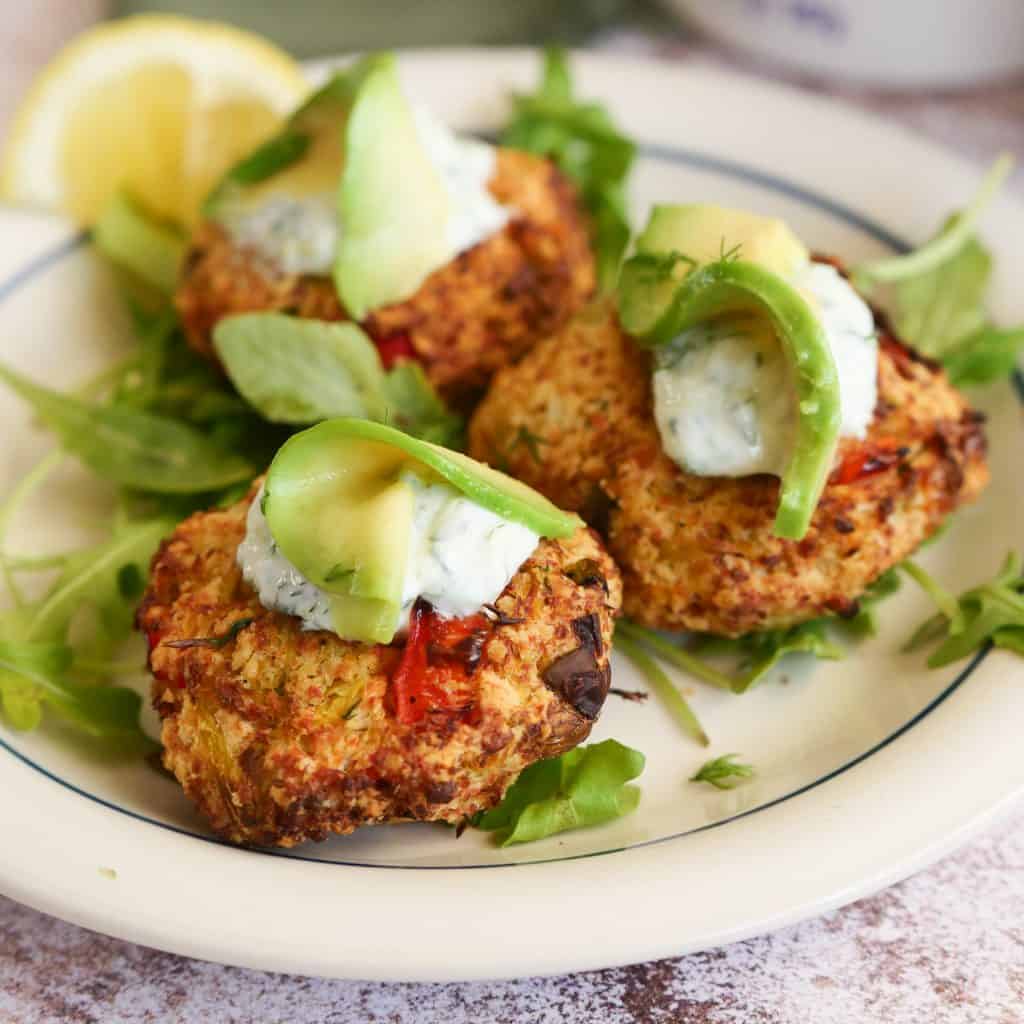 Questions?
Q: What oil islets for pan frying? A: I would suggest an oil like canola or avocado oil
Q: What air fryer do you have? A: I will link my air fryer here It was worth the investment because I use it often and have found that in the summer it's much less warming than the oven for recipes. Should you not have the space but can afford it, I highly recommend this Air Fryer & Toaster Combo it takes up less space having them together