These superfood pancakes are easy to whip up and they are much more nutritious than your regular old pancakes. They have more protein, omega 3, and fiber than your typical flapjack. Bonus: they all around more satiating.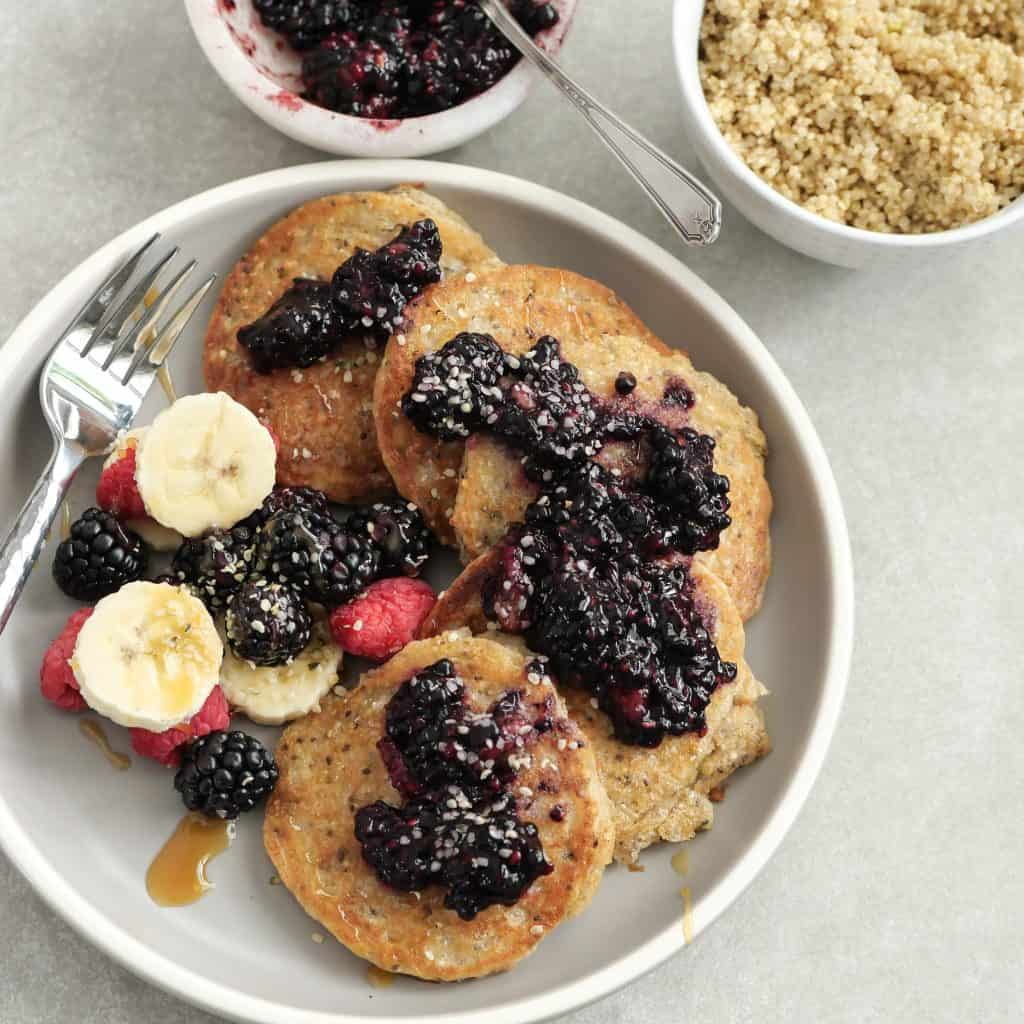 This blog post is sponsored by So Delicious ® dairy free. If you haven't tried their desserts, yogurt alternatives or milks you are missing out!
The evolution of pancakes:
There are millions of pancake recipes out there. They are one of the most popular brunch items. The first pancake mix to hit the shelves of grocery stores was by Aunt Jemima herself back in the 1890's. Her mix was called Aunt Jemima mix!
Pancakes are delicious but they also don't offer much as far as nutrition goes. I notice when I have a few flapjacks I tend to get hungry shortly after indulging. I recently started adding a few more items to my homemade batter and it kicked my pancakes up a notch.
This pancake recipe is much more filling, it offers a lot more protein, fiber and omega 3's to your diet. Rather than indulging on empty calories you will be satisfied and won't be giving up your delicious favorite brunch item.
So what's the added superfood in the batter?
I use a basic pancake recipe but I like to add the following to my batter to kick it up!
Quinoa – pronounced KEEN-wah (I still hear the funniest pronunciations of this little grain) it's gluten free, high in protein and has a sufficient amount of all 9 amino acids in it! It also adds fiber to the mix.
Chia Seeds – These little seeds are satiating and full of omega 3's and some fiber as well.
Protein Powder- If you have been following my Instagram @sailor_bailey for awhile you know by now that I love to add protein powder to my pancake mix. It gives it a little more nutrition than the batter itself and it ups the flavor so I use a little less syrup!
Hemp Hearts – This little nut is full of healthy fats, gamma-linolenic acid and they have some protein as well
Other items you will need for these easy superfood pancakes
Whole wheat flour – you can use white all purpose but I typically opt for the whole wheat. Gluten-free all purpose can also be subbed however you need to be sure to add the So Delicious® coconut beverage slowly and the right consistency is present.
So Delicious Coconut Milk Beverage® – I choose this over water, it adds more flavor and creaminess to the batter.
Coconut sugar – I like coconut sugar because it's unrefined and low on the glycemic index. I try to opt for this sugar whenever I can.
Eggs and a few other staple ingredients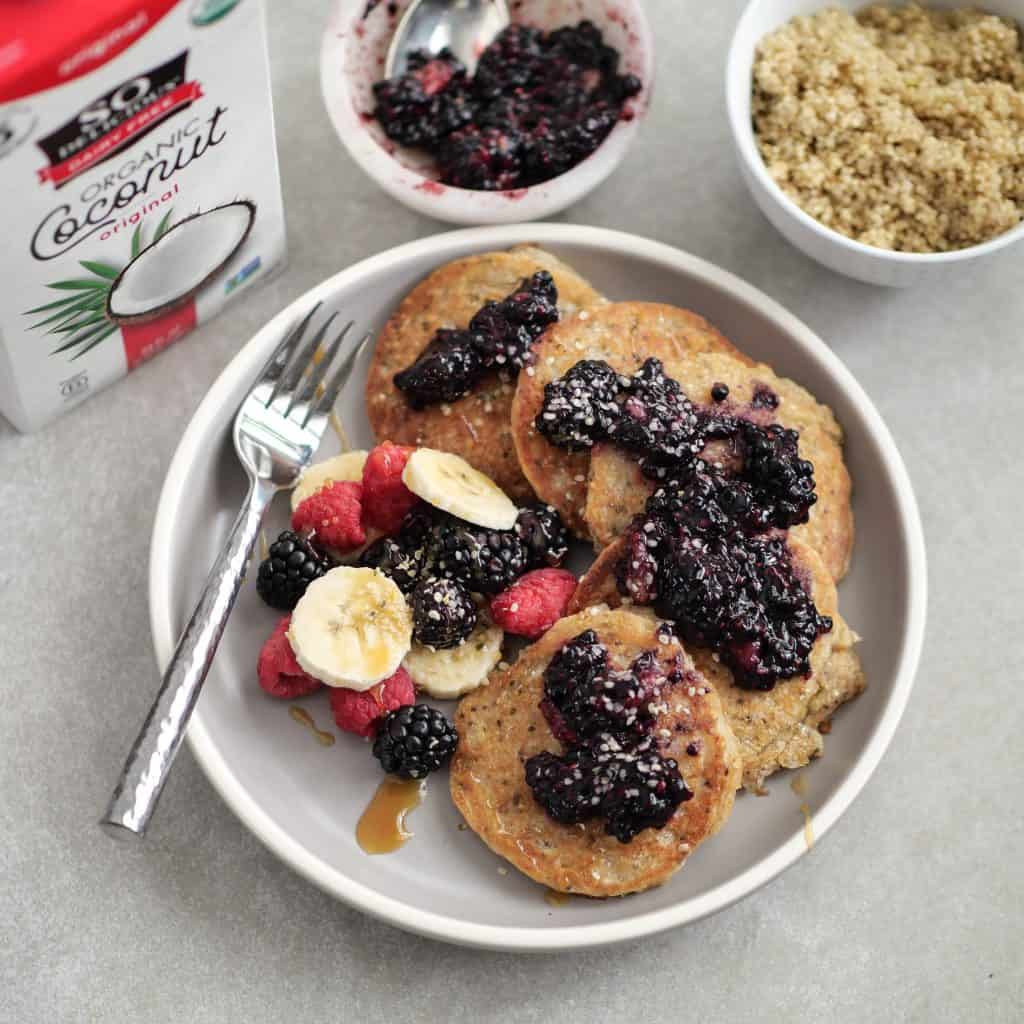 Pancake toppers
I like to top my pancakes with as much fresh fruit as I can so I don't reach for so much syrup! Nothing wrong with syrup, I am just known to go a little overboard with it – where does it all go?! This recipe calls for some fresh blackberries. You simply take a small handful of them and smash them in a bowl with a fork and sprinkle 1/2 tbs of coconut sugar in them.
Another option is a little honey or just plain coconut sugar sprinkled over the top. Regardless of what your go-to is, it will pair well with these superfood pancakes.
If you like this recipe you should try my cinnamon sugar muffins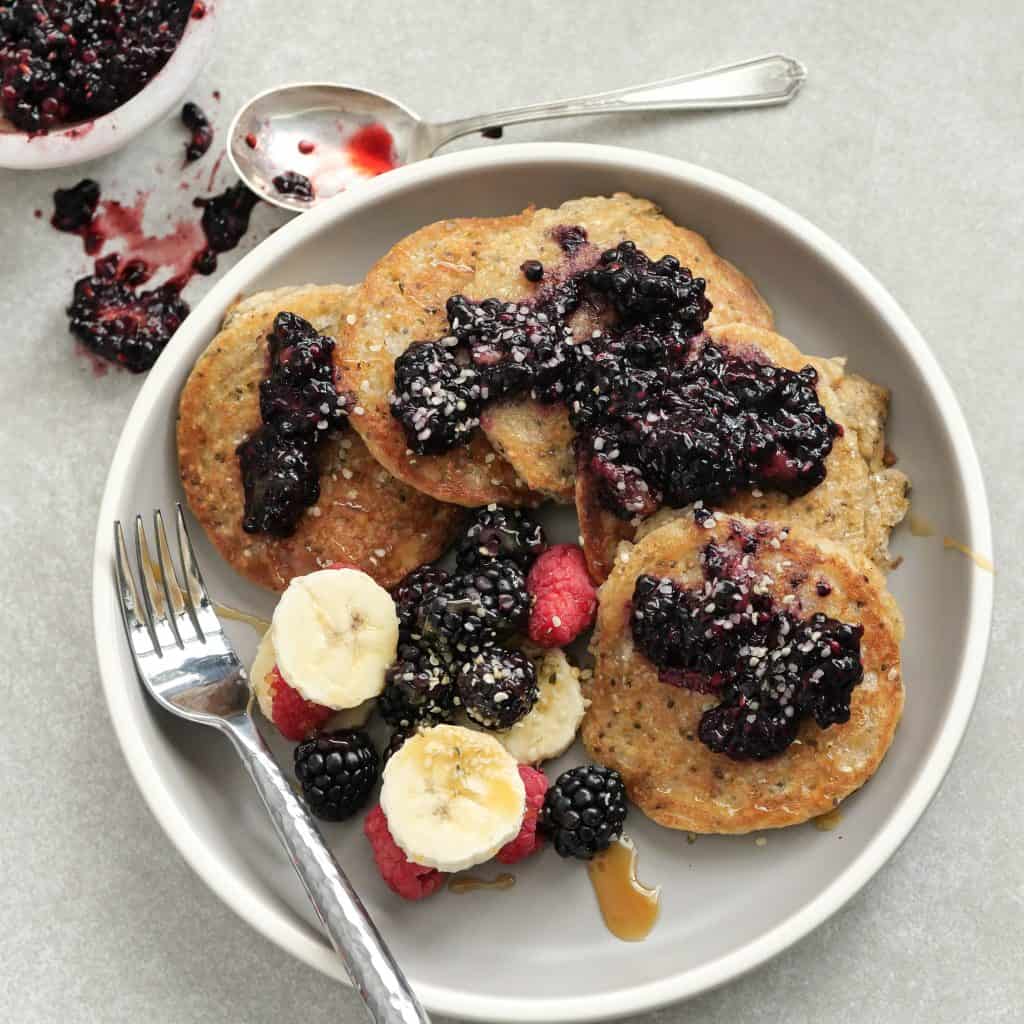 Print
Ingredients<br> (serves about 4-6 pancakes depending on size)

1 cup whole wheat flour

2 tablespoons coconut sugar

2 teaspoons baking powder


1 teaspoon salt

1 c cooked quinoa

1/4 c chia seeds

3 tbs of hemp hearts

1 egg, beaten

1 cup of So Delicious coconut milk beverage

2 tbs oil (olive or avocado oil)
Print
Directions
In a large bowl all dry ingredients including quinoa. Make a well in the center, and pour in milk, egg and oil. Mix/whisk until smooth and no clumps. Batter should be thick enough it sticks to the spoon but pours onto griddle easy.
Heat a lightly oiled griddle or frying pan over medium high heat. Pour or scoop the batter onto the griddle, using approximately 1/4 cup for each pancake. Do not file until you see the raw side up start to bubble a little. Brown on both sides and serve hot.