Caprese Toast With Burrata is the perfect way to get those pizza cravings in check. It's simple to make and filling. Don't get me wrong, I love pizza but sometimes I don't need all the grease and dough to go with the flavor.
This Caprese Toast With Burrata is easy to make and packed full of flavor. It is perfect for any meal or snack in the day. I love to have it for breakfast in the morning, besides, who doesn't love pizza toast for breakfast?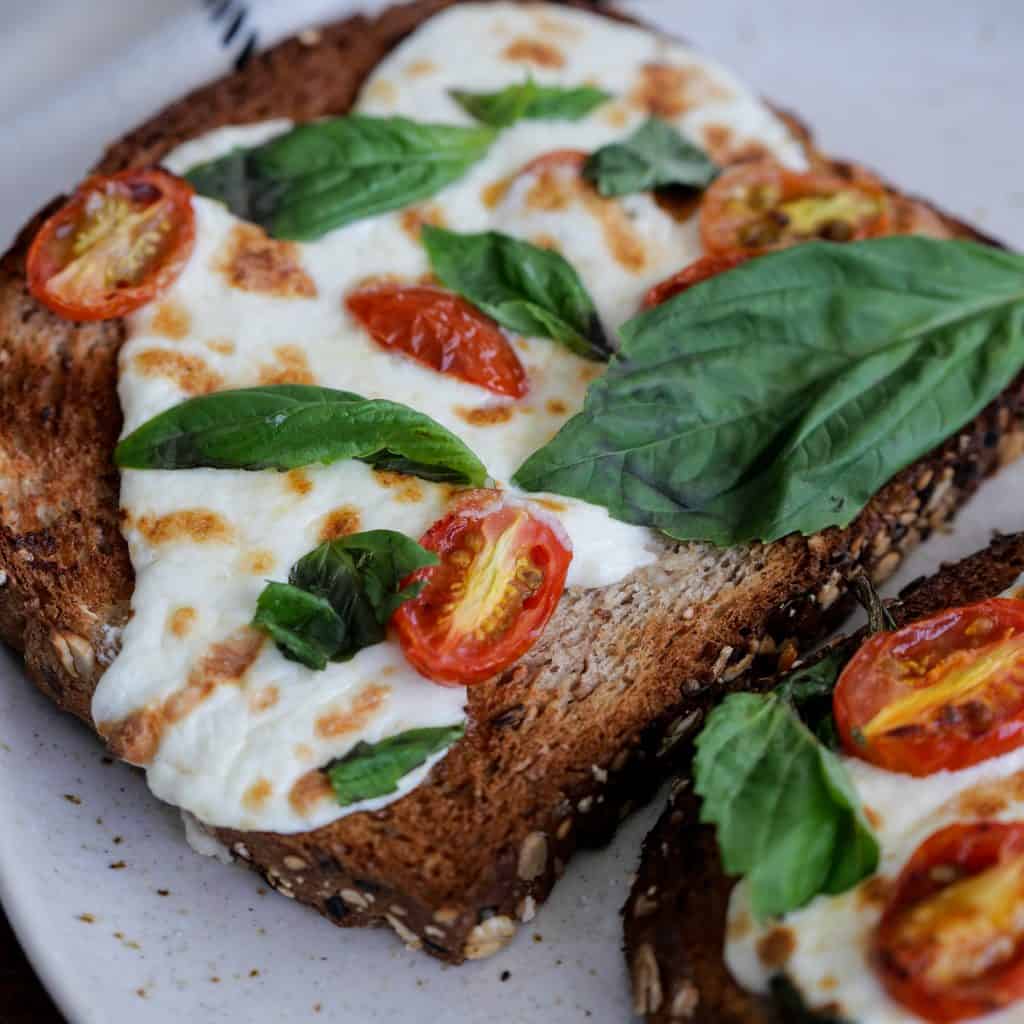 I am headed to Italy soon and I am so excited to try all the food, including the cheese. One being Burrata. Have you heard of it before? If you are unfamiliar with it – it is a fresh mozzarella that is filled with high quality cream. It is decadent and a little bit goes a long way.
If you love Caprese salad then you will love this twist with it on toast. I find it to be a little more filling and who doesn't love a crispy piece of toast full of flavor.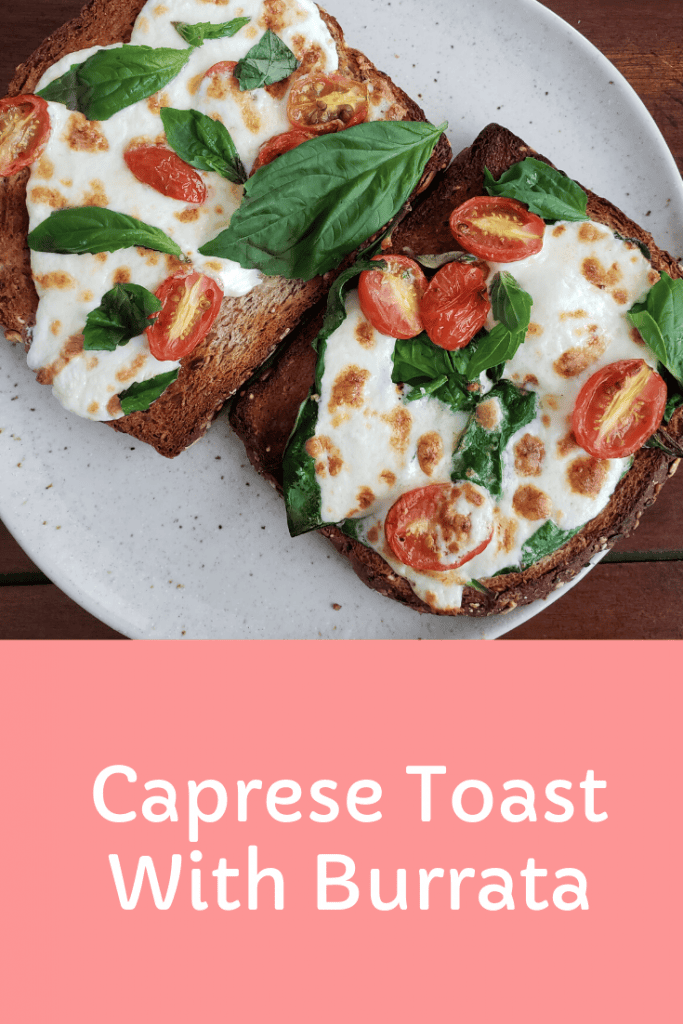 If you can't find Burrata in your area, don't worry about it. Fresh mozzarella will do just fine. It just won't be as creamy.
Ready for Caprese Toast recipe?
Print
Ingredients
1/2 ball of Burrata sliced in small pieces (dry the ball before adding to toast)

2 slices of sandwich bread

4 fresh basil leaves

8 to 10 grape tomatoes sliced in half

Salt, pepper and oregano to taste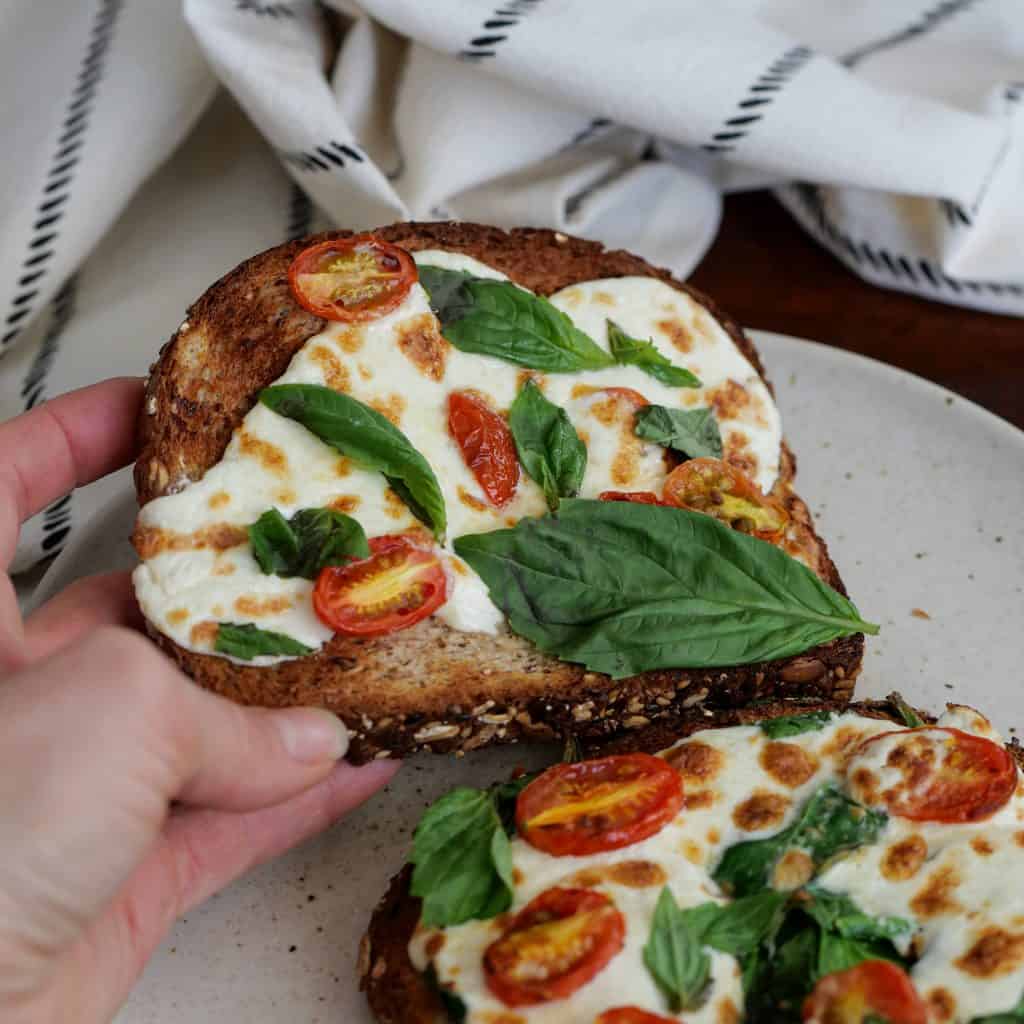 Print
Directions
Pat Burrata or Mozzarella dry with a paper towel if it came in liquid. Slice into small pieces.
add cheese onto toast in even amounts, followed by the tomatoes and seasoning
Place in the air fryer on 325 for about 5-7 minutes or set oven to low broil and place on tin foil on middle rack and broil for about 7 -10 minutes * keep a close eye on it!
Q: Can I use a different cheese? A: Yes! you can use any cheese you would like for this. Burrata will be the creamiest.
Q: I don't have an air fryer can I make this in the oven? A: Yes! please read the instructions for the oven above.
Q: I don't have fresh basil, will dried basil work? A: Yes, but the flavor won't be as similar to caprese Salad so I suggest fresh basil!