I am always looking for a good arugula salad to make my lunches more exciting. Having a homemade maple garlic dressing to pair with it is an added bonus! This Maple Garlic Tahini dressing pairs perfectly on arugula salads and can easily be used as a cold veggie dip.
This post is sponsored by MegaFood®, they craft premium supplements with real food from trusted farm partners, plus added nutrients.
This salad is filling, full of flavor and it's easy to make in big batches for meal prep. The roasted veggies are served chilled or room temperature. You can easily pack this as a lunch or make it for a nice side dish or light dinner.
Looking for other salad recipes?
The Maple Garlic dressing in this recipe is really the star of this dish. It is my second favorite dressing I have ever created. Another favorite dressing of mine is the Miso Tahini Dressing. The maple and garlic really highlight each other and the dressing is thick and creamy. You would never know it's dairy free!
This salad has an added boost of nutrients mixed right into it!
I am always looking for ways to supplement my diet with more minerals and vitamins, so I added in a nutrient booster. This nutrient booster really enhanced the flavors and made me enjoy the dressing more. I used MegaFood Daily Multi Powder for Women it mixes easily into the dressing and gives it a more savory flavor. The powder contains added nutrients and real food ingredients like turmeric, carrots and broccoli blended right into it.
I love MegaFood because they offer products that are non-GMO, certified glyphosate residue free, tested for 125+ herbicides and pesticides, vegetarian or vegan, gluten-free, dairy-free, soy-free and kosher.
MegaFood multivitamin powders are full of vitamins and minerals that you may not be getting in your everyday diet. The Daily Multi Powder for Women includes iron, vitamins A, C, D and E, plus all 8 essential B vitamins* in just 1 serving. It is easy to add to other dishes like salads, no-bake desserts and smoothies. The powder has very little flavor and you can be sure you are getting the nutrients needed to power you through the day.
I like to make my salads with lots of veggies. I typically go for cold roasted veggies and hard boiled eggs over my salads. When it comes to salads, I like mine full of flavor, packed with greens and some added protein so they are extra filling. I believe the dressing should always compliment each of the ingredients well.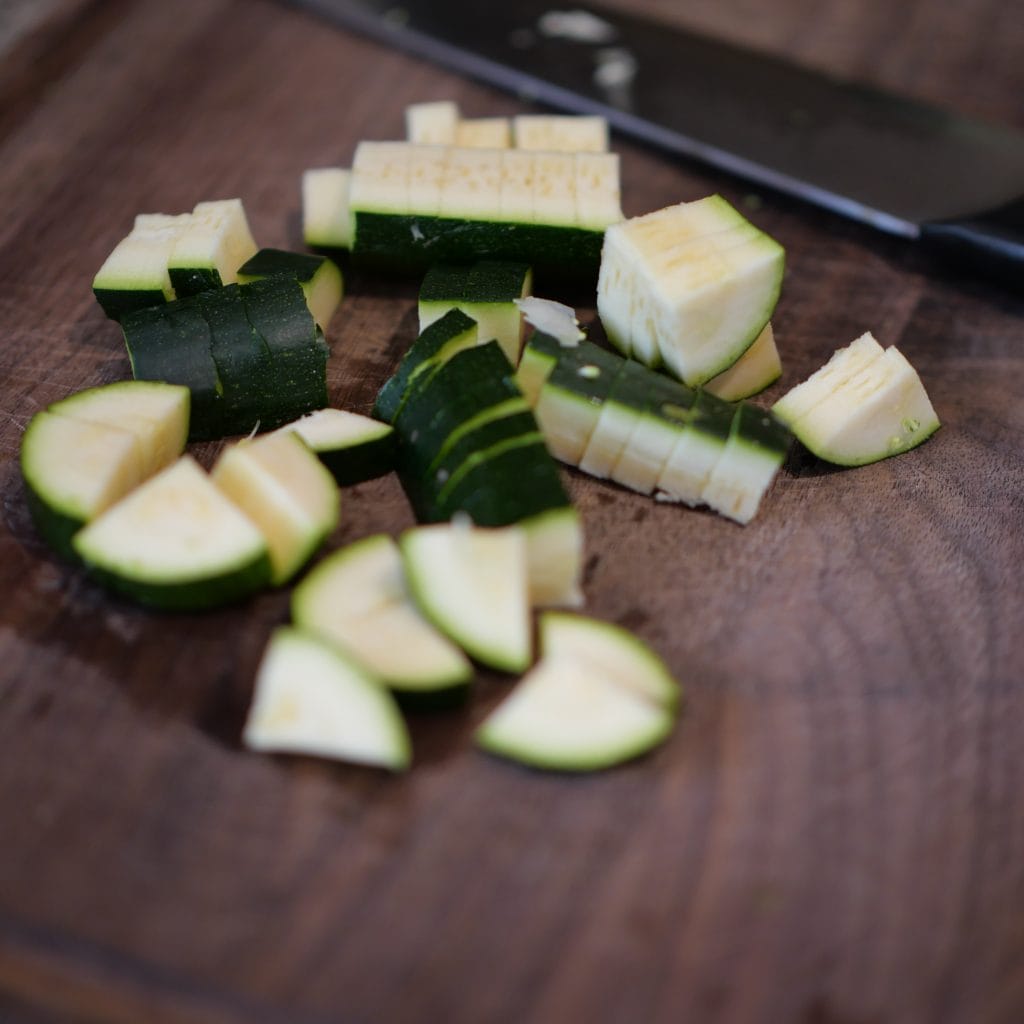 Tips for cold roasted veggies:
Always chop your veggies into bite sized pieces.
Bake them on high temps to get a good char to them.
Season them with garlic powder, salt, pepper, and any other of your favorites, you simply can't go wrong! Lightly oil them and toss them in a bowl.
I prefer broccoli, potatoes, zucchini, cauliflower in my salads. This particular recipe is best with broccoli and zucchini.
Store in an airtight container and use them throughout the week as dinner sides (re-heated) or toss them chilled onto salads.
Now let's get to making this Loaded Arugula Salad With Maple Garlic Dressing.
Loaded Arugula Salad With Maple Garlic Dressing
This salad is full of nutrients, textures and flavors. You are going to want to make the dressing weekly!
Print
Pin
Rate
Ingredients
Salad
2

hard boiled eggs

½

cup

chopped broccoli

½

cup

chopped zuchinni

1

cup

spinach

1

cup

arugula

⅛

tsp

chipotle powder

1

tsp

avocado oil
Maple Garlic Dressing
2

tbsp

extra virgin olive oil

1

tbsp

water

1

tbs

apple cider vinegar

1

tbsp

creamy tahini (blended well)

½

tsp

maple syrup

½

tsp

minced garlic

1

scoop

MegaFood Daily Multi Powder For Women
Instructions
Roast the veggies on a sheet pan with parchment paper. Toss with seasoning and oil in a bowl and spread flat. Roast for 15 min. Let veggies cool before using on salad to avoid wilting the lettuce. 

In a bowl, add arugula, spinach, veggies sliced hard-boiled eggs and cooled veggies. Set to the side while you made the dressing. 
For the dressing 
Add all the ingredients together in a shaker jar or small bowl. Whisk together all ingredients and use generously on salad. Toss salad to be sure everything is evenly coated. 
Do you have any questions?
Q: Do I have to roast my veggies? A: no, in fact, you can use raw veggies but I prefer them roasted, they are more flavorful.
Q: I have a peanut allergy can I have tahini? A: check the label on the brand you are using. Tahini is made from sesame seeds however, tahini can processed in the same building.
Q: I don't want eggs, what other protein would be good on this? A: chicken, salmon, tofu and portobello mushrooms would all be a great substitute.
*These statements have not been evaluated by the Food and Drug Administration. This product is not intended to diagnose, treat, cure or prevent any disease.