This vegan stir fry is full of veggies and won't leave you feeling hungry. You can whip up dinner in 15 minutes .
This recipe is prefect for a family dinner or portioned out for meal prep
Depending on what you are looking for, you can easily make this meal for a family of 4, or you can portion it out and have yourself a few meals throughout the week. This recipe will keep in the fridge for a week. You can also add more veggies throughout the week to stretch it out, or top it with your favorite protein.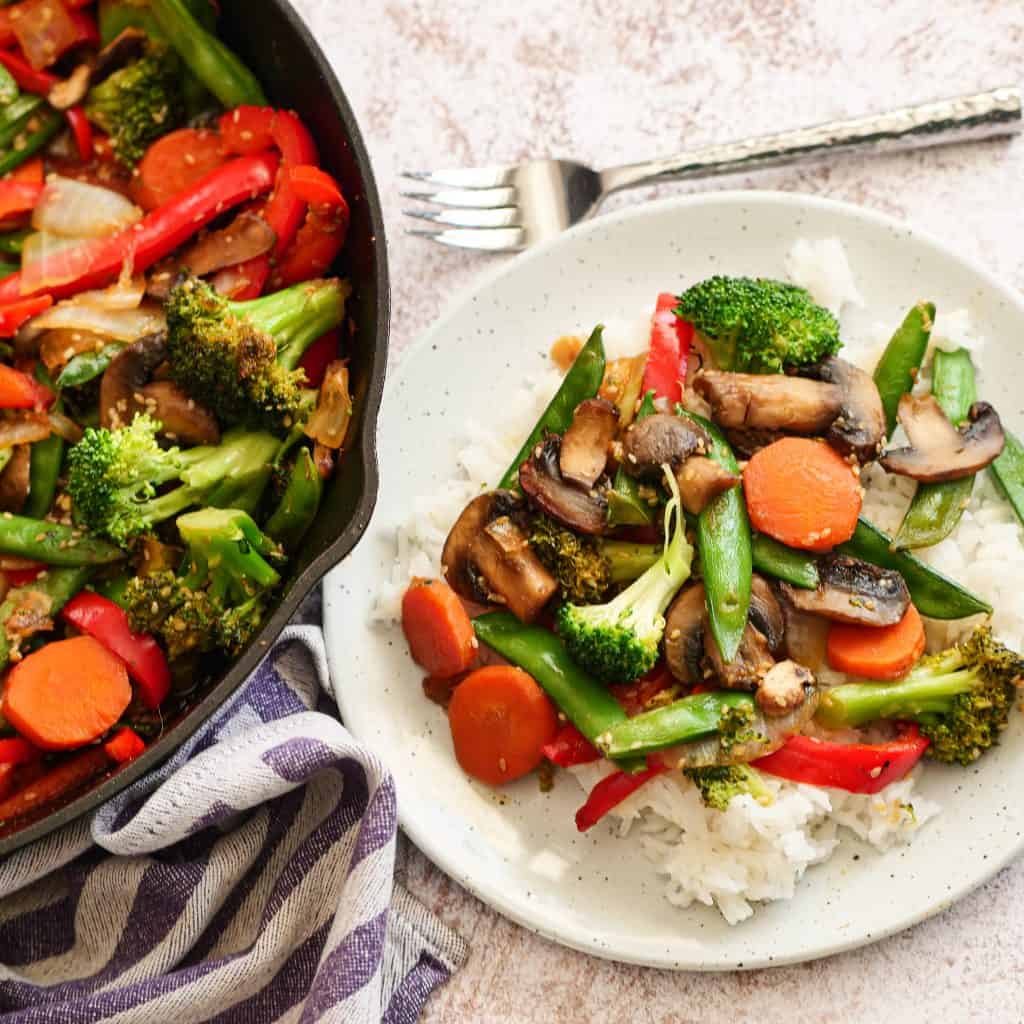 Fresh Veggies are key but frozen veggies work great!
This recipe calls for fresh veggies, however if you are stocked up on frozen veggies you can certainly use them. Fresh veggies will hold up with the heat and give you a nicer crunchy texture, but this recipe is so customizable, I encourage you to use whatever you have in the freezer or have access to. My mom would whip them up in 10 minutes or less, they were flavorful but the vegetables were less than fresh.
You will need:
sugar snap peas, the ultimate snack. I go for the big bag and keep them for snacks throughout the week.
broccoli, chopped into bite sized pieces. Stems should be included, lots of nutrition is in those stems and they are delicious
carrots. I suggest buying regular whole carrots and lightly peeling them before chopping into coins
red peppers. I call for 2 red peppers, feel free to add other colors of peppers if you aren't a fan of the red. Although subtle, all the colors have different flavors
mushrooms. I suggest button mushrooms or shiitake
fresh onions for flavor
garlic cloves
teriyaki sauce. I used the 'Soyaki' from Trader Joes, it is one of my favorite marinades/sauces.
Be mindful of the order I listed the veggies in the ingredients if you are using fresh vegetables. You are going to add the vegetables in the order I listed in order to cook them all evenly. Broccoli takes the longest so you will add the broccoli in first, followed by the carrots, onions, peppers and so on.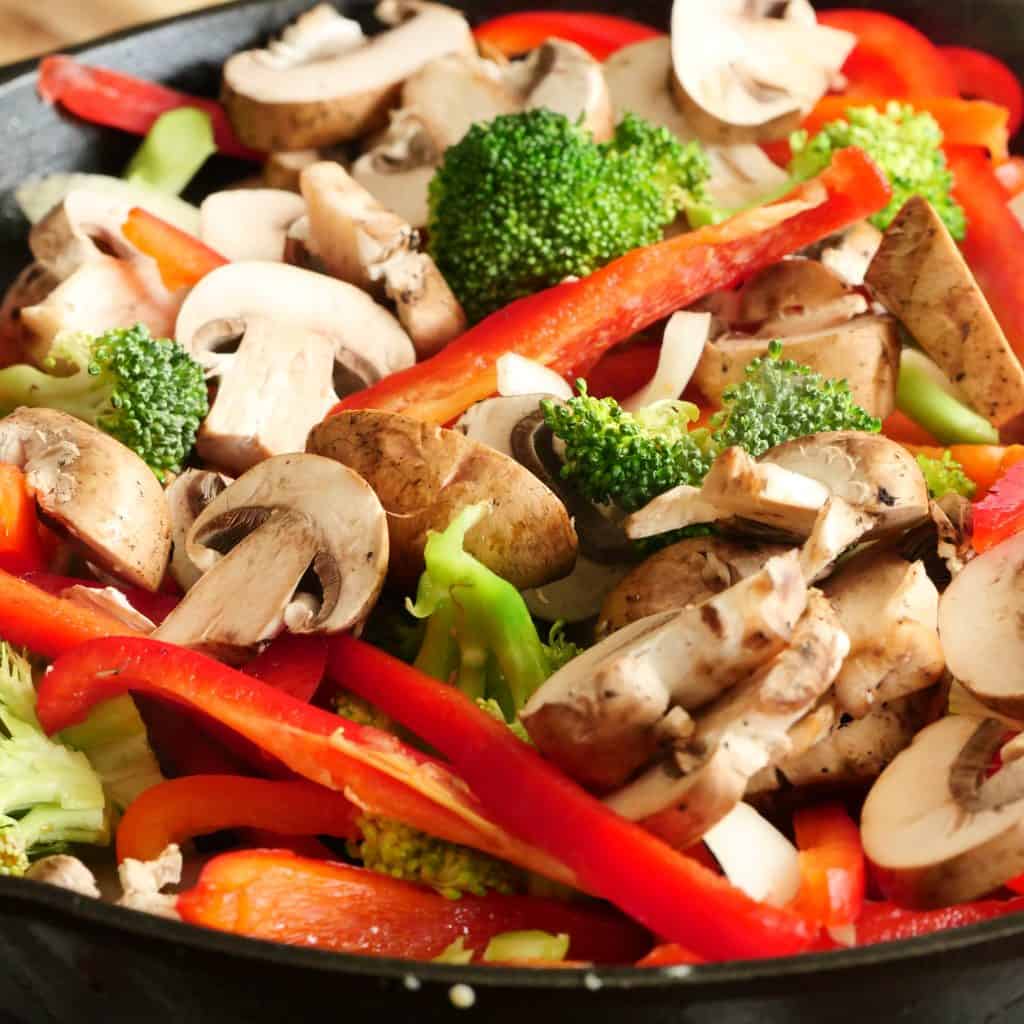 If you don't have access to fresh veggies
You can use any vegetables you have in your freezer. I currently have frozen brussels sprouts, frozen carrots, and frozen broccoli bits. You can use any veggies you have!
What to shop for when buying teriyaki sauce
I always recommend finding a teriyaki sauce that has minimal ingredients and is MSG free. You can use any sauce in your area that is available. They make great marinades for tofu and meats so you will find a good use for the jar in addition to this recipe. If you don't have access to teriyaki sauce, you can use some soy sauce and garlic powder or coconut aminos!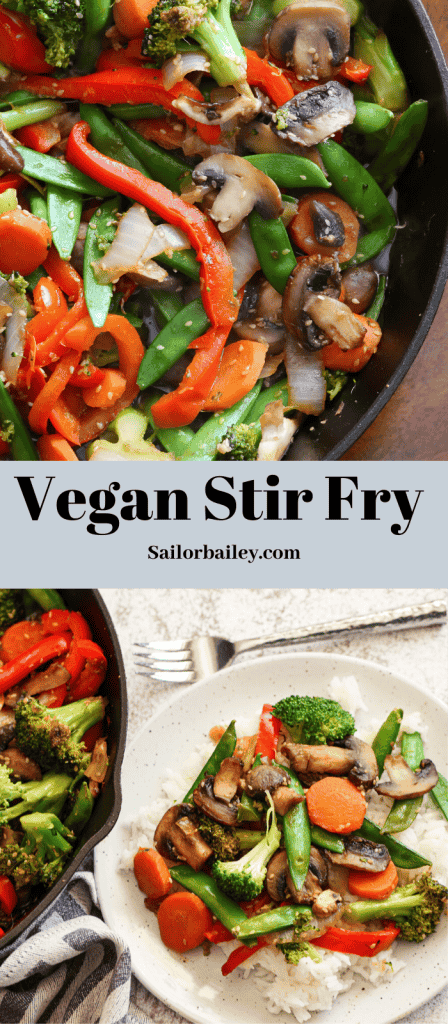 15 Minute Easy Vegan Stir Fry
This stir fry is easy to whip up, you can customize it with what you have in your refridgerator and the whole family will love it.
Print
Pin
Rate
Ingredients
2

cups

rice cooked

2

tbs

seasme oil

2

cups

broccoli

1½

cups

chopped carrots

½

cup

chopped onion

2

chopped garlic cloves

2

red bell peppers

sliced and seeds discarded

2

cups

sugar snap peas

1

8 oz

package of mushrooms

⅓

cup

teriyaki sauce

I used "soyaki" from trader joes. Amino acids, coconut aminos and regular teriyaki will work great!

**

If you are using fozen veggies then pick a varity of 2-3 bags. cook according to package in the wok
Instructions
 Cook rice according to package. Next, add sesame oil to a skillet or wok. Heat on medium. add chopped veggies in order of the list above. Broccoli should be on the bottom, followed by carrots and so on. The veggies that take longer to cook need to be on the bottom of the wok/skillet. once you have all the veggies layered in, let them simmer for 3 to 4 minutes 

 Be carful not to overcook your veggies, they will be soggy. cook on medium heat for about 12 minutes and slowly add in teriyaki or homemade sauce. Toss veggies well and serve over basmati rice or any rice of your choice. 

** If using frozen veggies, cook according to the package and add to wok/ skillet with the oil. Cook just enough to heat up and pour sauce over.
Nutrition
Serving:
1.5
cup
|
Calories:
210
kcal
|
Carbohydrates:
36
g
|
Protein:
5.25
g
|
Fat:
3.72
g
|
Cholesterol:
10.5
mg
|
Sodium:
296
mg
|
Potassium:
396.75
mg
|
Fiber:
4
g
|
Sugar:
15.5
g
|
Vitamin A:
154
IU
|
Vitamin C:
209.25
mg
|
Calcium:
31.5
mg
|
Iron:
8
mg