Potatoes O'Bailey 🙂
File this one under the perfect breakfast hash for plant based, meat or vegetarian eaters. It's full of flavor and textures, not to mention you can use any potatoes you please. I love my sweet potatoes and they offer a slightly better nutrition component than your typical russet potato. I have tried this recipe with russets and it came out equally as delicious. No matter who you have coming over for the holidays (or brunch) they will love this hearty filling hash. I made sure to add a lot of smoky bbq style seasoning to this recipe so it has that savory flavor. This hash is also is 100% plant-based thanks to Daiya's plant-based foods. You and your family will love having this dish around for the holiday season! I plan on making it for breakfast on Thanksgiving.
This recipe is taken up a notch by using Daiya's Cutting Board Collection Shreds. My two favorites styles of Shreds are Cheddar and Pepper Jack for this particular recipe. A little more about Daiya and why I love this brand is, as an industry leader and one of the founding members of The Plant Based Foods Association, Daiya remains passionate about celebrating delicious food that is  dairy, gluten and soy free. The shreds melt so nicely into all kinds of dishes and they have a great flavor to them.
Daiya's selection of deliciously plant-based foods can be found in more than 25,000 grocery stores in the U.S.,  including Sprouts, Kroger, Safeway and Publix, as well as most other independent natural food retailers. I also love their Dessert Bars if you are looking for a plant-based dessert to serve your family and friends this year check out the frozen aisle.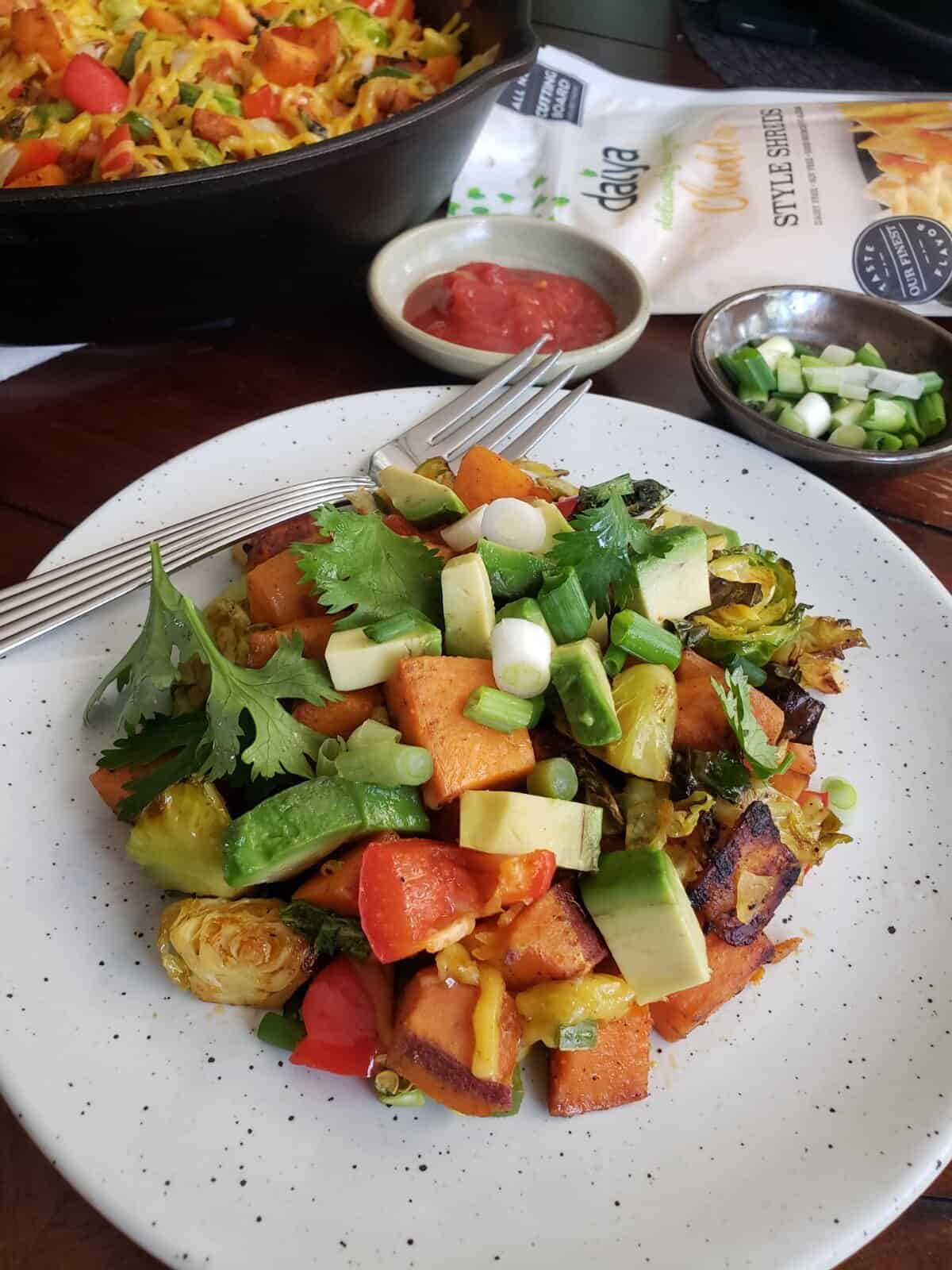 Ingredients:
2 - 3 sweet potatoes size of potatoes will vary you need 3.5 C Chopped potatoes

1.5 C raw chopped brussel sprouts

1/2 C chopped white onions

1 C chopped peppers (any color will do! I used green and red)

1 medium jalapeño chopped (optional)

2 tbs oil (I used avocado oil)

1 C of Daiya Cheddar Cutting Board Shreds

1 tsp smoked paprika

1/2 tsp dried oregano

1/2 tsp garlic powder

1/2 tsp of liquid smoke

1/4 tsp of cayenne pepper

1/4 tsp chipotle powder
Instructions:
Option to peel potatoes or roughly peel some skin off as I did, cube the potatoes into small bite sized pieces.

Chop up brussels sprouts and add potatoes & brussel sprouts to a hot skillet with 2 tbs of oil. When using a skillet you want to be sure you have plenty of oil in it to prevent any sticking and still allow a good "char" on the veggies. Simmer these on medium heat for about 10 minutes until potatoes are just soft enough for a fork (try not to over cook).

Add all the seasoning and liquid smoke and mix in well

Chop up all the other veggies into small cubes and add to a separate pan. Sauté for about 5 minutes, just enough to get a sweat on the peppers and onions. Add to potato and brussel sprout mixture.

Mix everything together well. If cooking in a skillet keep it in the skillet and set oven to 375. If cooking in a pan, transfer to an oven safe dish.

Top the veggies with Daiya's Cutting Board Collection Shreds and pop into the oven for about 10 -15 minutes or until the cheese is melted on top.

Serve and top with extra onions, avocado, salsa, or eat it as is!