In this blog post I teach you how to make strawberry goat cheese toast in the air fryer. It takes about 10 minutes and will really elevate your toast game.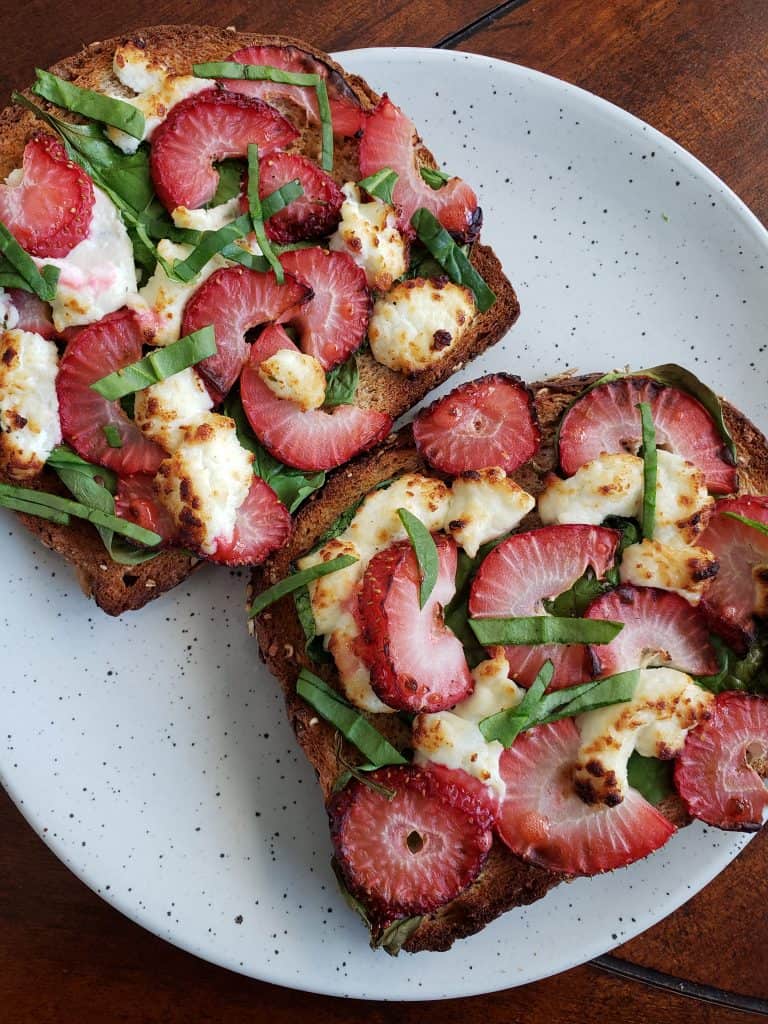 Are you tired of the same old breakfast? Let me just tell you, we all get into a big breakfast rut. I can remember going through many phases in my life where I only ate scrambled eggs and toast EVERY SINGLE MORNING for months. I did the same thing with oatmeal. So I try to change things up a little and rotate new things into my breakfast routine.
I still keep my favorites on the menu throughout the week, I just try to break it up a little more now. These strawberry goat cheese toasts are fantastic an air fryer, they only take about 10 – 15 minutes to make from start to finish. This is my favorite air fryer
Choose your cheese wisely
I love goat cheese and strawberries together. I think they really compliment one another. The tanginess of the goat cheese really brings out the sweetness of the strawberries. However, if you aren't a fan of goat cheese (which I know there are a few of you out there!) you can use feta or manchego for this recipe instead.
I have a few favorite goat cheeses out there, one in particular is the chèvre they sell at Trader Joes. It is small and very reasonable. I tend to buy the smaller "logs" because its a soft cheese and can turn quickly before I have a chance to eat it all. Once you open it, be sure to keep it in a sealed bag.
What if I don't have an air fryer?
No problem, I have also included instructions on how to make these in the oven as well. You just want to set it on 450 and place them on a carefully, directly on the upper rack and toast for about 7 to 10 minutes (keep an eye out the toast can burn quickly)
If you like this recipe you should also try my Caprese Toast With Burrata
Print
Ingredients<br>Prep time (3 minutes)
2 slices of your favorite sandwich bread

3 to 4 sliced strawberries

3 tbs crumbled goats cheese (Chèvre)

1/2 tsp olive oil

handful off baby spinach (optional)

Fresh basil or your favorite herb for garnish (optional)

salt & pepper to taste

honey for extra sweetness (optional)
Print
Directions
lightly brush toast with olive oil
layer all the ingredients (except honey and fresh herbs, these go on at the end!) on to toast. Place toast in the air fryer on 375 for 7 – 10 min check in-between to be sure it doesn't burn. Depending on air fryer sizes and bread size, you may need to do toast one at a time.
Sprinkle garnish and drizzle honey once toast is finished browning.
For the oven:
Follow the same steps from above. preheat oven to 450 Place toast on the upper rack for optimal toasting (option to place tin foil underneath.