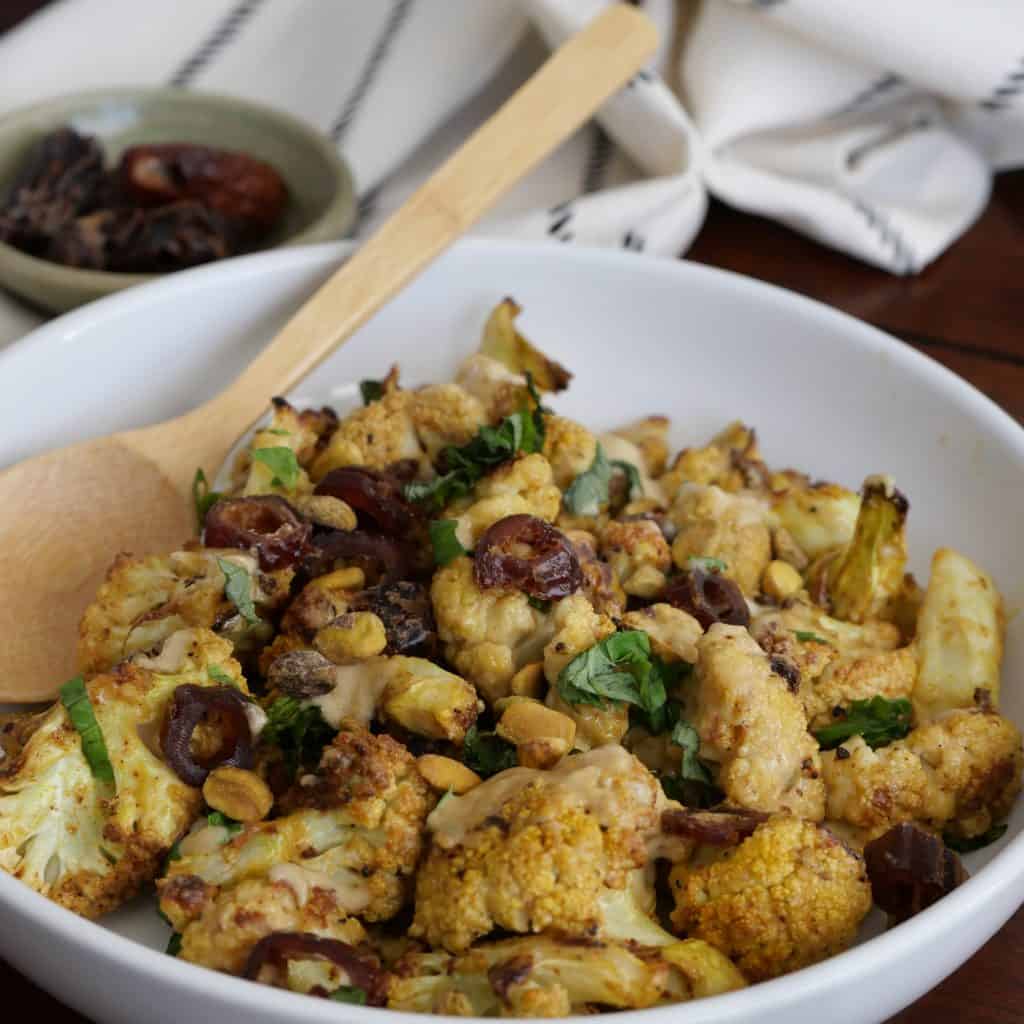 Roasted Cauliflower With Curried Tahini Sauce is so full of flavor and textures you won't be able to stop eating it. This recipe satisfies both the savory and sweet senses and is a great side or appetizer anytime of year.
Roasted Cauliflower is one of my favorite sides of all time. With tahini added in the mix it just takes things up a notch. I can't seem to get sick of tahini so I keep my pantry stocked at all times. Have you tried my Miso Tahini Dressing recipe yet?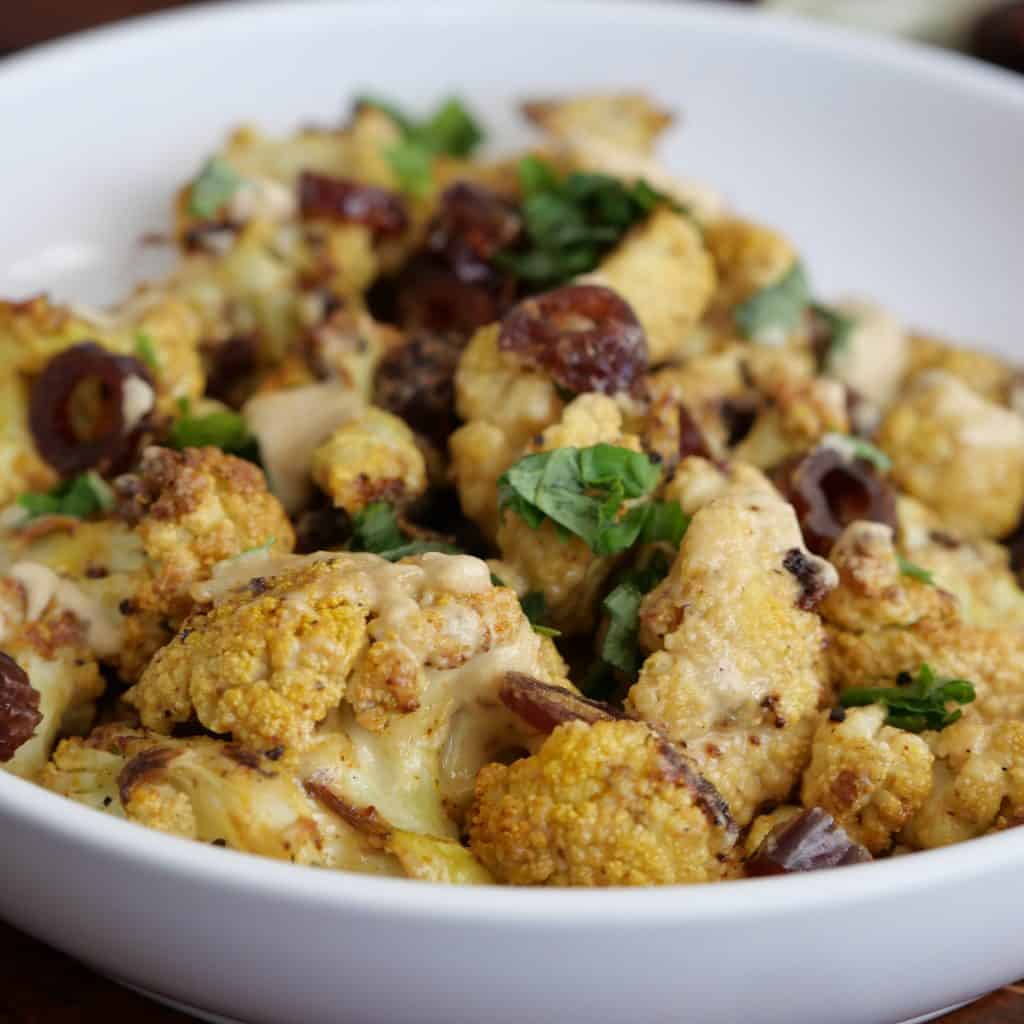 I frequently visit a popular restaurant with a roasted cauliflower and tahini sauce appetizer. Ever since I have tried this recipe years ago, I have been obsessed with the combination of cauliflower and tahini. The sweet notes from the chopped dates really cure any sweet and savory hankerings you might have.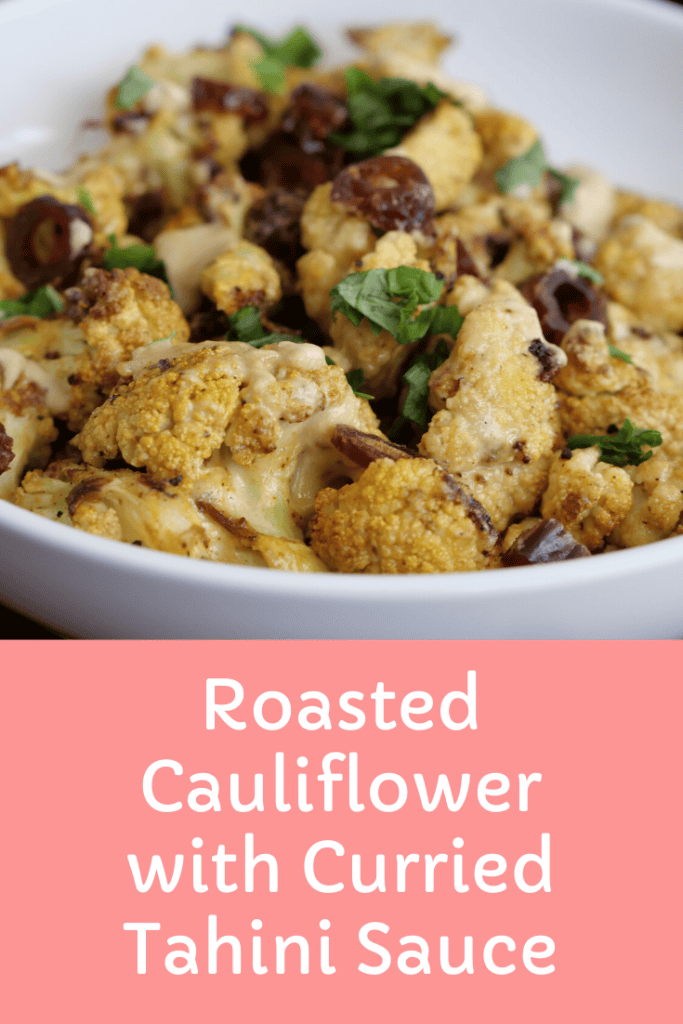 If you aren't a big curry fan you can add another seasoning like cumin. I have had it both ways and they are equally tasty. It always amazes me how much swapping an herb out for a different one can do to a meal. It really freshens up a dish if you are like me and eat the same things often.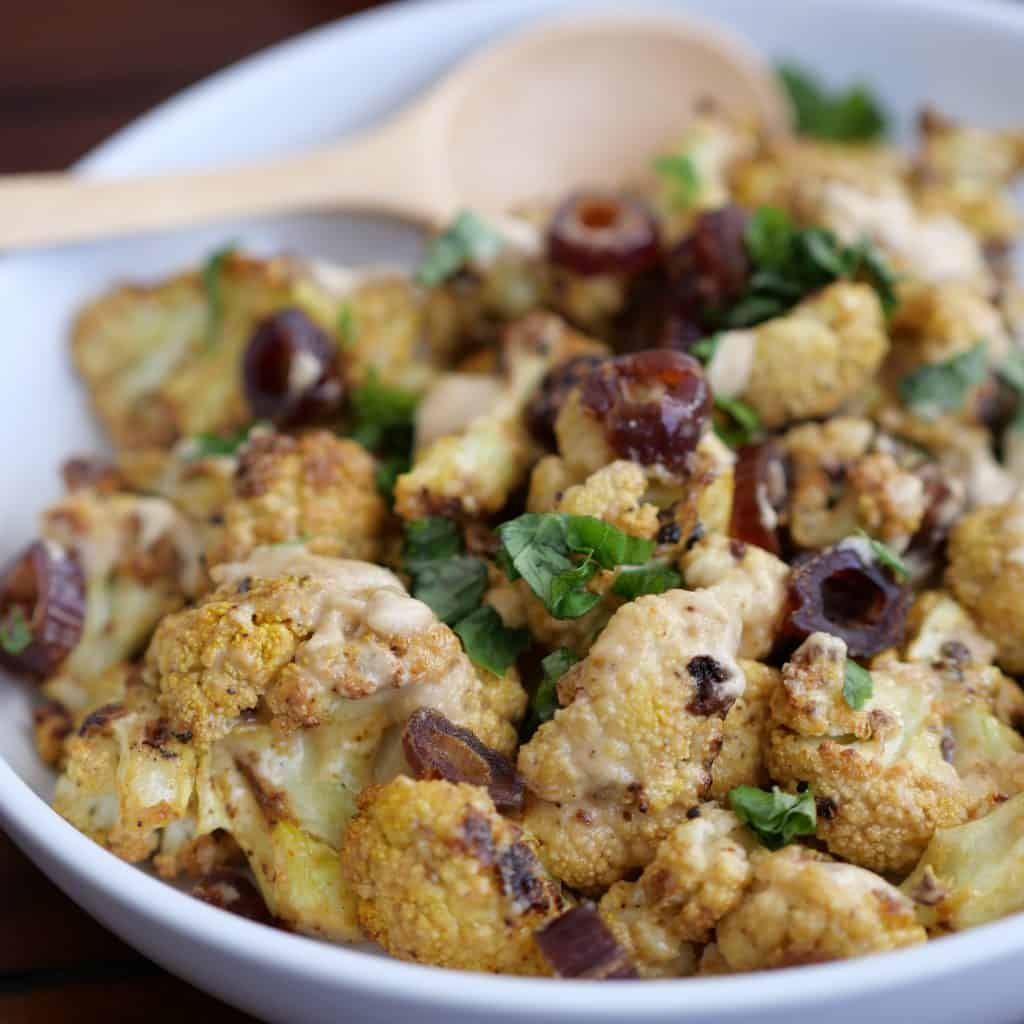 Print
Ingredients
1 medium sized head of raw cauliflower. Washed and chopped into bite sized florets

3 tbs avocado oil or olive oil

3 tbs of tahini (blended well)

1 tbs fresh lemon juice

1 tsp curry powder

1/8 tsp garlic powder

2 tbs chopped dates

1 tbs pistachios

Fresh dill or basil for garnish
How To Roast Your Cauliflower Perfectly
The most important part of this recipe is roasting your cauliflower. You want to get it nice and tender with a little char on it for the best taste. I like to start by Roasting an empty sheet pan in the oven at 400 degrees for about 10 minutes. When you lay your seasoned and oiled cauliflower down on it you will hear it sizzle and this is what gives the veggie a perfect brown to it.
Print
Directions
Place chopped florets in a big bowl. Pour 2 tbs of the oil over it and toss to be sure it is evenly coated. Next season with salt and pepper to taste. Place in oven on 400 degrees. Bake for 30 minutes. Toss every 15 minutes.
In a small bowl whisk together tahini, remainder of the oil, seasoning and lemon. Add small amounts of water to the mix to thin the dressing. Consistency should be similar to a thick salad dressing.
Once cauliflower is completely cooked put into a serving dish. Toss in chopped dates and pistachios. Pour curry tahini over the veggies and toss until it is evenly coated with sauce. Top with herbed garnish.
I can easily eat this all in one sitting. Be sure to share with your friends and family because they will love it! If you make this recipe leave a comment or tag me on social media!
Q:Will frozen cauliflower florets work for this? A: Yes, it won't be quite the same but the flavors will still be delicious.
Q:Can I use this Curry Tahini on other dishes? A: Yes, this tahini mix is wonderful on salads or as a veggie dip for parties.
Q: I don't like curry can I use another spice to season it? A: Yes, this will be delicious with chipotle or cumin just sub one for the curry.