These plant-based coconut yogurt bars are the perfect plant-based snack.They only have 5 ingredients, take about 5 minutes to prep and are kid friendly and low in sugar.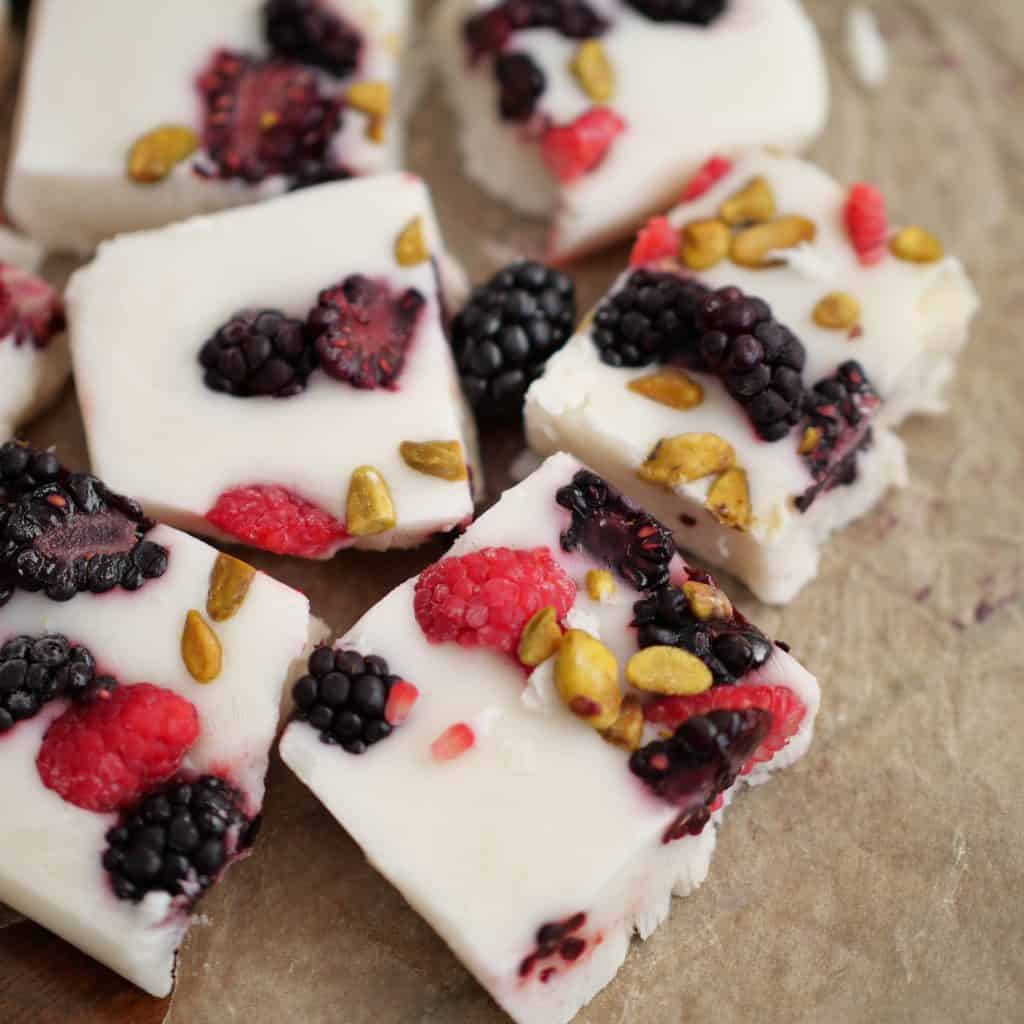 This blog post is sponsored by So Delicious® and Sprout Farmers Market
I prefer So Delicious® coconut based yogurt alternatives as my go dairy-free yogurt choice for this recipe. The yogurts are made with organic coconuts, even the plain version has a light coconut sweetness to it. I chose the unsweetened vanilla flavored coconut yogurt for this particular recipe. If you'd like to go with the plain flavor, it would work as well. I often have the plain for a snack during the week or after a workout.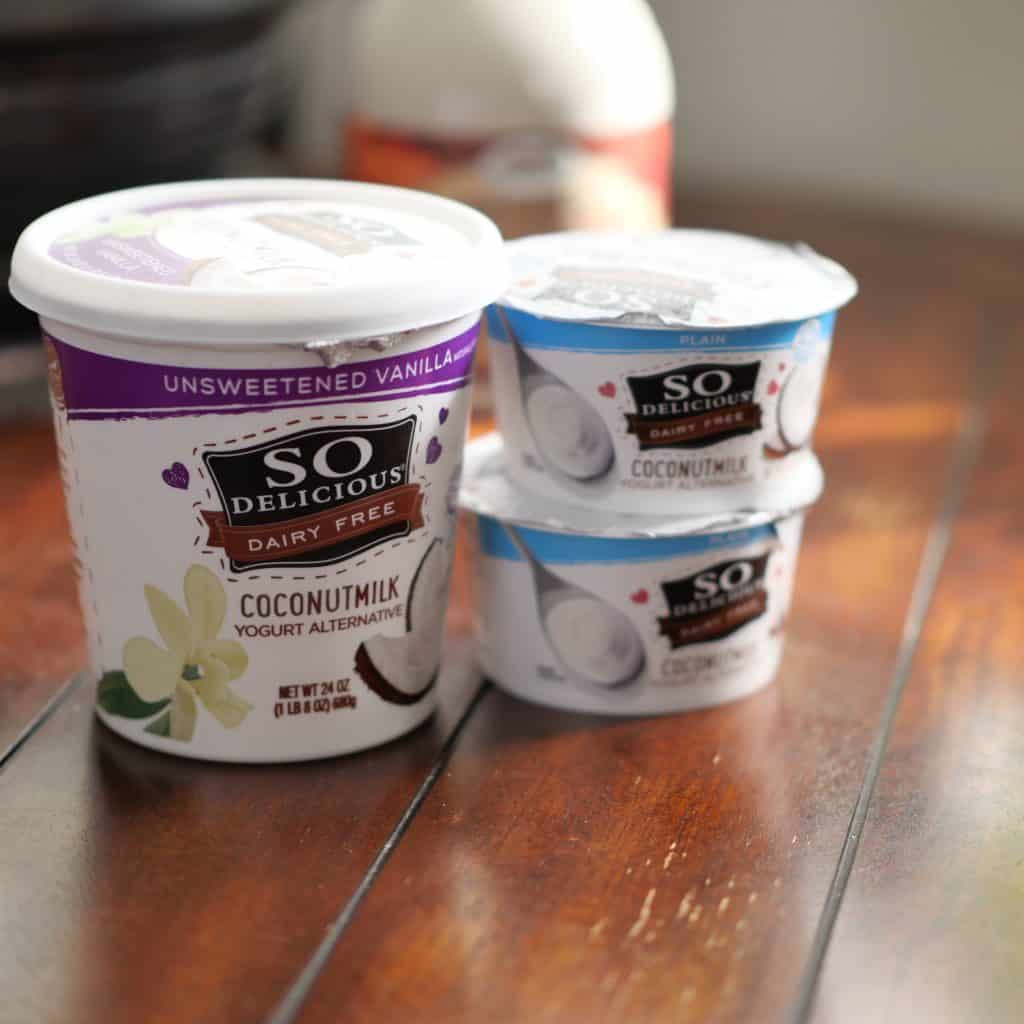 The hardest part about these coconut yogurt bars is waiting for it to freeze! I like my bars thick so it took about 4 hours to fully freeze. Be sure to plan ahead for this timing. Throwing the 5 ingredients together will take about 5 quick minutes and you can enjoy the bars later in the day.
I like to compare these bars to sorbet, only less sugar and in the form of a bar! Be sure to let them defrost a bit before indulging.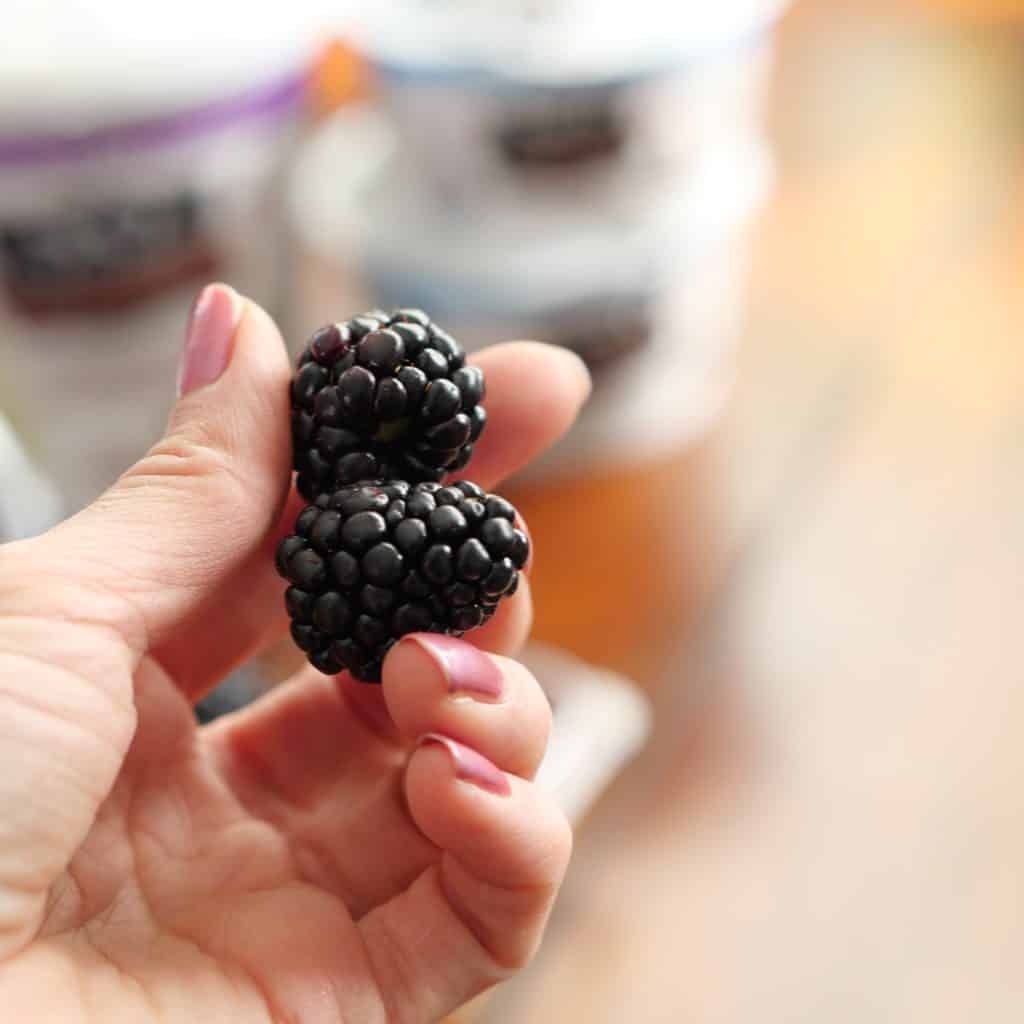 You can make the bars thin like bark to have them ready quicker!
If you don't want to wait 4 hours, use a larger dish so the mixture is less dense. This way it will take less time to freeze, they will be thinner and won't need to defrost before eating.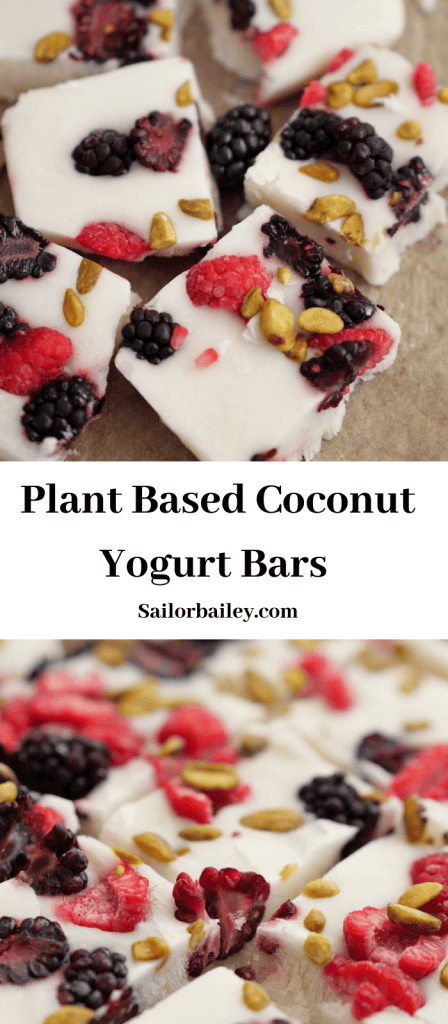 Watching your sugar intake?
If you don't want to use maple syrup, you can use honey or another sweetener of choice. You can also cut the maple syrup down or you can add a few drops of liquid stevia or monk fruit. A little goes a long way so be mindful.
Make sure you clear some room in the freezer so the dish can lay flat!
Don't make the mistake of not clearing any room for the entire dish! The mixture needs to lay flat otherwise your bars will be very uneven and won't freeze all at the same time. If you enjoy this recipe check out my Freezer Fudge recipe!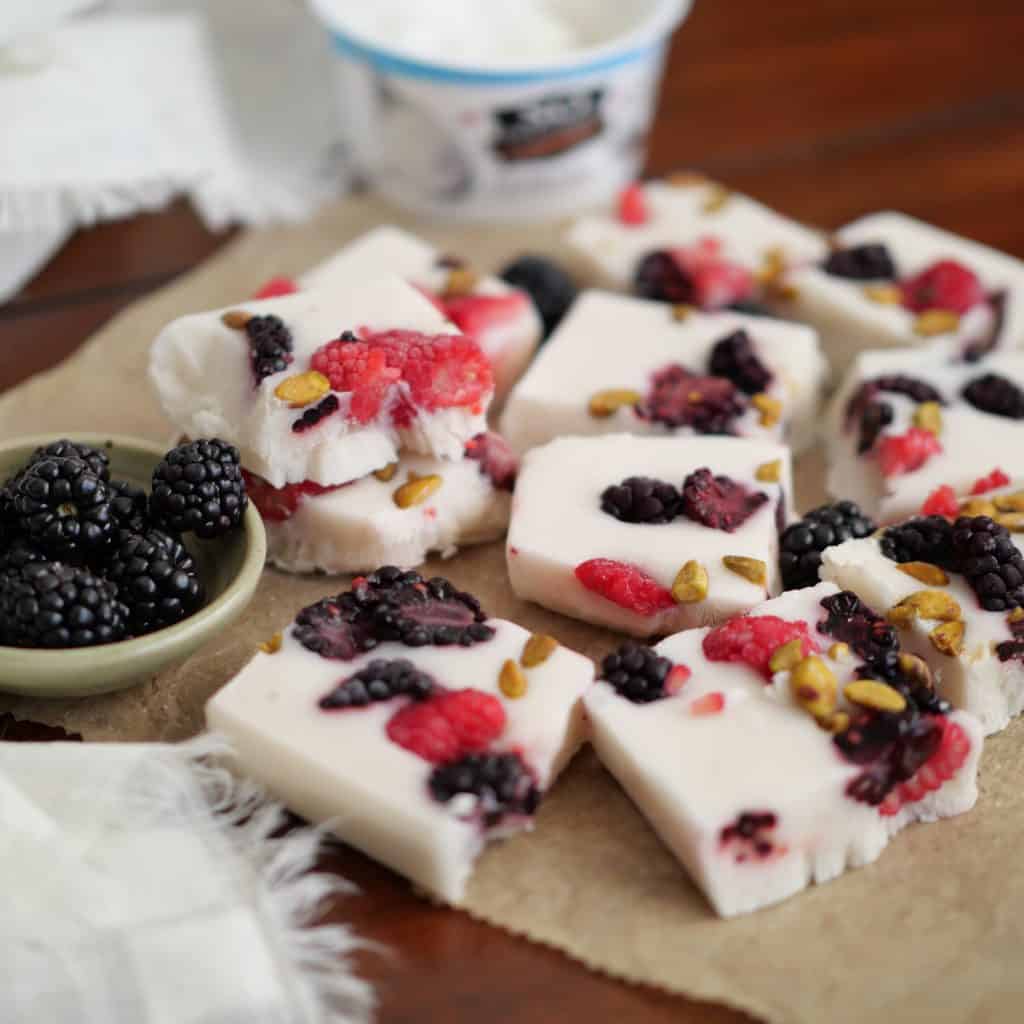 Print
Ingredients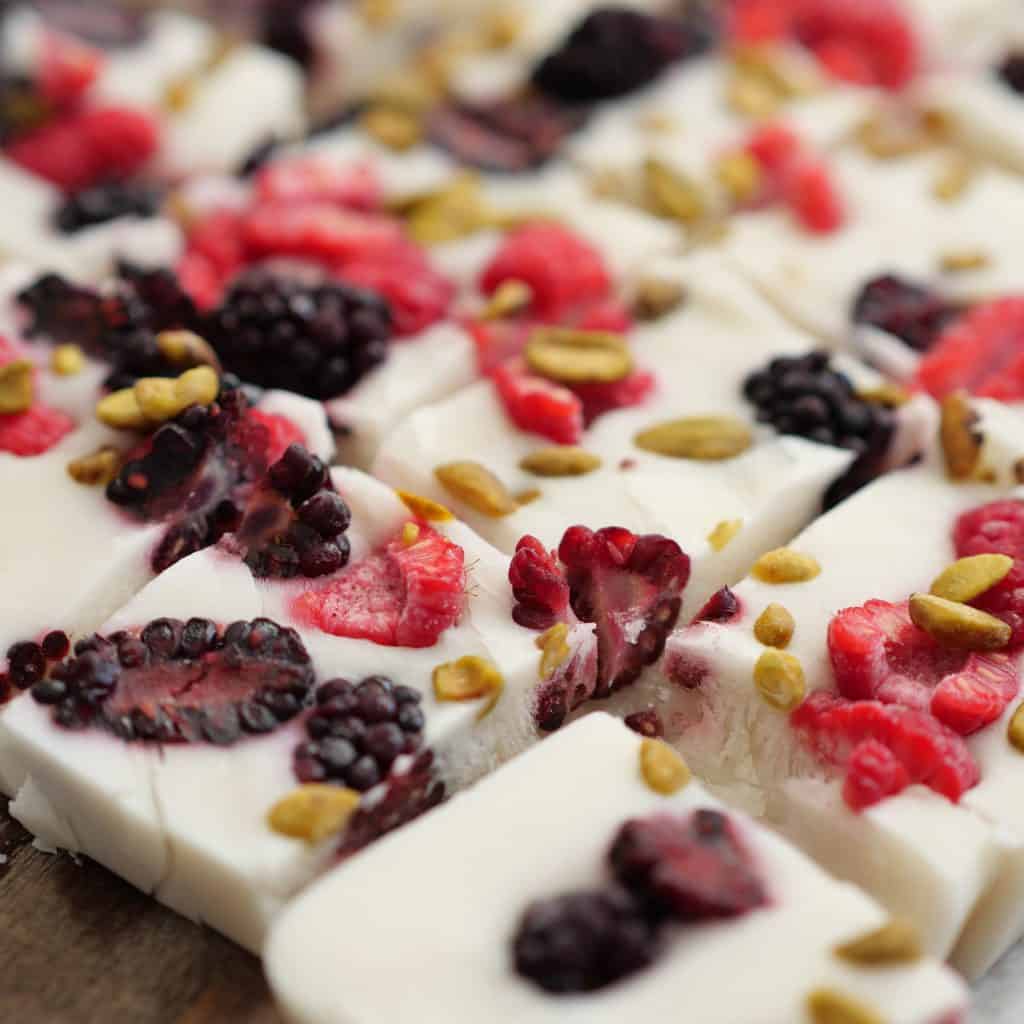 Print
Directions
Scoop yogurt out into a medium size bowl add in maple syrup and stir well.
Find a square/rectangle freezer safe dish 9×9 or larger for thinner bars. Lay parchment paper along the bottom flat. Secure ends of parchment paper to dish with clips if you can (see photo below).
Sprinkle the berries and nuts over the top and immediately place in the freezer flat. Let the mixture freeze for 3 – 4 hours (less if you choose a larger dish to make a thinner bar.
You will want to keep these bars in a zip lock flat or wrapped up in parchment paper flat in the freezer, they will melt if not eaten right away. It is a perfect snack to enjoy at home. Take them out of the freezer a few minutes to soften before eating. If they stick together a little just give them a minute or two and they will separate.