No Bake Coconut Bars
Summer heat waves seem to happen every year. Whenever they do, I avoid turning on the oven at all costs. I try to make dinners that require little effort like salads, or anything that can be done on the grill. Desserts are the same way - everything needs to have a no baking required prerequisite to it!
One thing that always screams summer to me is anything with coconut in it…if its coconut milk or cream, then you can count me in times 3 (aka I will eat at least 3 servings because I am a sucker for coconut cream!) I have recently been finding a thicker version of the milk in the can, its literally called "Coconut Cream" and the only place I have found it so far is at Sprouts. It's just slightly thicker than the rest on the shelf in my opinion.
I decided I would experiment with one of the 4 cans I stocked up on. This experiment went better than expected. It was a balmy 90 degree day and my mouth was watering for something sweet that reminded me of the beach (aka with coconut in it) This recipe is one of the best things I have created to date. I wanted something similar to cheesecake but with less ingredients because I didn't have the time. Suddenly my coconut bars were created! These are pretty addicting I have already made them a handful of times since first discovering them. I hope you all enjoy this recipe as much as I do.
These bars are light, satisfying, full of flavor and have MINIMAL ingredients. They must be kept in the refrigerator or freezer depending on the temperature you keep your refrigerator at.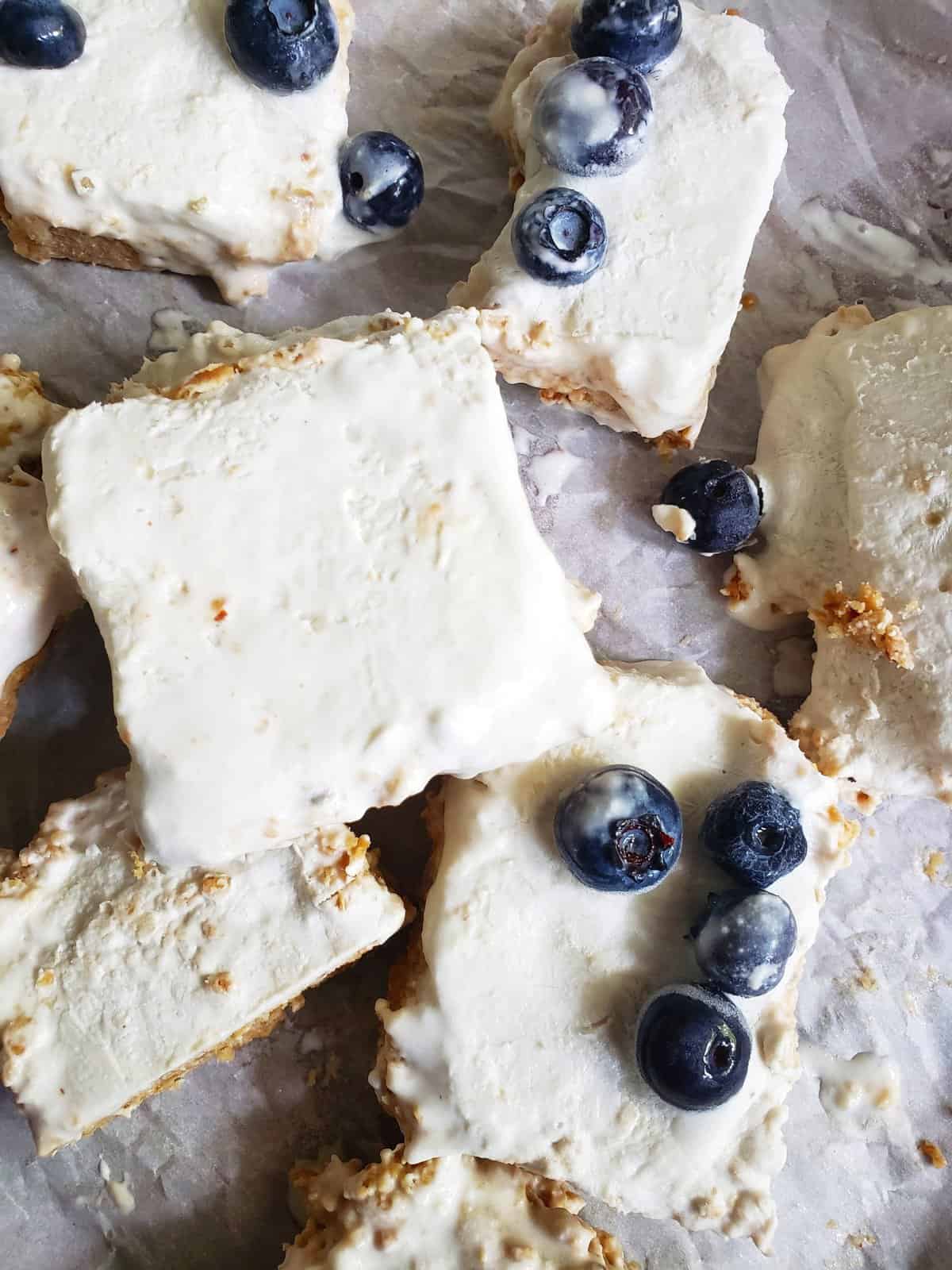 Ingredients:
9 to 10 oz granola

1/4 c of coconut oil ** (see below)

1 tbs maple syrup

1 can of coconut cream (or full fat coconut milk)

1 C of fresh blueberries (optional)

8 x 9 nonstick container
** you want the granola texture to stick together and form when you press it. Add more coconut oil to mix if needed depending on the dryness of the granola **
Directions:
In a food processor, blend up granola, syrup and coconut oil until it's similar to crumble crust consistency

Press granola "crust" down into the pan firmly and evenly, freeze for 10 minutes

Once crust has hardened a little, pour coconut cream (blended) over the mixture. It will be runny, place back into freezer for another hour. Be sure to lay flat.

Pull out of freezer let it soften for a few minutes and cut into bars.

Store on parchment paper in a freezer safe container and keep in freezer or refrigerator. If you freeze, pull it out a few minutes early before enjoying to soften it a bit.