This soup recipe is healthy, vegan and so comforting. The whole family will love it!
This soup is cheap to make and you can use any veggies you have on hand. It is great served over rice, noodles or on it's own. You can add some tofu, ground beef or shredded chicken to it if you'd like but it's flavorful and filling the way it is!
What you will need for this recipe
Veggie Broth. If you are having a hard time finding it on the shelves or finding a good brand you can make your own with my recipe for Easy Veggie Broth . Otherwise this is the brand I typically buy if I don't have the time to make my own.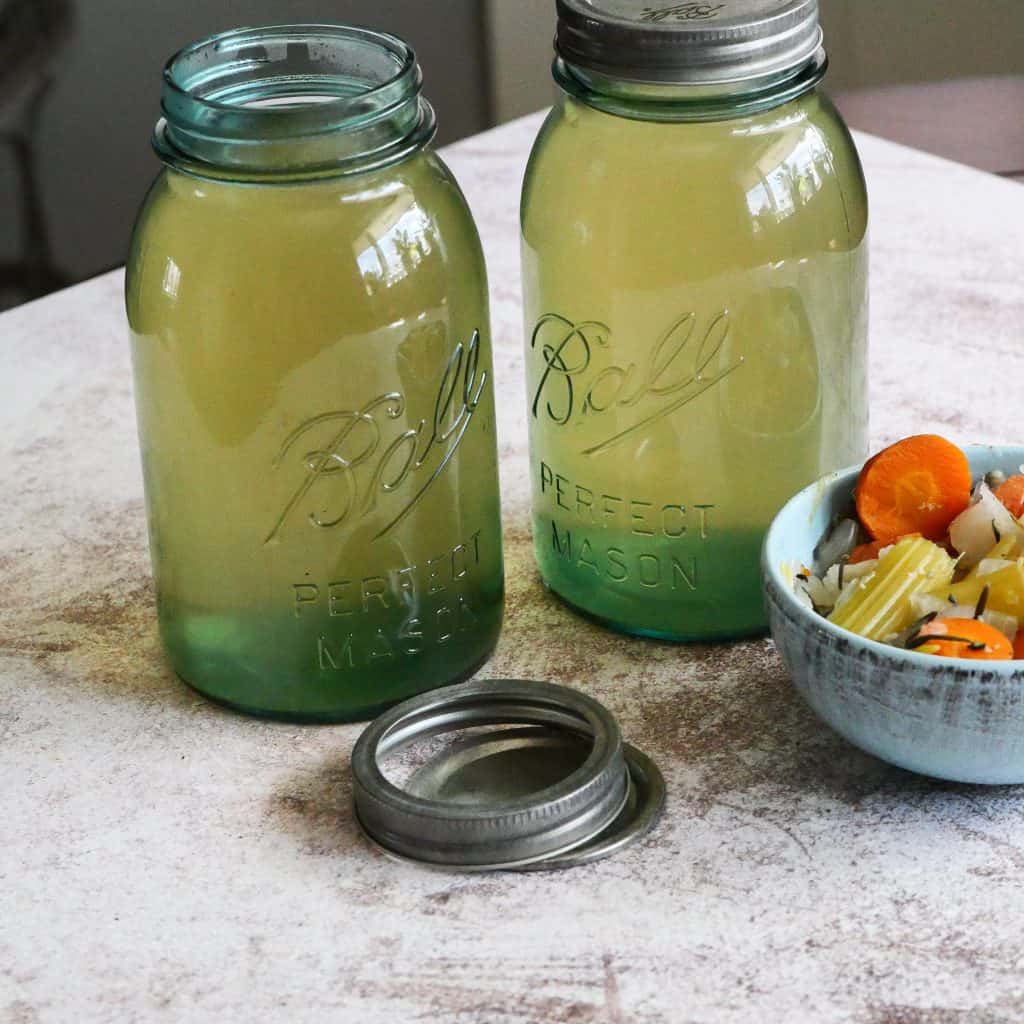 Vegetables. Frozen and heated or canned veggies will work fantastic in here if that's all you have access to. If using canned vegetables – pick 3 or 4 varieties drain the liquid from the canned veggies (chickpeas, beans, peas, corn whatever you prefer). If using frozen, pick 3 -4 varieties (brussels sprouts, peas, corn, broccoli). I used fresh vegetables for this recipe. I used celery, carrots, onion, garlic, canned chickpeas, spinach, broccoli and mushrooms.
Print
Ingredients<br>Prep Time 10 minutes
1/2 tbs chopped ginger (optional)

1 can of chickpeas (drained rinsed and most of the skins peeled off)

1 c chopped carrots

1/2 c chopped onions

1 c chopped celery

3 cups of spinach (fresh or wilted is perfect)

1 -8 oz package of mushrooms

1 floret of broccoli finely chopped

1 tbs garlic

1 tsp Unami Seasoning (from Trader Joes) if you don't have this spice, 1/8 onion salt, 1/8 oregano 1/8 crushed rosemary)

3 to 4 tbs of amino acids or soy sauce. Feel free to add more, this is up to your preference for flavor

Salt & pepper to taste

4 c veggie broth
Print
Directions
In a large pot sauté garlic in a drizzle of oil. add all of the above ingredients on top of the garlic. Pour the broth in last.
simmer on stove for 30 minutes or until all the veggies are softened and have released flavor.
Once soup is cooked down, serve by itself or over rice or noodles.