This homemade vegetable broth has strong notes of flavor perfect for soups and marinades. The broth requires minimal ingredients and is hearty for multiple recipes. You can use any veggie scraps you have on hand.
Use what you have
For this recipe I used what I had on hand. A lot of stores were out of broths and stocks. I happened to have a lot of celery and carrots on hand and this is the base of a good broth so I decided I would make my own! You can make this recipe in the Instant pot, it takes about 30 minutes. Or you can make it on the stovetop for equal the time. I chose the instant pot method to ensure as much flavor as possible with what I had.
What you will need for this recipe
Water. You will need 2 quarts on the stovetop or else enough water to fill your instant post to the max line. Sizes vary so please be mindful.
Onions. You can use any onions you have on hand. I used white onions because thats what I had. Feel free to use green onions or red, yellow any will do.
Garlic. I used fresh cloves of garlic. They have a long shelf life so I like to keep garlic around however if you have refrigerated, minced garlic that will work too.
Celery. About 4 stocks
Carrots. I used about 3 full size carrots.
Seasonings. You can work with what you have but, bay leaves, thyme, rosemary and salt and pepper are excellent in this recipe.
Keep your cooked veggies after cooking
These veggies can be used on a salad, in a veggie hash or put back into a soup!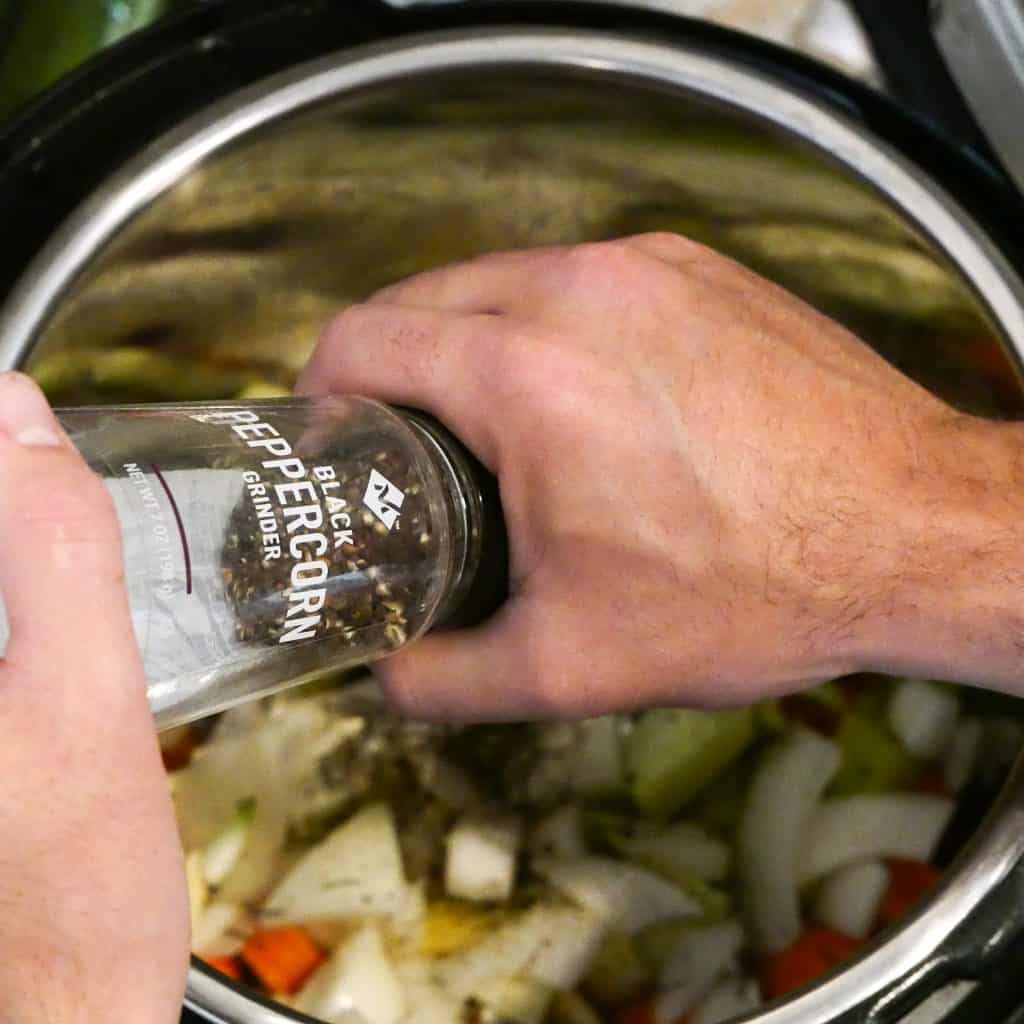 Print
Ingredients<br>Prep TiMe 5 min
1 roughly chopped onion

3 -4 roughly chopped carrots (regular size)

4 stock of celery chopped roughly

tbs dried or fresh rosemary

tbs dried thyme

4 cloves of garlic

1 tsp salt & pepper (you may want more salt later for flavor)

Other optional ingredients: Mushrooms will add a lot of flavor. a little soy sauce will also add more salt and flavor to the broth. You can also use amino acids.
Print
Directions<br>Cook Time: 30 Minutes
Add all of the above ingredients to an instant pot and fill to the max line or slightly below. Cook for 30 minutes on high pressure. You can also use the broth feature if you are more comfortable with that.
If cooking on the stove top , all all the ingredients to a large pot. Add 2 quarts of water (or enough to fill the pot and cover things completely) you don't want the pot too full- otherwise it will boil over. simmer for 30 to 40 minutes.
Once time is up on instant pot or on the stove top, strain the veggies (keep to the side to use in a veggie hash or a soup) and pour the stock into glass jars once it's cooled or storage bags for the freezer.