In this blog post I show you how to make easy strawberry bread with plant based cashew frosting. The Strawberry bread is delicious on it's own with fresh bits of strawberry, the frosting is totally optional.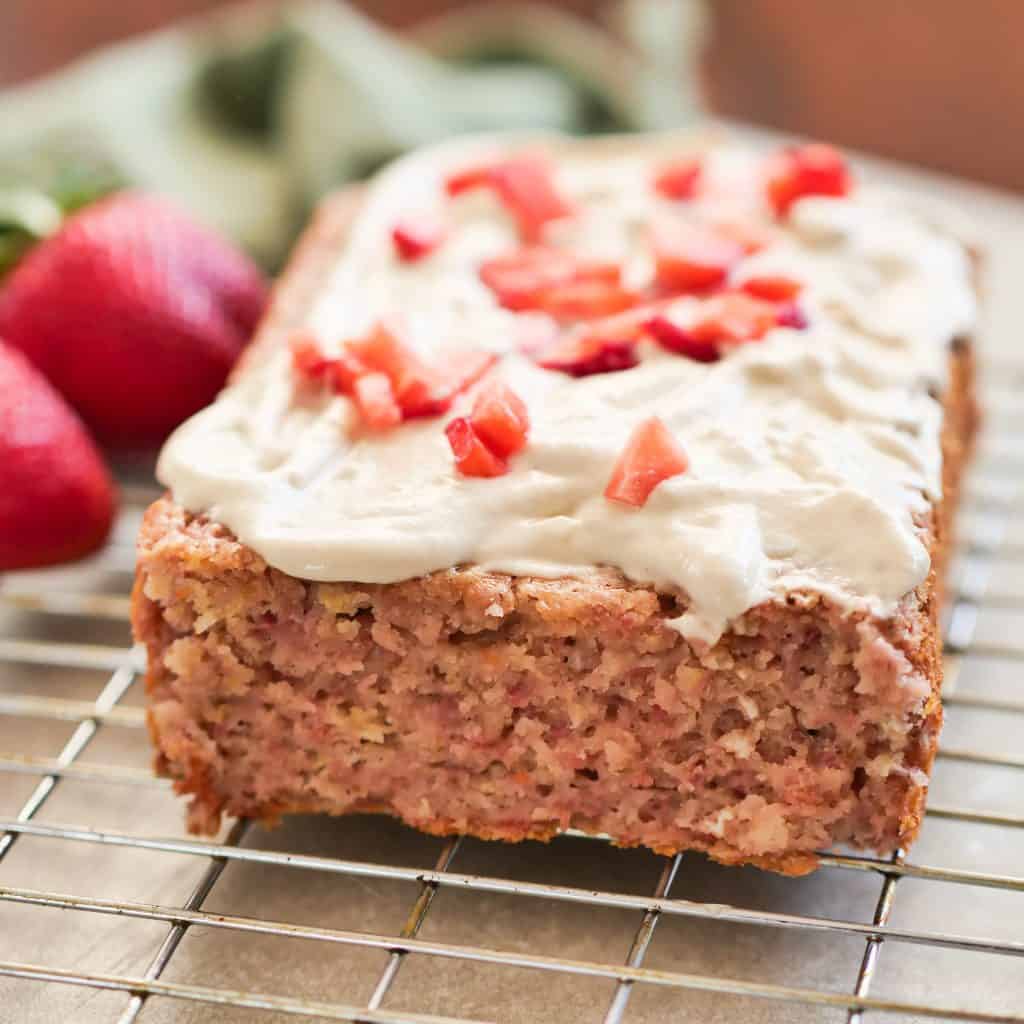 This strawberry bread has a nice pink tint to it so it's fun to eat! Strawberries are coming into season so you can easily grab them on sale and make this bread.
Cashew frosting tips
Make sure you use raw, unsalted cashews. I really prefer the broken pieces when it comes to making cashew cheese or cashew frosting. The broken bits are not only cheaper to purchase, they soak up much quicker than the whole cashews.
If you don't have 24 hours to soak your cashews, you can soak them in hot water for an hour or 2. Although I highly recommend soaking them for a full 12 – 24 hours they will be much more soft and result in a cream cheese consistency for frosting.
Use a strong high-speed vitamin or food processor. You want to be sure there are no cashew chinks left behind in your frosting. I like to use a spatula to scrape the walls of the food processor a few times to ensure the mix is blended well.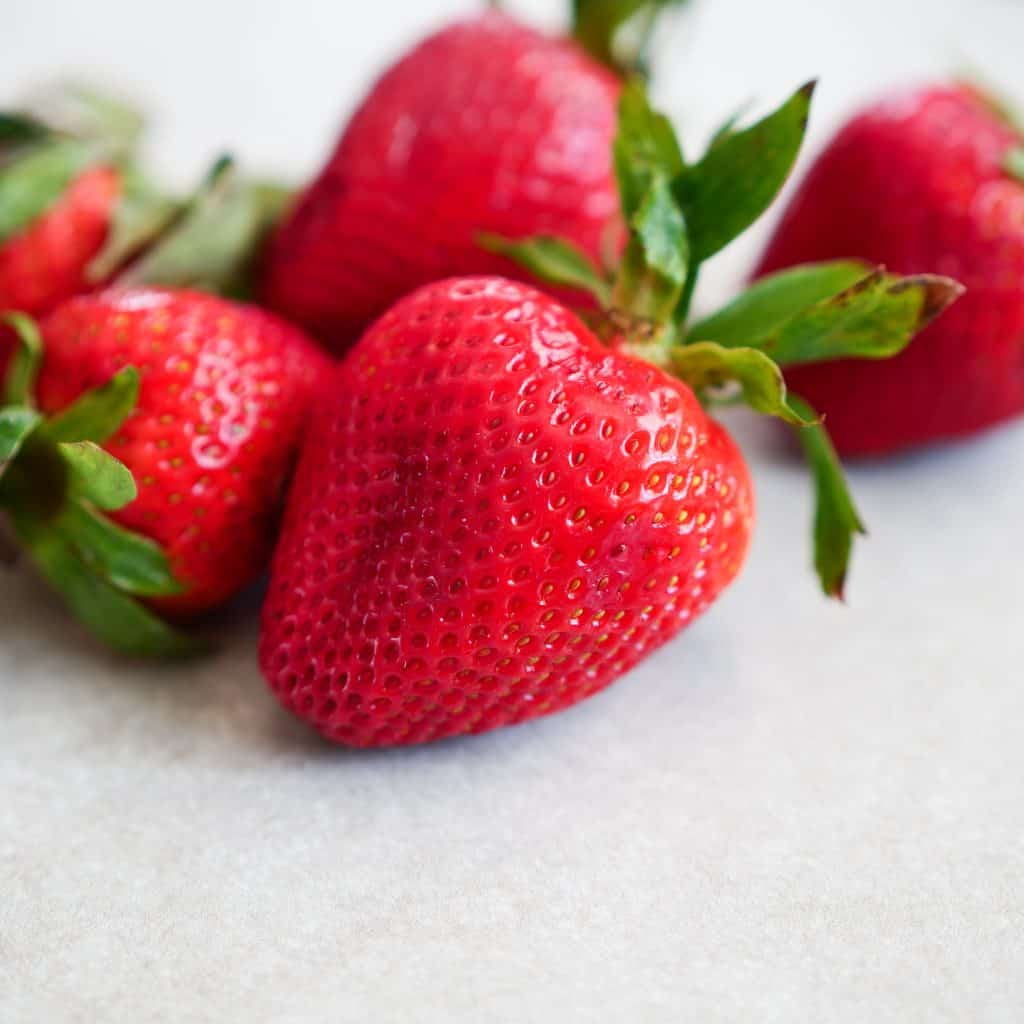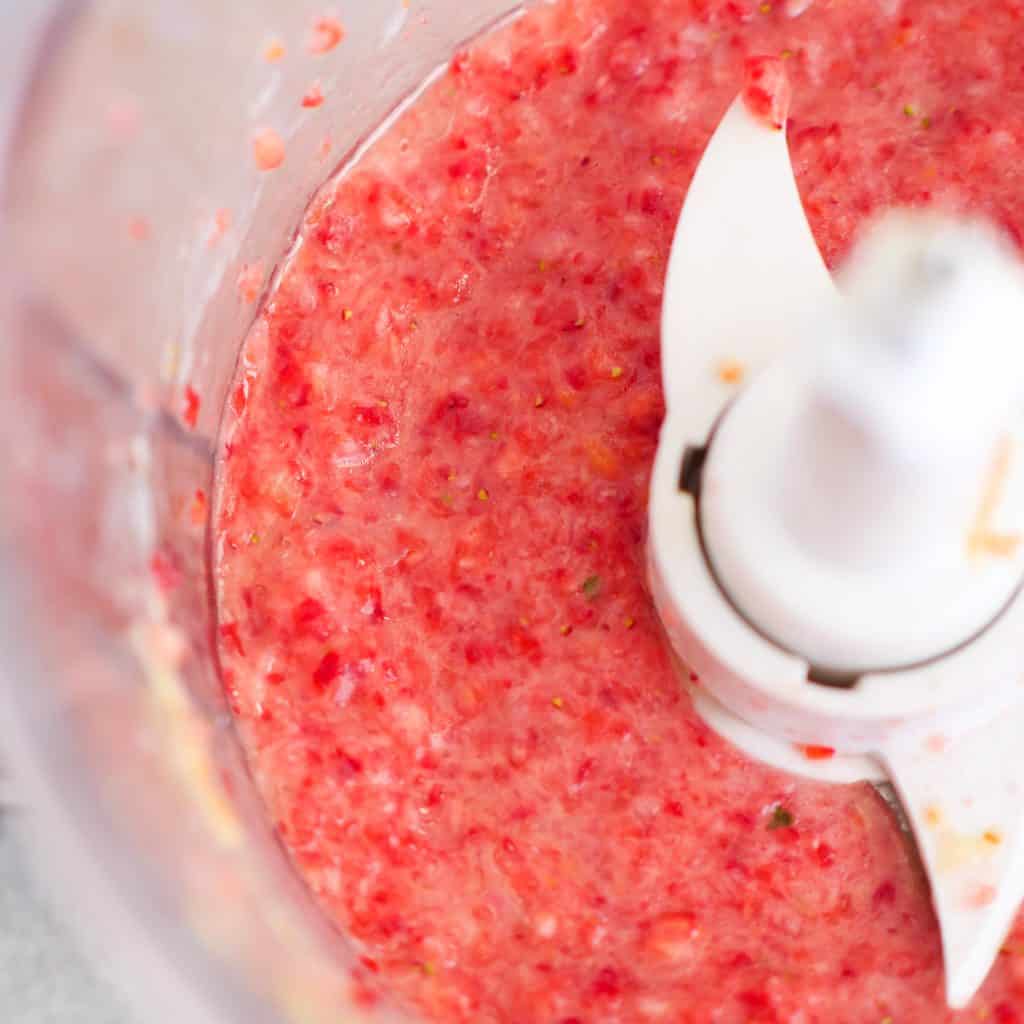 The fresh strawberries make this bread very moist. If you prefer your bread to be on the dryer side you should bake it a little longer for your texture preference. I always recommend organic strawberries since they are part of the dirty dozen however whatever is available to you and your budget will work just fine!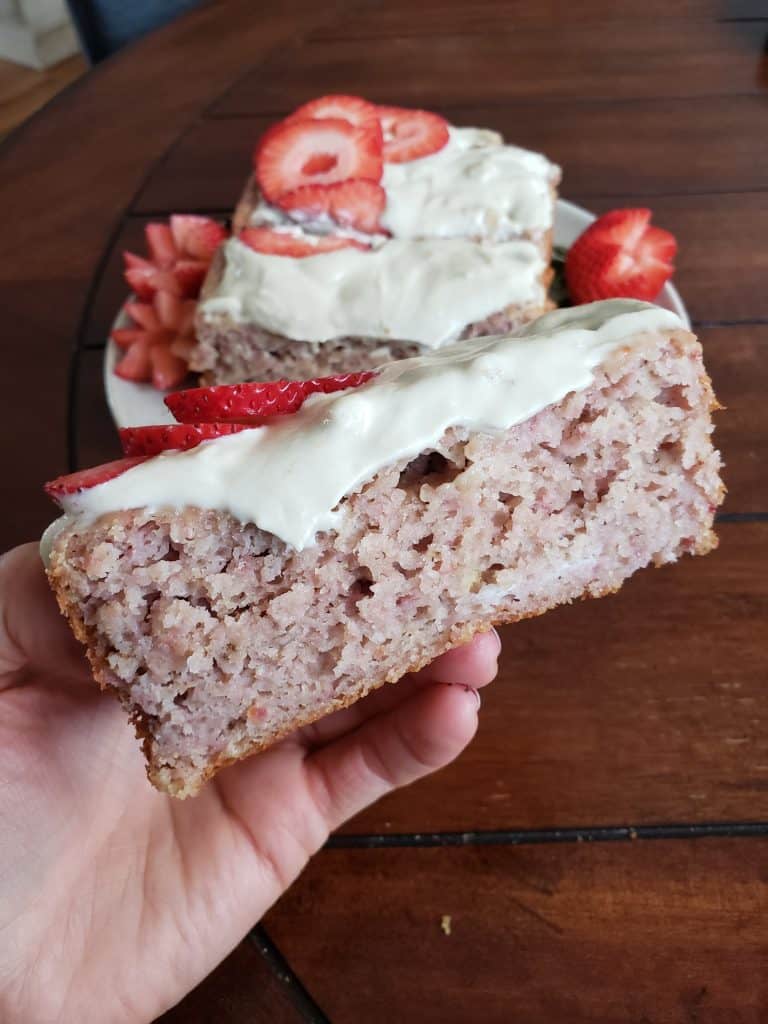 What you will need for this recipe
Fresh baking supplies. Flour of your choice, and a fresh canister of baking powder are necessary for this bread.
Fresh strawberries. chopped up into smaller bits for measuring purposes.
Fresh eggs, you can look into making this vegan by using a flax or chia egg, however I have not tested it that way and used eggs.
Raw unsalted cashew pieces, soaked. I have used roasted/salted cashews. They worked however they didn't give the perfect taste or texture so I always recommend raw unsalted bits.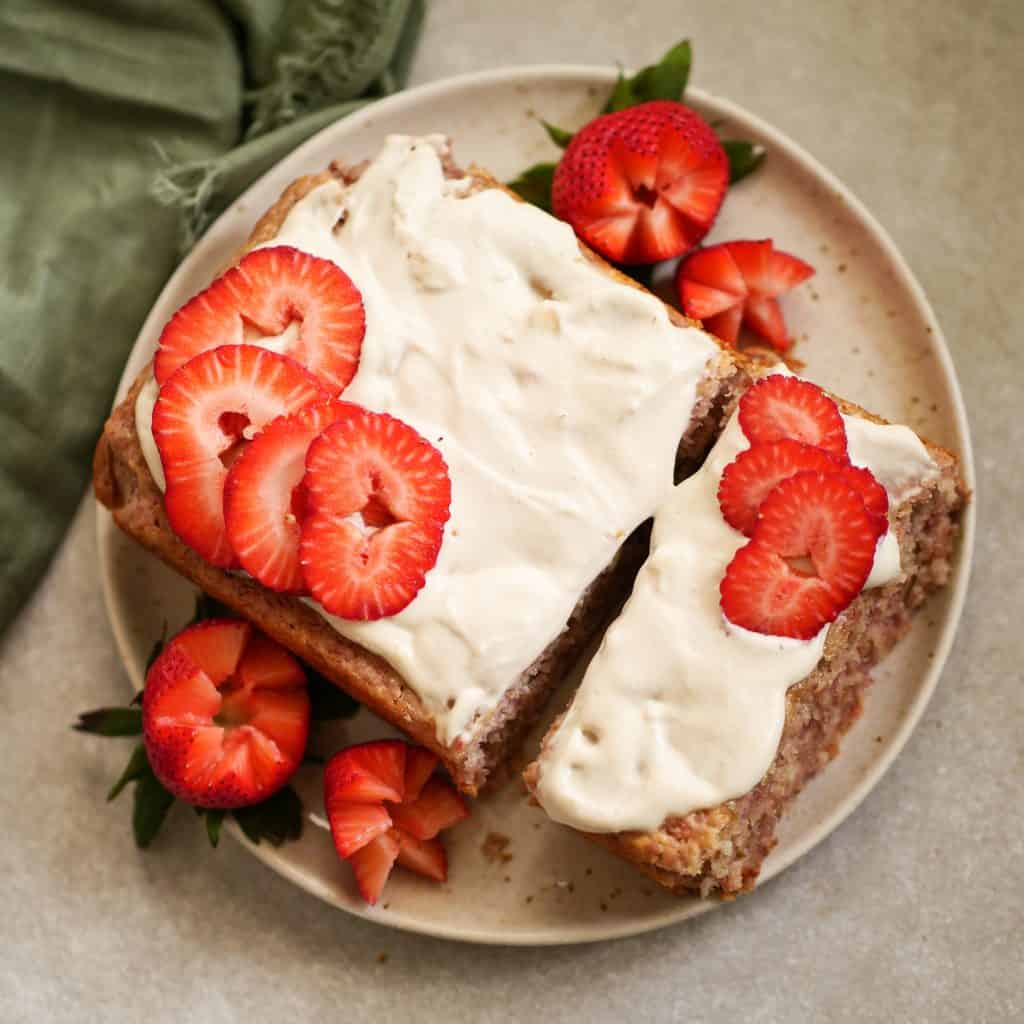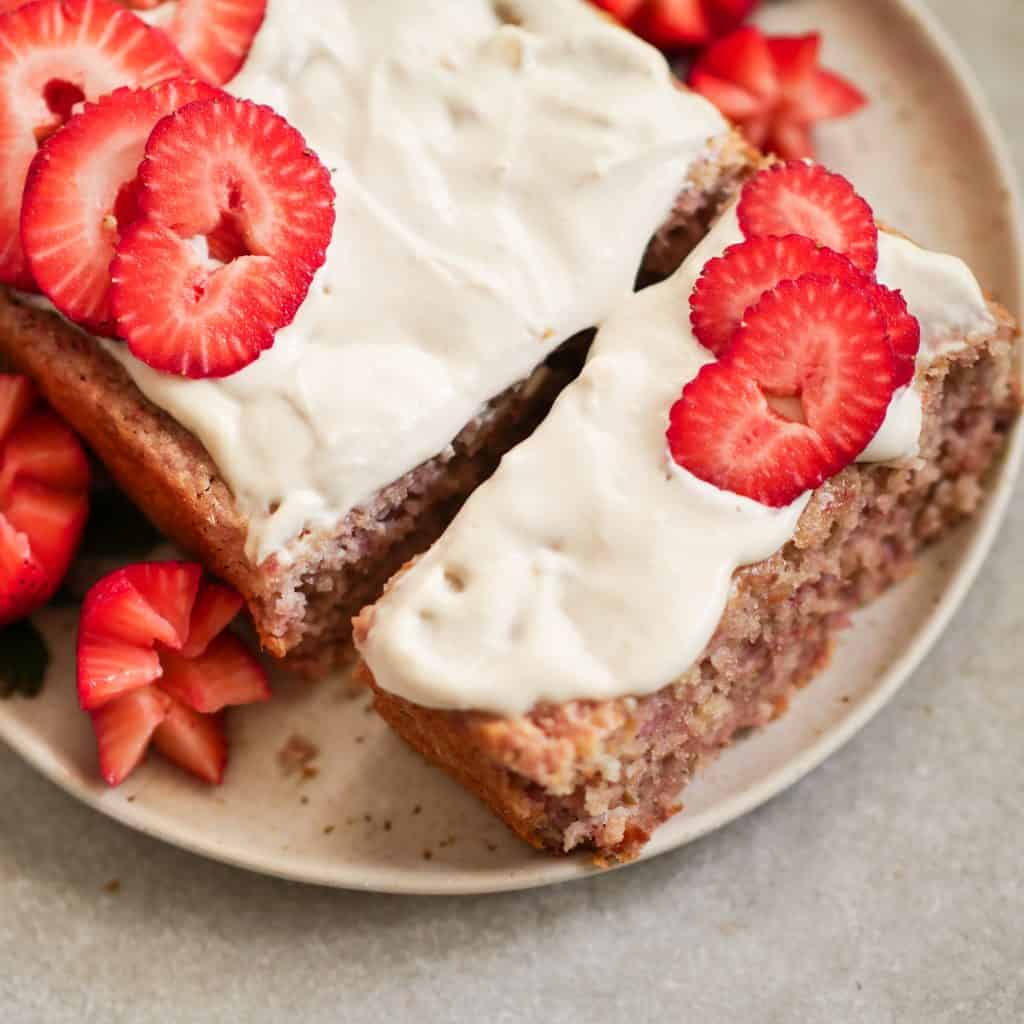 Print
Ingredients<br>Prep Time 10 minutes
For the strawberry bread

1/3 c melted coconut oil

1 1/2 c chopped fresh strawberries

1/2 c coconut sugar

1 c flour

1 tbs baking powder

2 eggs lightly beaten in a separate bowl

1 tsp vanilla extract

pinch of salt

For the cashew frosting

1 c soaked cashews

2 – 3 tbs maple syrup

2 tbs plant based milk or water

1/2 tsp vanilla extract
Print
Directions<br>Bake time: 25-35 minutes
Place strawberries in a food processor and pulse. Add melted oil and mix together. Keep the strawberries slightly chunky. add vanilla extract
Mix flour, baking powder and sugar together with a whisk in a large bowl. Add in beaten eggs and strawberry mix. Fold in but do not over mix. Fold just enough to be sure things are evenly wet.
Pour batter into a bread loaf pan and bake on 350 for 25 – 35 minutes. Check with a toothpick at 25 minutes. Oven times and temps vary greatly.
For the cashew frosting
Soak the cashews for at least 2 hours in hot water, 12- 24 hours is ideal. filter out water and blend in a food processor with all of the above ingredients. Be sure to use a spatula to clean the sides and re-mix to be sure no chunks are left behind. Once bread has completely cooled, frost it.