This is not your average salad. This is one of the best salads ever in my opinion. The sweet onion vinaigrette makes this salad a 10/10
Let me preface this by saying I can slay some salads. I have been making salads since I was a teenager with my mom. We would use up the fridge ingredients towards the end of the week and sauté all sorts of veggies and through it together and call it dinner. The
Lets Talk Leafy Greens
Leafy greens are full of nutrients including iron. They are such an important part of our diets so I am always looking for ways to incorporate them more.
My favorite base for a good salad is massaged kale. I know a lot of people don't like kale but it's my favorite when it's massaged with oil and lemon. I also love spinach as a base. Both of these leafy greens have a long shelf life compared to mixed greens and other bases. I also find kale and spinach to be more versatile with other food, they breakdown better when cooked compared to others. If you don't have kale or spinach on had, or you don't like the two, use whatever you prefer!
Other Favorite Salad Recipes
Tips on how to cook your salmon
I am very picky with my salmon. It has taken me years to perfect the way I prepare it so it's as tasty as can be. I am now deemed the "salmon master" in my household and no one else is allowed to cook it except me (because it's the best way!) I like the outer portion to be flaky and the middle to be cooked medium. Below are the tips I suggest for the BEST cooked salmon. We buy Butcher Box wild caught salmon filets you can check out their high quality meat delivery options here .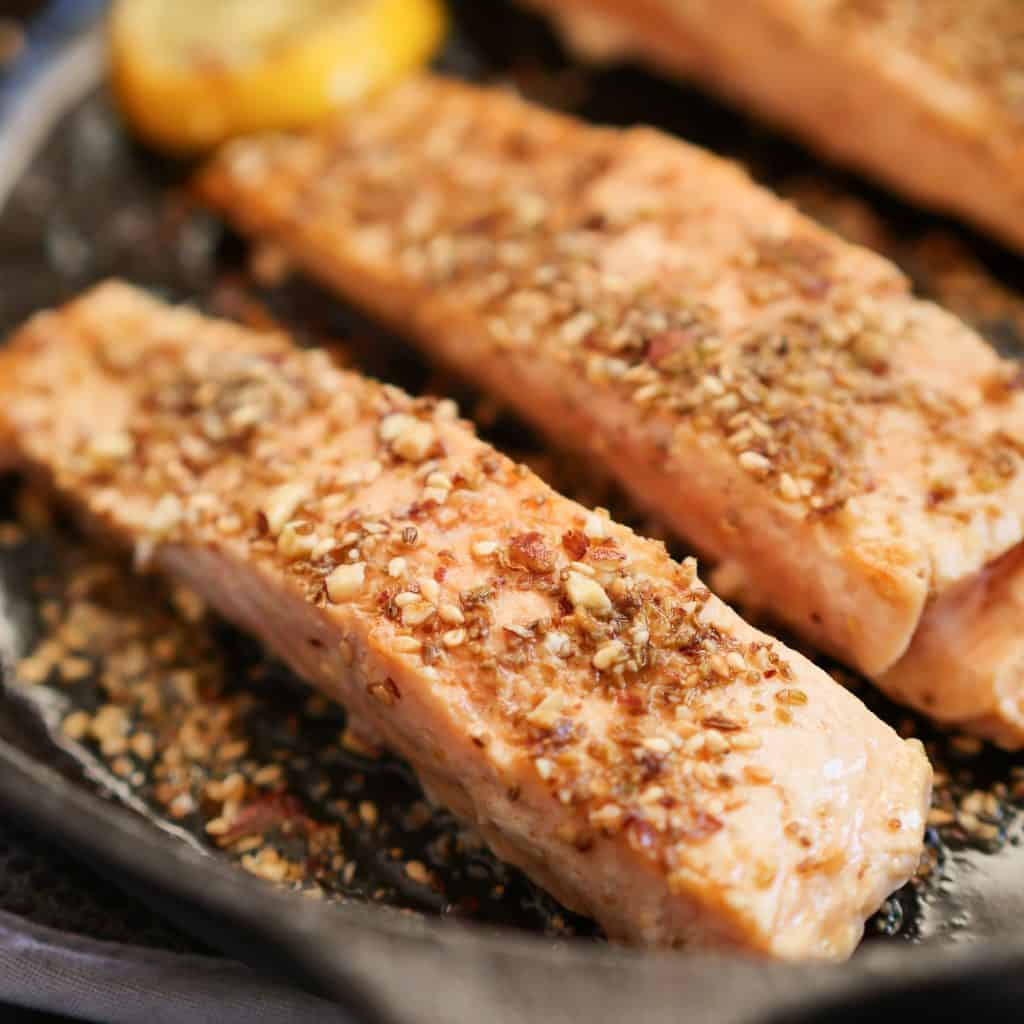 Defrost salmon if frozen completely. Rinse with water and pat dry on a plate.
Salt the salmon. Sprinkle a list dusting of sea salt over the meaty side of the salmon after you pat it dry.
Place it in the fridge for at least an hour before cooking, uncovered. The salt will dry out the top of the salmon so it gets a nice crisp to it it will also season it and cut out any unwanted fishiness.
Once you are ready to cook the salmon, heat up a cast iron skillet with 2 tbs of avocado oil or any oil. Place the salmon skin side down and cook for 4 minutes with a lid on over the skillet. Flip at 4 minutes and leave it uncovered this time. Total cook time of 8 to 9 minutes. Add sauces, seasoning once it's finished. Viola!
Are you a vegetarian?
That's fine! This salad is so delicious without salmon on top. You can add hard boiled eggs or portobello mushrooms to the to top for some more protein or just eat the salad on it's own. The quinoa adds a little protein to it. The most important piece to this salad is the Sweet Onion Vinaigrette. The dressing is a 10/10 in my book and you will want to put it on all your future salads!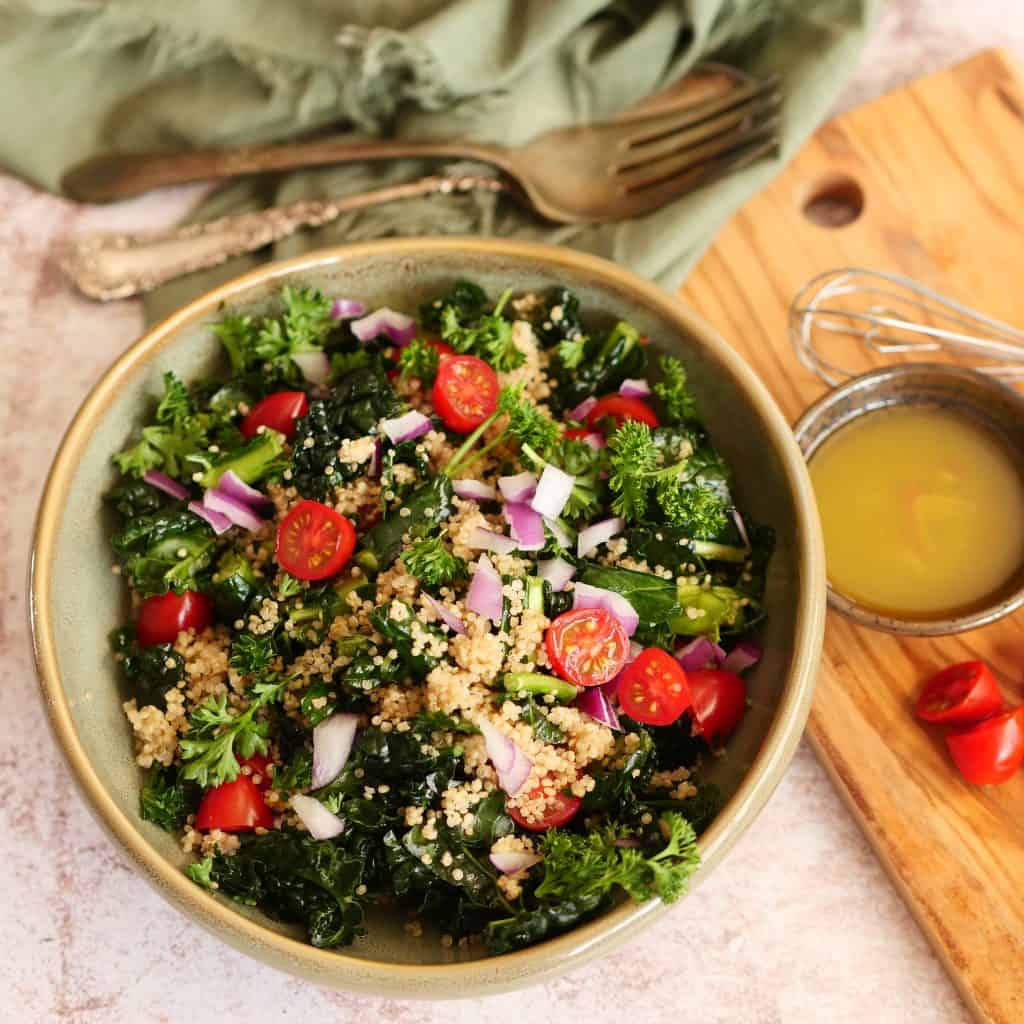 Print Recipe
Easy Grilled Peach Salad
This fresh peach salad is easy to grill up it's perfect summer and gathers both sweet and savory components. The sweet onion vinaigrette is the perfect dressing for this summer classic.
Ingredients
Peach Salad
1

tbsp

olive oil

3

peches halved & pitted

salt and pepper to taste

3

cup

fresh spinach

¼

cup

mozzarella
Sweet Onion Vinaigrette
3

tbs

olive oil

1

tbs

apple cider vinegar

½

tbs

chopped shallots

1

tsp

honey
Instructions
For the grilled peach salad
Halve the peaches, discard the pit. Brush the peach halves with olive oil & sprinkle salt and pepper over them. Warm up grill for 10 minutes on low to medium heat. Place the halves on the grill meat side down and close the lid. Cook for about 10 -15 minutes.

While peaches are grilling, add salad to plates and top with mozzarella balls. Top with grilled peaches and drizzle in dressing.
For the dressing
Add all ingredients together for the dressing and whisk together. You will have extra leftover for another salad.
Nutrition