This 20 minute BBQ Cauliflower Salad With Vegan Ranch dressing will be a family favorite. Just like the restaurant favorite but much healthier. You can also skip the salad and have the Cauliflower as a guilt free appetizer.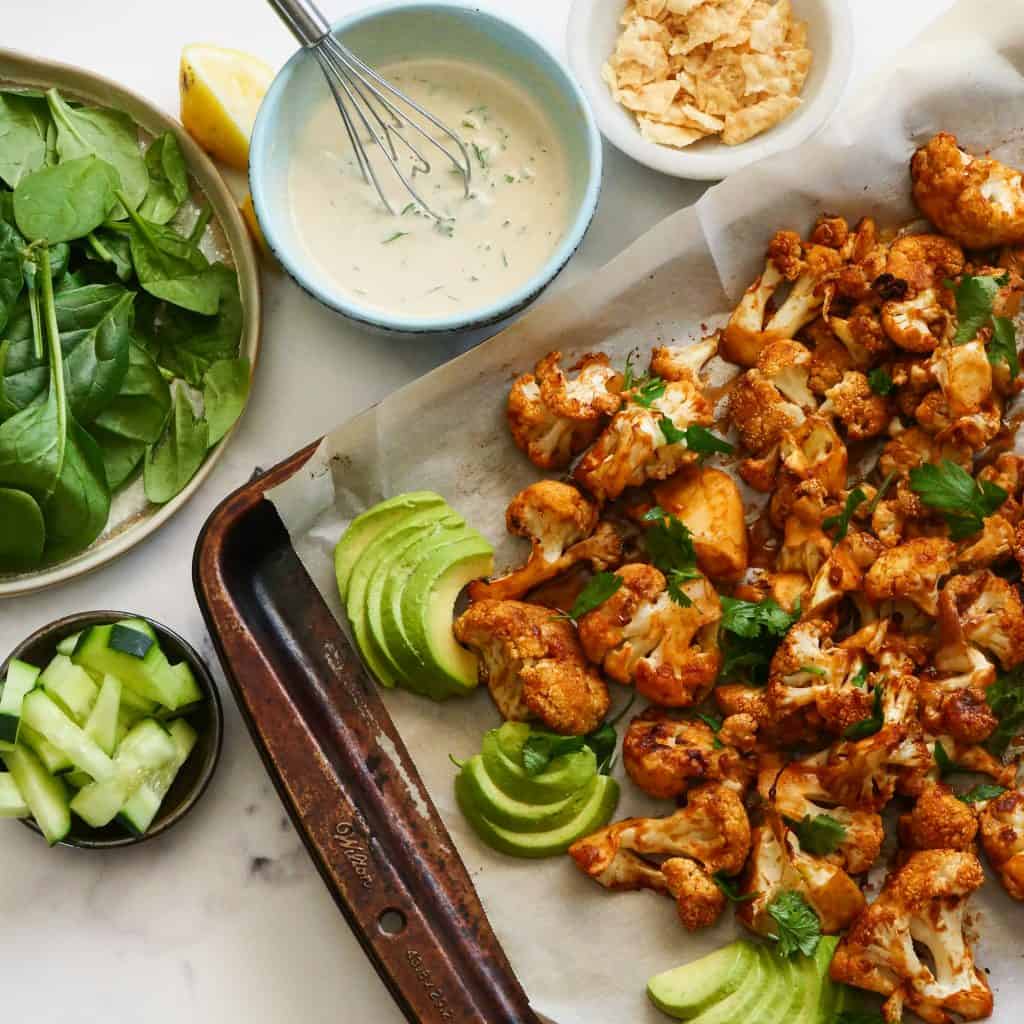 Cauliflower is always a staple in my house. It is generally very cheap, especially when it is in season and the shelf life is long! Even if your cauliflower head has a few little brown spots you can easily cut those off and use it.
Jump to Recipe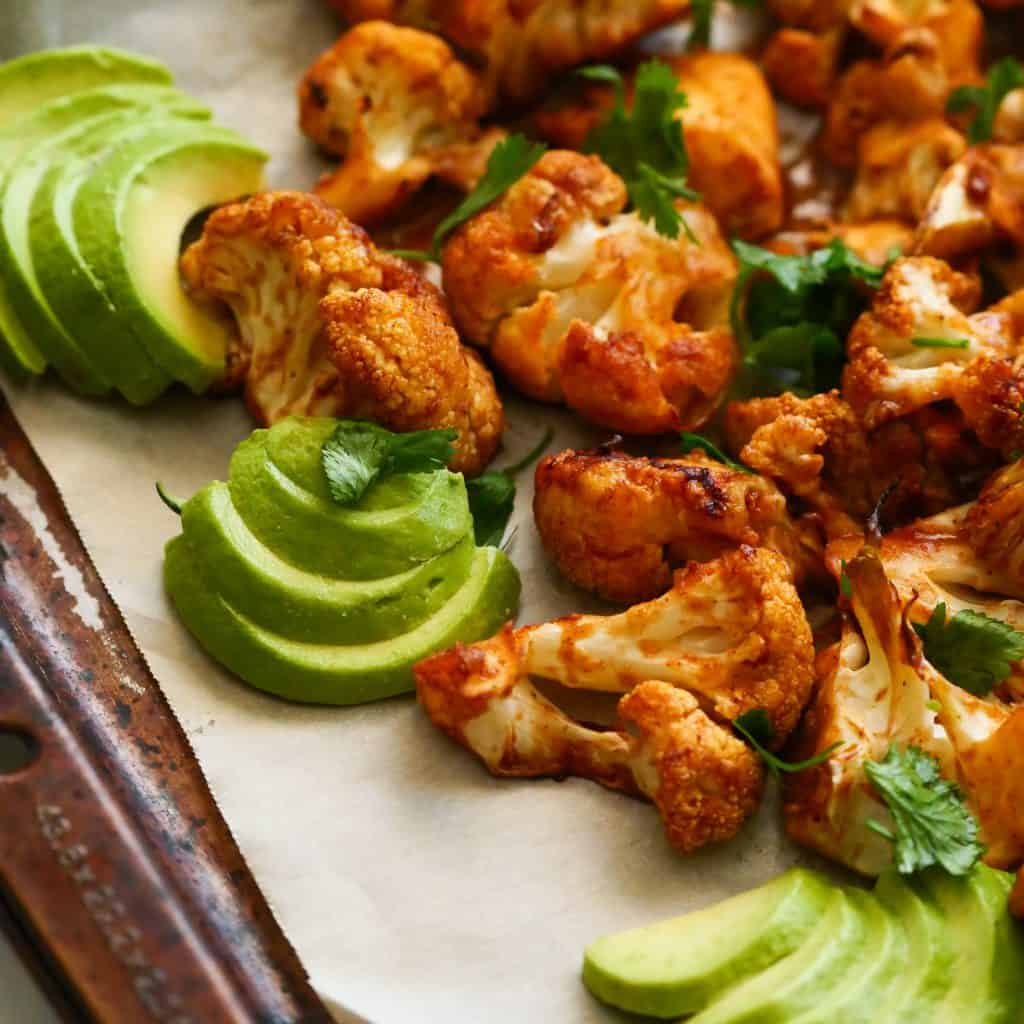 Cauliflower is so versatile.
Like tofu, it takes on any flavor you want it to. It makes a great meat substitute in recipes and you can also use it as a bread substitute in a lot of cases. Have you tried cauliflower pizza crust? It's amazing. You can also rice it and use it in grain bowls. All of these reasons are why I am always stocked up on a head or two of cauliflower. If you are looking for a great buffalo cauliflower recipe check out my Baked Buffalo Cauliflower recipe.
You know those BBQ chicken salads at restaurants? They have tons of flavor and even more calories? Well this BBQ Cauliflower salad with Vegan Ranch will help cure those cravings and keep you from feeling weighed down over heavy sauces and cheese over your leafy greens.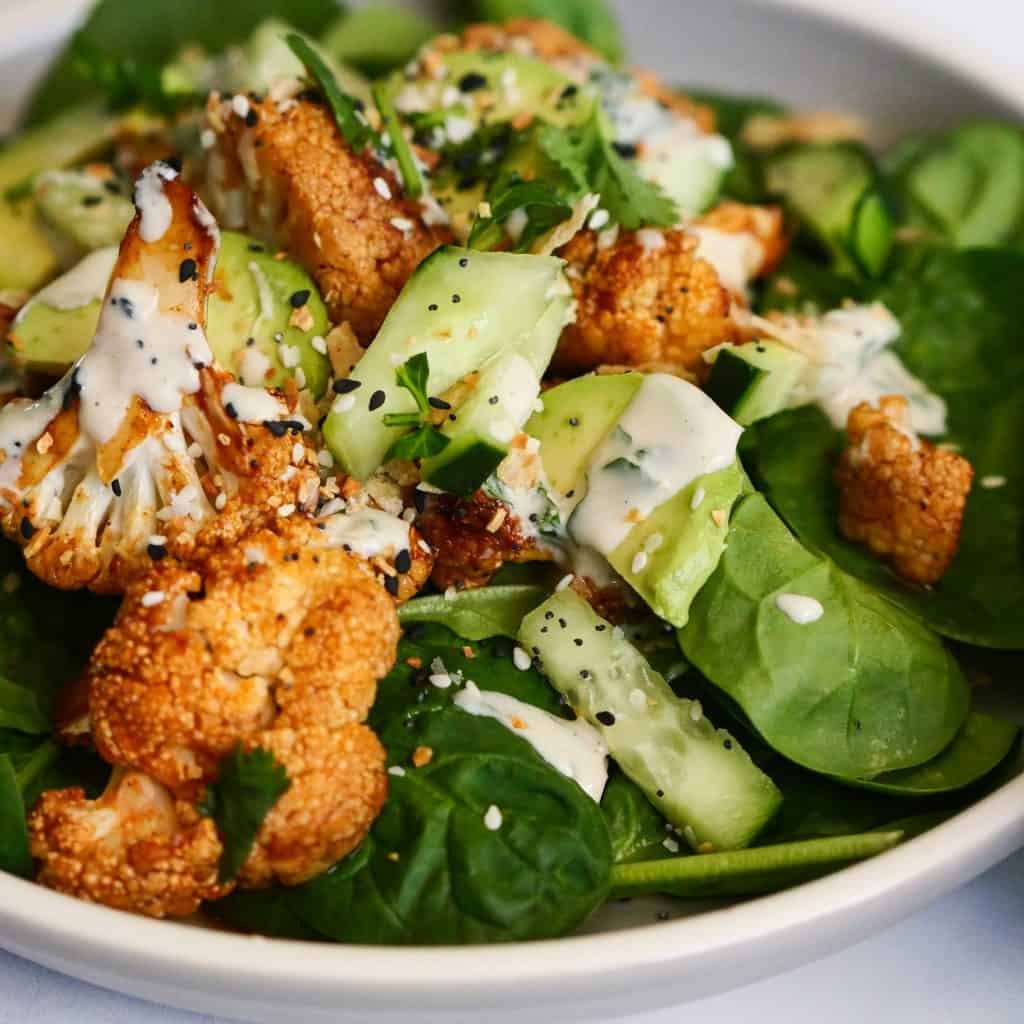 What you will need for this recipe
Cauliflower. One medium sized head
Barbecue sauce. Your favorite sauce will do. We will be watering it down a smidge to cut down on the amount we use.
Franks hot sauce. This is optional, but I love the combination of buffalo sauce and bbq!
Greens. This is optional, you can eat this Cauliflower on it's own dipped in vegan ranch if you prefer. I use spinach for this recipe.
Chopped cucumber.
Crushed tortilla chips
Tahini, smooth and perfectly blended like Soom (My favorite brand)
Fresh herbs. Dill and parsley but you can use whatever you have access to
Seasonings. Garlic and onion powder, salt and pepper.
Avocado slices for garnish and texture.
Lemon. Just a little lemon juice for our ranch dressing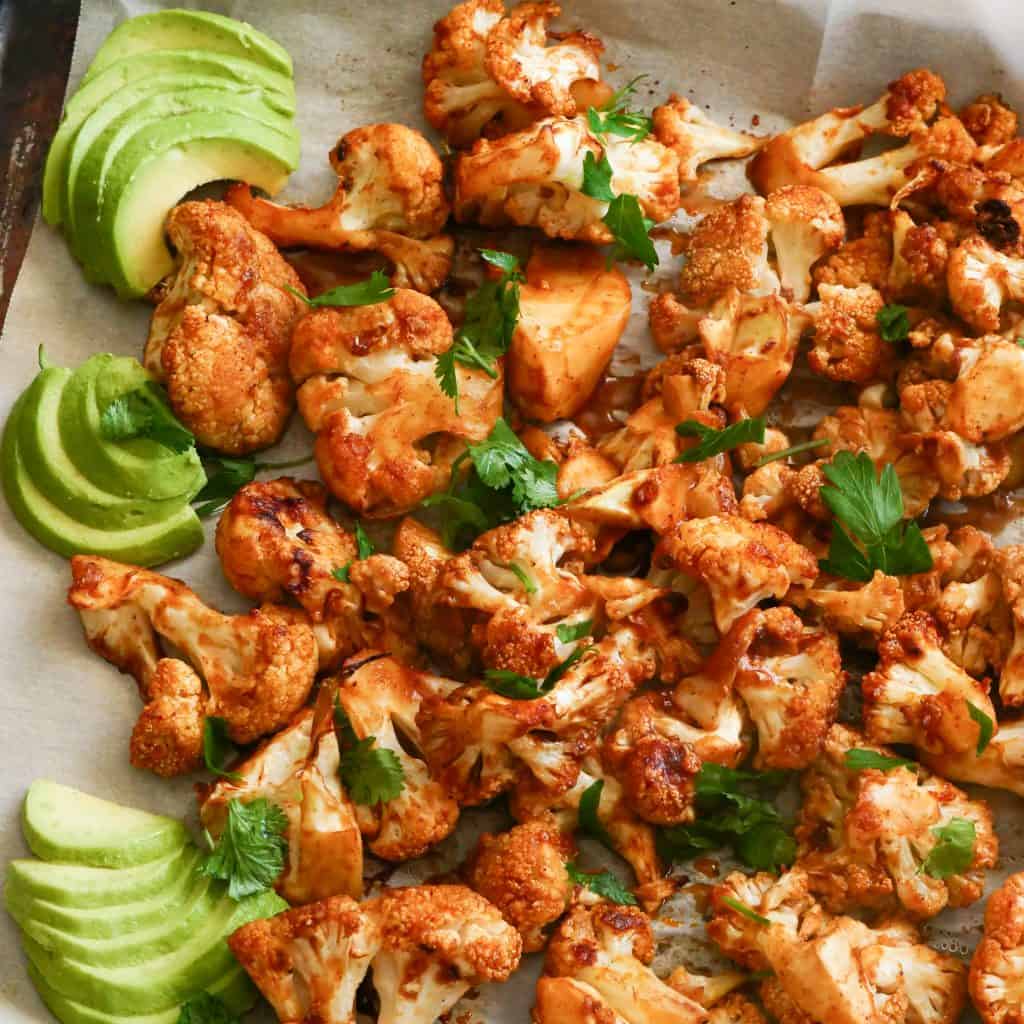 For the best texture, we are going to cook the cauliflower twice. You will give a good high temp roast to soften and fully cook it and then we will coat it in the sauce and place it back on some parchment paper and right back into the oven for a few more minutes to heat it back up and really get the flavors soaked into the cauliflower.
While it is in the oven, you can prep the vegan ranch dressing and all of the salad toppings. The toppings are all optional but they really bring this salad together. You will never order a BBQ salad out again this will be your new go-to recipe.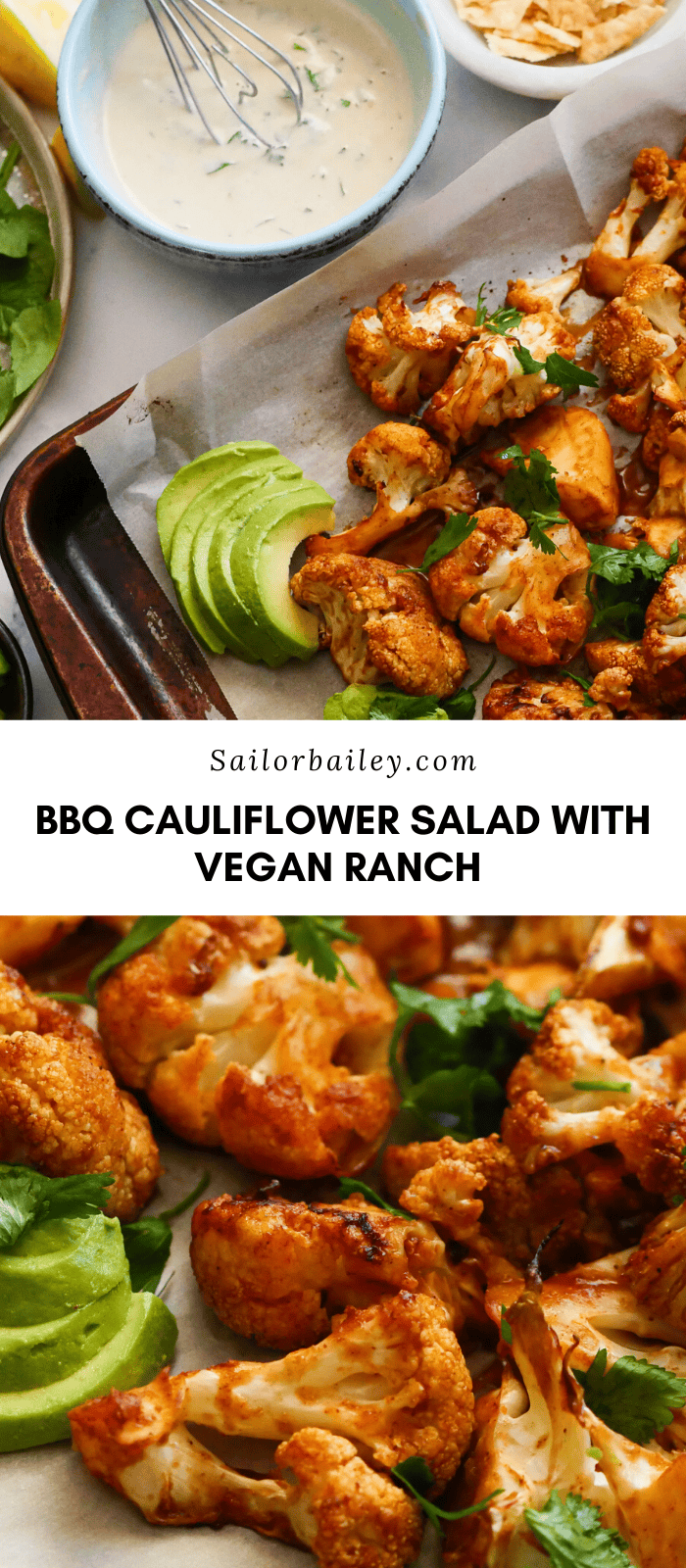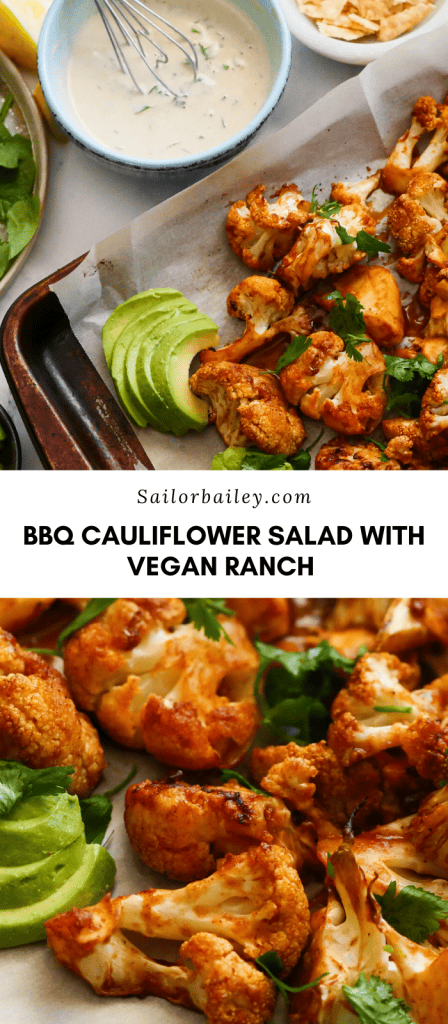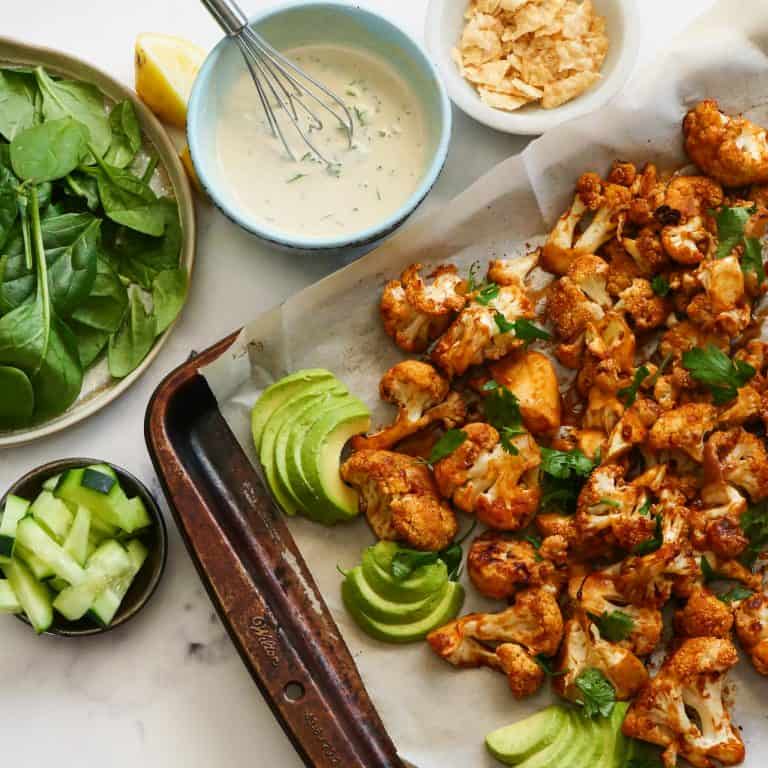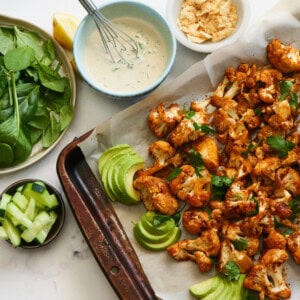 BBQ Cauliflower Bites Salad With Vegan Ranch Dressing
is 20 minute BBQ Cauliflower Salad With Vegan Ranch will be a family favorite. Just like the popular resutarant salad but much healthier.
Print
Pin
Rate
Equipment
cookie sheet

Parchement Paper
Ingredients
For the BBQ Cauliflower
1

Medium sized head of cauliflower chopped into florets

2

tbs

Oilive Oil

¼

cup

Barbeque Sauce

4

tbs

water to thin bbq sauce

2

tbs

franks red hot sauce

Fresh Herbs like cilantro for garnish
For the Salad
4

cup

spinach (or 1 cup per person)

1

thinly sliced avocado

⅓

cup

tortilla chips, crushed

½

cup

cucumbers
Vegan Ranch
3

tbs

tahini

2

tbs

water

⅛

tsp

white miso paste

salt to taste

⅛

tsp

maple syrup

½

tsp

garlic powder

½

tsp

onion powder

½

tsp

finely chopped parsley

½

tsp

finely chopped dill
Instructions
For The BBQ Cauliflower
Heat pan in oven to 400 degrees (a hot pan will cook the cauliflower quicker and give it more char)

Toss cauliflower in a large bowl with olive oil salt and pepper to taste. Pour onto hot pan and cook for 30 minutes until cauliflower is softened.

While cauliflower is cooking, mix bbq sauce with franks red-hot and water. Once cauliflower is finished cooking place back into big bowl and toss in bbq sauce. Use parchment paper over baking sheet this time to keep from a sticky pan, pour sauced cauliflower. Bake on 450 for 10 minutes. Make your vegan ranch during this time. 
Vegan Ranch
Mix all ingredients with a whisk in a medium bowl. Add the warm water 1 tbs at a time. Sauce will slowly thin as you add in a bit of water at a time.

assemble salad and add toppings!
Notes
If you make this recipe make sure you tag me and use the #sailorbailey hashtag so I can see. If you loved this recipe give it a rating and let me know what you thought of it in the comments! xoxo - Bailey 
Nutrition
Serving:
1
g
|
Calories:
258
kcal
|
Carbohydrates:
23
g
|
Protein:
4
g
|
Fat:
18
g
|
Saturated Fat:
2.5
g
|
Polyunsaturated Fat:
1.5
g
|
Monounsaturated Fat:
10
g
|
Sodium:
301
mg
|
Potassium:
408
mg
|
Fiber:
3.25
g
|
Sugar:
15.7
g
|
Vitamin A:
140
IU
|
Vitamin C:
49
mg
|
Calcium:
52
mg
|
Iron:
4.25
mg