These cranberry oat bars are the perfect treat during the week. They are healthy enough for breakfast but also indulgent enough for dessert. a great way to use up leftover cranberry sauce around the holidays.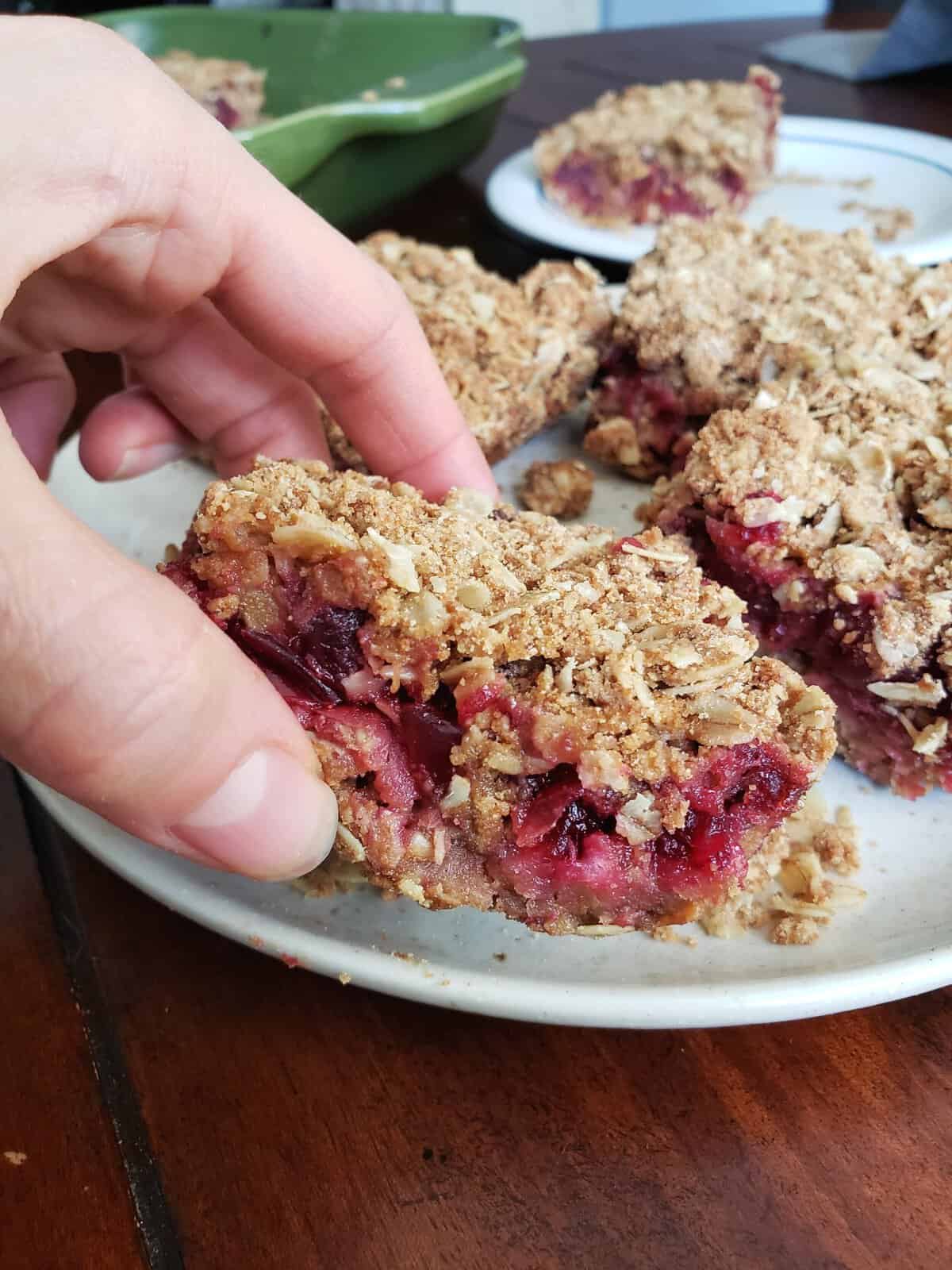 Tart, sweet and full of texture. These Cranberry Oat Bars will please the whole family.
Ingredients:
 2 cups old fashioned rolled oats

1 c quinoa flour  or brown rice flour

 1 c coconut sugar

 1 tsp. baking powder

 1/2 tsp. baking soda

1/2 tsp. salt

 1 c solid butter cut into pieces ( you can also do 1/2 C solid coconut oil with 1/2 C of solid butter cut into pieces)

 1.5 cups of your favorite homemade cranberry sauce or 1 can of the cranberry remade jelly/sauce
Instructions:
 Preheat oven to 350ºF.  In a large bowl mix together the oats, flour, coconut sugar, baking powder, baking soda and salt. Use fingers to massage butter and or coconut butter into the mix until everything is moistened and equally spread throughout. Spoon three-quarters of the oat mixture into a 13″x 9″ pan – other size pans will work, they will just be thicker. Press down on it firmly to form a layer on the bottom evenly.
Add the cranberry sauce in globs and spread it in a thin layer over the oat layer. Sprinkle with the remaining oat mixture and back on the center rack for about 25- 30 minutes. keep a close eye. Once the top starts to brown they are finished. Let them cool and the cranberry center set before cutting into them.
Questions?
Q:Can I use canned cranberry jelly or canned sauce? A: Yes! I prefer homemade but you can
Q:Can I use a different flour for this? A:Yes! but I haven't tried all others so be sure to research the amount to substitute your particular flour for
Q: Can I use regular butter instead of coconut oil? A:Yes! You can, I have also made this recipe with vegan butter and it turned out great